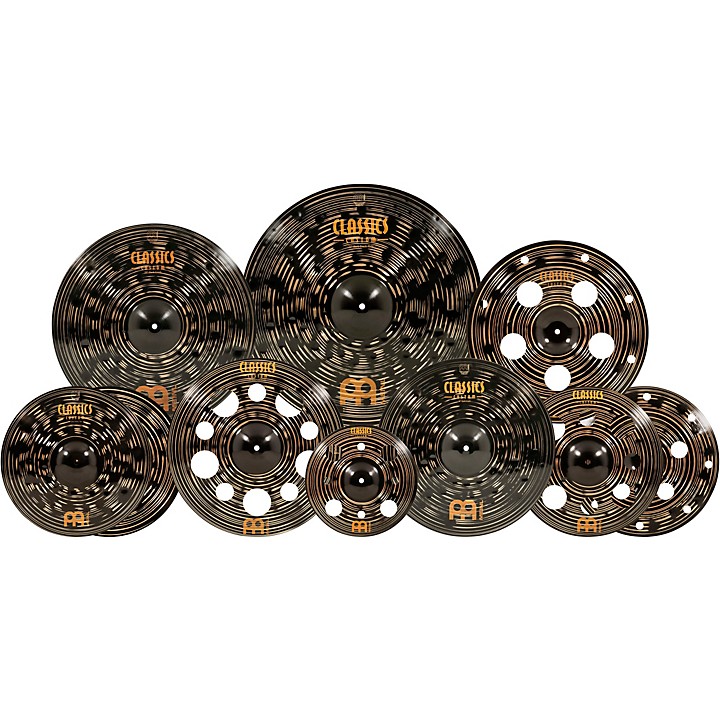 An extensive cymbal set designed for the heaviest styles of music.
The Meinl Classics Custom Dark Ultimate Cymbal Set is a massive and complete cymbal pack made up of a pair of 16 in. Classics Custom Dark hi-hats, 22 in. Classics Custom Dark crash/ride, 18 and 20 in. Classics Custom Dark crashes, 18 in. Classics Custom Dark trash crash, 18 in. Classics Custom Dark trash china, 16 in. Classics Custom Dark trash stack, and a 12 in. Classics Custom Dark trash splash.

Classics Custom Dark cymbals pack a punch. Period. Classics Custom Dark is designed for players who need cymbals that cut. They give you plenty of snap to be heard among a dense mix of electric guitars, while their presence echoes the darker nature of a deeply hammered cymbal. These cymbals have all of the volume without the glassy overtones. A great alternative for metal, rock, and pop players to check out.

Classics Custom Dark cymbals undergo a special finishing process that leaves the cymbals with dark and complex tones along with the clarity, cut and volume that Classics Custom is known to deliver. This same unique twist on the traditional design gives the cymbals a dark appearance. Widely spaced deep hammering and additional lathing round out their tones while giving them a powerful response.

The larger 16" hi-hats deliver a cutting stick definition with complex, dark and warm overtones. These cymbals explode with power when you need them to and can be used for lighter dynamics as well. Made from B10 bronze alloy that is known for its refined tone and powerful character.

Blossoming, heavy crash-ability combined with a slightly dry stick definition when riding, the Classics Custom Dark crash/ride lends itself to be fluid in any musical space. You will feel the cymbal open up and develop a full bodied crash with each hit taking on the effect of a mini crescendo. Riding on it gives you a precise response with the right amount of definition to cut through the cymbal's natural wash.

Meinl Classics Custom Dark crashes are the top choice for players who want a heavy sound without high pitched overtones. You get all of the bright punch on the front end without the glassy sustain. This is, in part, due to the heavier hammering spaced throughout the cymbals. The B10 alloy gives you the volume and attack you need to be heard, while the finish darkens the decay. When crash-riding, the Classics Custom dark crashes roar to life, cutting through any dense, distortion-charged mix.

The holes in the trash china create a drier sound that sits nicely in the cymbal's mix with minimum overtones and maximum volume. Its shorter decay delivers plenty of attack. This cymbal is ideal for heavy crash riding or chopping up your hand and foot combinations with short bursts of sound.

Let's face it, cymbal stacks are becoming almost as important as hi-hats in today's drum set ups, and they're here to stay because of the endless sound options they create. The Classics Custom Dark trash stack chops through loud stage sounds and practice spaces brimming with amps without you having to extrude your sound. The pair of cymbals feature cut out holes to dial up their bite. The bottom is a china type, while the top is more like a trash crash. Together, they have the ability to really open your playing with new sounds.

Capping off this set are two trash cymbals, each with their own very distinct personality. Starting with the 18 in. trash crash, this cymbal pairs perfectly with the 18 and 20 in. regular crashes. Striking the trash crash with one of the standard crashes gives you a blended sound that envelopes a dry decay with swelling crash effects. The 12 in. trash splash fills smaller sonic spaces with lightning fast decay. Mix this cymbal in during the middle of a groove or short phrase to add unexpected accents.

Features
Designed for high-volume music and heavy hitters i.e. rock, metal, etc.
Unique dark finish to match their dark timbre
Made from special B10 bronze alloy
Excellent projection and high volume with a medium sustain
Wide blade lathing creates a warmer sound and musical characteristic