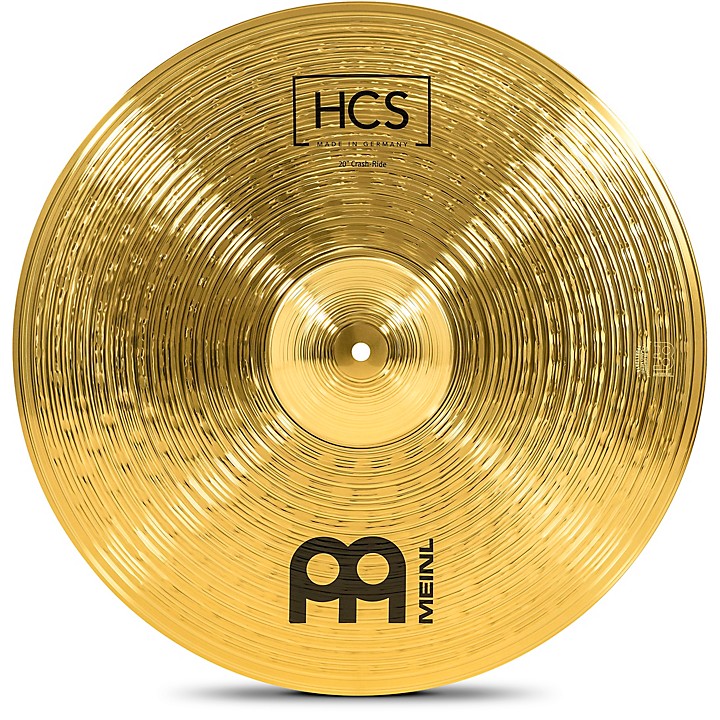 Brass crash/ride cymbal with warm mixture of ping and wash
The Meinl HCS brass crash/ride cymbal has washy ping and complex spread, opening up into an explosive sound when played as a crash. It's bright and warm in character, with quick sustain for a cymbal of its size. It's great for drummers looking to buy one cymbal instead of two, or drummers looking to add a versatile new piece to their kit.

The Meinl HCS line offers quality brass cymbals at an incredible value. Meinl is proud to offer an unbeaten variety of cymbals at this price point, making the HCS series a great place to start a cymbal collection or add to it. These cymbals are made in Germany from MS63 brass alloy, formed into shape with a wide-blade lathe and polished with a traditional finish.
Specifications
Sizes and Purpose
Quantity: 1
Type: Crash-ride
Sizes (in): 20
Construction
Material: Brass
Hammering: Machine
Lathing: Full
Features
Crash/ride cymbal made from MS63 brass
Bright, warm timbre and quicker decay than bronze
Shaped in Germany with wide-blade lathing
Visible hammer marks and traditional finish