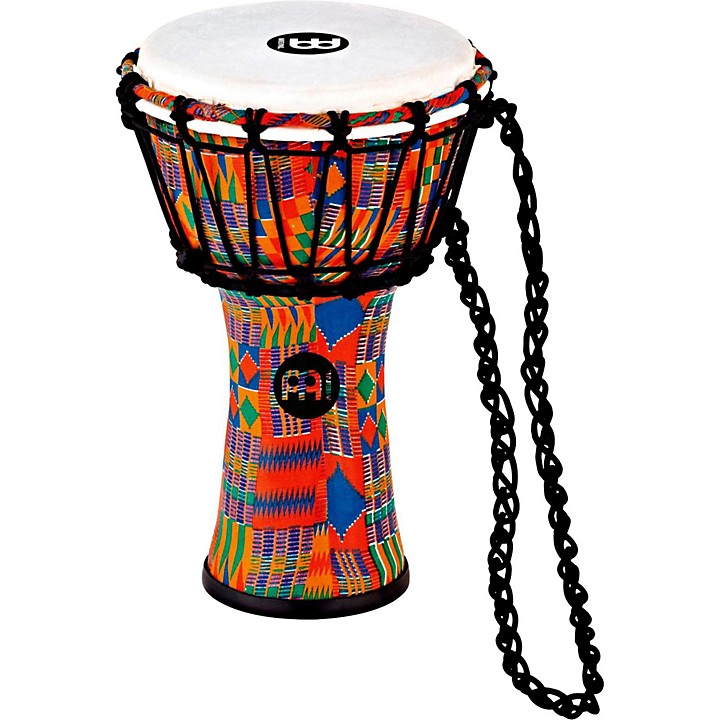 Portable djembe sound and tone with a lightweight synthetic shell.
The Synthetic Compact Junior Djembe from Meinl gives players of all skill levels an easy-to-play hand drum that can handle any environment. Its 100% synthetic shell and head are impervious to weather, temperature changes, and the outdoor elements that can wreak havoc on traditional drums. The Junior Djembe is always ready to go, whether for an impromptu jam session at the park, a beach bonfire, or a music lesson with students.
The Junior Djembe's synthetic components won't expand, contract, dent, or scratch, allowing it to maintain consistent tuning and tone no matter the conditions. At just 3.8 lbs., it's lightweight enough to pack along on any adventure, and its compact 7" x 12.5" size makes it comfortable for players of all ages to hold and play.
Players can achieve rich bass tones by striking the center of the head with an open palm and high-pitched slaps by hitting near the rim with fingertips. The Junior Djembe arrives pre-tuned using Meinl's durable Mali Weave rope tuning system so musicians can start playing as soon as they open the box. The 7" playing area and angled rim provide an ideal surface for a range of drumming techniques.
Meinl's expert German designers created the Junior Djembe to withstand heavy use without deterioration. The synthetic materials are resistant to damage that can shorten a drum's lifespan, allowing the Junior Djembe to provide years of play. Music educators will appreciate an instrument that can handle constant use by students while retaining its quality.
Whether for recreational drum circles, professional performances, or educational settings, the Synthetic Compact Junior Djembe is an all purpose hand drum solution at an affordable price. Meinl Percussion is thrilled to offer musicians and educators an easy-to-play, durable djembe that brings rhythm to any environment.
Features
Ultralightweight design
Pre-stretched HTP nylon ropes
Synthetic shell and head for outdoor play
7" diameter