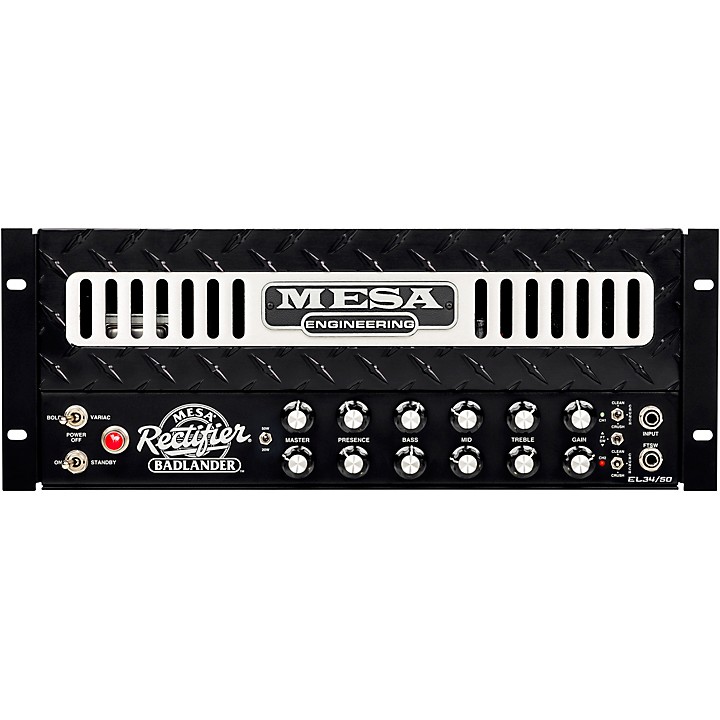 Tight, mean and lean 2 Channel Tube Head.
The Badlander 50 Rackmount Guitar Tube Head from Mesa Boogie delivers a trim sonic and weight profile while adding a distinct tonal character to the Badlander Series. With an aggressive yet inviting sound, this Badlander Head is ready to go where less output is needed. Two identical Channels feature the same three dynamic and duplicated Modes as its 100-Watt counterpart with Clean, Crunch and Crush repeatedly supplying the gain and shaping power necessary to to navigate virtually any recording environment. The 2 Channel preamp connects with two different power displacements that enhance everything from clean to clipped to wildly saturated. The 50-Watt setting delivers bold authority and the highest headroom possible while the 20-Watt setting unveils greater clipping potential and a mid-scooped, harmonic response that reveals trademark EL34 tone.

The Badlander 50 also feature's Mesa Boogie's first onboard CabClone IR and delivers seamless DI with Channel Specific IR Assignment and a Reactive Load that sounds and feels great. The CabClone IR delivers flexibility, portability and a level of convenience previously only dreamed of with the ability to go direct silently, or with the cab, for recording, stage or practice.
Specifications
Power
Wattage: 20/50W
Type: Head
Tube or Solid State: Tube/valve
Number of Preamp Tubes: 5
Preamp Tube Type: 12AX7/ECC83
Number of Power Tubes: 2
Power Tube Type: EL34/6CA7
Channels
Number of Channels: 2
Footswitchable: Yes
Number of Inputs: 1
Controls
Channel 1: Switch, Gain, Treble, Mid, Bass
Channel 2: Switch, Gain, Treble, Mid, Bass
Master Volume: Yes
Mid-Shift: Not applicable
Resonance: Not applicable
Presence: Yes
Contour: Not applicable
Reverb: Not applicable
Voicing Control: Not applicable
Boost: Not applicable
Other: CabClone IR Select
MIDI Control: Not applicable
Footswitch: Yes (included)
Effects
Effects Loop: Yes, series
Footswitchable: Not applicable
Reverb: Not applicable
Tremolo: Not applicable
Delay: Not applicable
Echo: Not applicable
Flanger: Not applicable
Phaser: Not applicable
Modulation: Not applicable
Chorus: Not applicable
Misc. Features
Headphone Output: Yes
Direct Output: Yes (XLR)
AUX Input: Not applicable
External Speaker Output: Not applicable
USB Connectivity: Yes
Built-In Tuner: Not applicable
Dimensions
Height: 7"
Width: 19"
Depth: 10.25"
Weight: 31 lb.
Country of Origin: USA