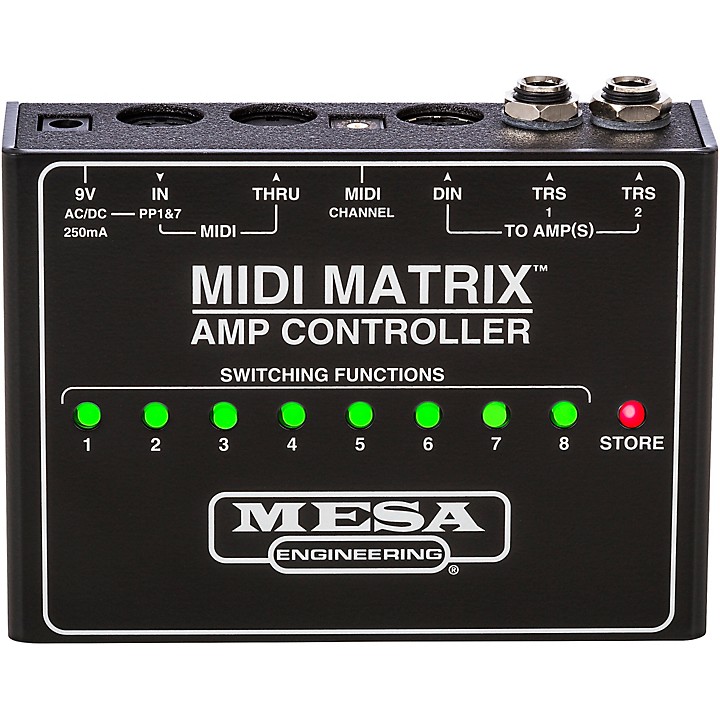 One-button MIDI control of channels, modes and features.
The MIDI Matrix Switcher from Mesa/Boogie provides total control and instant access to your amplifier's channels and features within the confines of today's compact pedalboards and small rack systems. The MIDI Matrix can interface with existing MIDI Controllers, replace a Mesa amplifier's multi-pin cabled factory footswitch and provide convenient remote control of your amp's channels, modes and features under a one-button command. The Matrix allows for singular control of reverb, EQ and power and also provides the ability to group multiple features and even control up to three amplifiers at once.

The MIDI Matrix Amp Controller can automate every amplifier and product that Mesa/Boogie has ever produced and, in most cases, without the need for custom cables or dongles. The 8-pin DIN and two 1/4" TRS switching jacks are also completely isolated, preventing ground loop hum and noise. The Matrix has 250 presets available, allowing for virtually limitless rig configuration for the requirements of multiple bands or set lists. The MIDI Matrix creates a hub for amp channel/mode and feature control as well as aiding in overall switching needs.
Specifications
Minimum operating voltage: 9V DC
Maximum operating voltage: 12V DC
Maximum current draw: 250mA @ 9V DC
Dimensions: 5.23" W x 4" D x 1.59" H
Bottom Mounting Plate, Rotatable (W x D x H): 4.97" W x 3.69" D x 0.063" H
Weight: 0.9 lb
Features
Stores up to 250 Presets
Accepts MIDI Program Change and Control Change messages
Illuminated, Instant Access On/Off Buttons
Eight Switching Functions can be configured for Latching or Momentary, normally open or normally closed switching and arranged into two linked groups
Conveniently accepts 9V AC or DC via 2.1mm x 5.5mm barrel plug
Provides phantom power to MIDI foot-controllers via 7-pin MIDI cable
Rotatable keyed bottom Mounting Plate for Combo Amp or Effects Rack installations