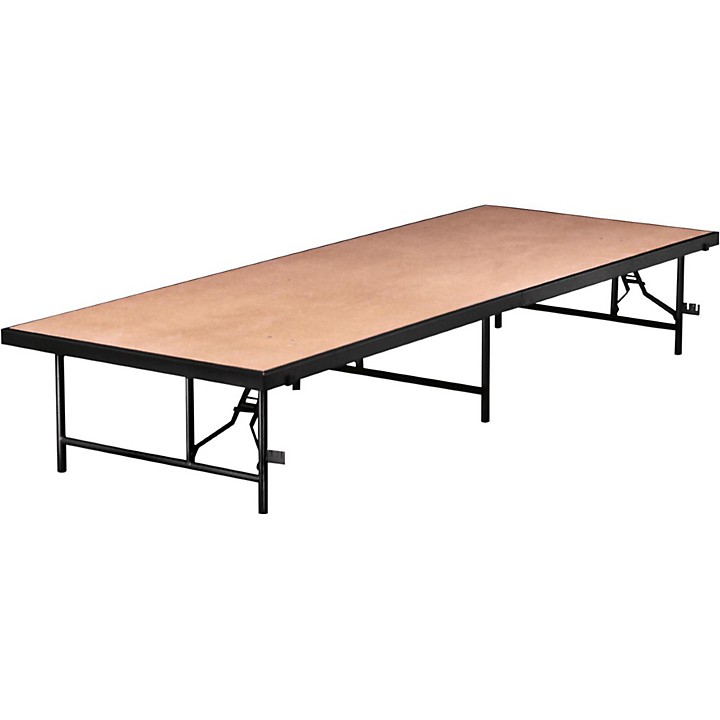 Adjustable, portable staging.
Midwest' TransFold Adjustable Platform Rectangle Portable Stage and Seated Riser Section with Hardboard Deck is an ideal portable staging solution for any school or performance group that needs lightweight, portable elevation. It is easy to set up, and is additionally supplied with casters, so if you need to move it while at the venue, you can do that easily. The built-in casters make it easy to maneuver into tight spaces. Once it is assembled, the wheels lock into place.

A 16-gauge steel frame with 14-gauge steel legs support a solid plywood deck that withstands years of use. Locking steel braces keep the stage steady and safe. This particular one is highly adjustable with an 8" leeway so you can set up a multi-tiered stage with ease. Connect TransFold units of different heights to build custom risers. Supports 200 pounds per square foot and folds to less than a four" height for storage. With clevis pins and tightening knobs included, there' no need for any tools.

Specifications
Deck Style: Hardboard
Deck Material: Plywood w/ tempered hardboard laminate (top & bottom)
Frame Material: Heavy-duty, 16-gauge formed steel channels w/ 14-gauge legs
Levels: 1
Weight Capacity: 200 lbs./square ft.
Warranty: 15 years
Glides: High-impact plastic
Length: 6'
Depth: 3'
Height: 24" or 32" (adjustable)
Assembly: Ships assembled
Features
Sturdy and safe
Easily portable
Adjustable height
Equipped with casters