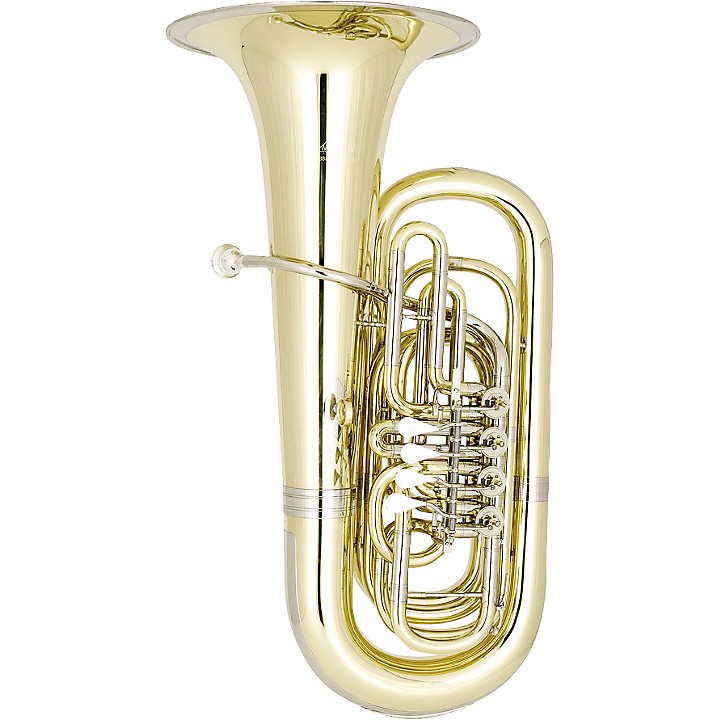 Conical Bore 3/4 Tuba!
Miraphone continues to build on the legacy of German BBb tubas with the new 3/4 size rotary valve 282 model. The 282 directly succeeds its predecessor, the BBb tuba 182, in that the bore through the valve section is unchanged and measures 19,6 - 20,4 mm (.77- .80 in.) The bell diameter has also not been altered and remains at 420 mm (16.54 in.) New Design
The mouthpipe has been redesigned to allow more direct, open airflow. The pipe is slightly longer and enters the valve from the top, rather than the side. As a result, the instrument responds even easier with a more focused core sound. The intonation of the 282 BBb tuba is exceptional due to the optimized entry of the mouthpipe. The valve section comes standard with the precisely functioning Miraphone spiral spring system. Also standard, is the durable and low maintenance Minibal linkages, which endure strenuous playing conditions with greatest reliability. The configuration is the same as that of the predecessor 182 (yellow brass, nickel silver trimmings and nickel silver wreath, 4 rotary valves, item number 170282A07000). Exceptional Quality
The 3/4 size BBb tuba 282 will offer another high quality Miraphone option ideal for the player who has discriminating preferences of sound, and prefers the compact agility of a 3/4 size instrument. This is ideal for students and school bands as well as amateurs and professionals that prefer a lighter instrument while maintaining a full, dark and rich sound.
Specifications
Bell: 16.5" diameter
Bore: .770-.800"
Key: BBb
Size: 3/4
Valves: Rotary
Features
Key of BBb
.772 to .803" conical bore
16.5" upright bell with nickel silver wreath
4 rotary valves; Nickel silver trim
Case NOT included