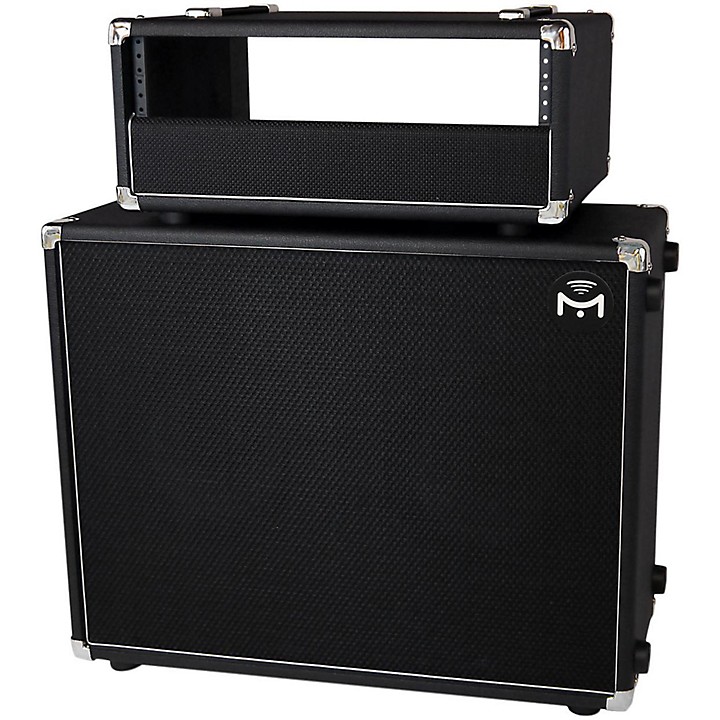 A great, powerful rig ready for your rack gear.
Gemini 2 is a 2x12" full-range digital amplified speaker cabinet with integrated studio-quality USB audio interface for use with modelers and software-based guitar systems.

Mission EmPower Technology features multi-channel class-D power amplifiers, active crossovers with variable EQ, and full-range co-axial drivers, all designed from the ground up to work together as the perfect amplification solution for modeling systems.

Gemini 2 features a 2x110W internal amplifiers, two 12" low-frequency drivers, with 1" coaxial high-frequency drivers providing a stereo solution in a single cabinet. Gemini 2 works perfectly with guitar processors with stereo outputs. Get the best out of ping-pong delays, and swirling rotary speaker emulations. Create dual-path patches assigning different cab sims to the different physical drivers. Blend clean and dirty signal chains to get you ultimate tone.

Pro-audio 1/4" jack and XLR connectors, high-speed USB, and optional Class 2 stereo Bluetooth wireless interfaces connect Gemini amps directly with software-based guitar systems on computers, tablets and smartphones, as well as dedicated guitar processors. EmPower EQ control allows blending between a flat or a more traditional guitar cab frequency response. A switchable stereo output allows you to connect two Gemini units together. The studio-quality onboard digital audio interface features bit perfect class 2 stereo audio with, selectable sampling rates up to 192kHz and 24-bit. This allows you to play and record directly into your PC or Mac without any additional hardware.

Gemini's sophisticated power system provides a number of benefits not found in traditional guitar amplifiers. The integrated 100–240 input voltage and 50/60Hz compatibility means you can use Gemini almost anywhere in the world without requiring heavy and expensive transformers. Just connect directly to wall power wherever you are with a suitable cable. Power-saving features, such as a high-efficiency power supply and deep sleep modes for internal components, mean Mission Gemini's use a fraction of the power of a regular amp, costing less to run and wasting less energy. The included V-Lock power cable ensures the power is correctly connected, and protects against the cable being accidentally pulled out.

The Gemini 2 will grace any stage or studio. Each cabinet is handmade from 3/4" void-free, Baltic birch with a high-quality black Tolex covering, black basket weave acoustic speaker covering and chrome hardware. Guitarists using rack-mount guitar processors such as the Fractal Audio-Axe-FX, Avid Eleven Rack or Pod HD PRO can use the Gemini H, 19" rack head and build the perfect modeling half stack. The Gemini 2 comes with sturdy rubber feet on both the base, and one side and can be used with the speakers in side-by-side mode for normal stereo, or vertical mode for PA style use.

USB
High-speed USB 2.0
4-bit @192KHz
USB Audio Class 1 and Class 2
Support for Apple OSX 10.6.4 and above
Microsoft Windows 7 and Windows 8

Bluetooth
Bluetooth version 3.0
Backwards compatible with 2.1+EDR, 1.2 and 1.1
Bluetooth SIG and FCC certified
Embedded DSP
iAP profile discovery for Apple iPhone and iPad
Stereo input and output

Amplifier
2 x 110W stereo
103dB signal to noise ratio, A-weighted
103dB dynamic range, A-weighted
Mission EmPower active crossover with variable EQ
110-240VAC power supply

Drivers
2 x 12" Mission low-frequency driver
2 x 1" high frequency compression driver
Titanium HF diaphragm
Co-axial configuration

Cabinet
3/4" void-free Baltic birch
Black Tolex covering
Basket weave acoustic speaker cloth
Chrome hardware

GM-HL 16" Rack Enclosure
The top 2U space is open as standard to fit most modeling amps and effects units. The 16" depth comfortably accommodates full length devices. A 2U blank in the bottom space is finished with quality black grille cloth, and silver trim to match the Gemini cabinets for a boutique half-stack appearance. The blank can be removed to access the additional 2U of rack space when required.

Gemini H is made in the USA from rugged, void free 3/4" birch ply. Black Tolex covering and chrome hardware perfectly match the Gemini cabinets, and also look great with other cabs. Each unit comes fully assembled with carry handles, 2U blank with cloth covering, silver piping, and four sturdy rubber feet allowing the head to sit on top of a speaker cab, flight case or studio table. A screw kit is included for securing your equipment into the rack.

The short version is 12" deep to match the depth of the Gemini 1 and 2 cabinets. The Short Head will accommodate rack units such as the Kemper Profiler and Avid Eleven Rack. The Full Head is 16" deep to accommodate full size units such as the Fractal Audio Axe-Fx.
Features
GM2 Cab
Power: 220W
Speakers: 2x12" Mission low-frequency drivers; 1" high-frequency compression drivers Titanium HF diaphragm; co-axial configuration
Controls: Empower variable-frequency response control; variable output level control
Dimensions: 28" (711 mm) x 20" (508 mm) x 12" (305 mm)