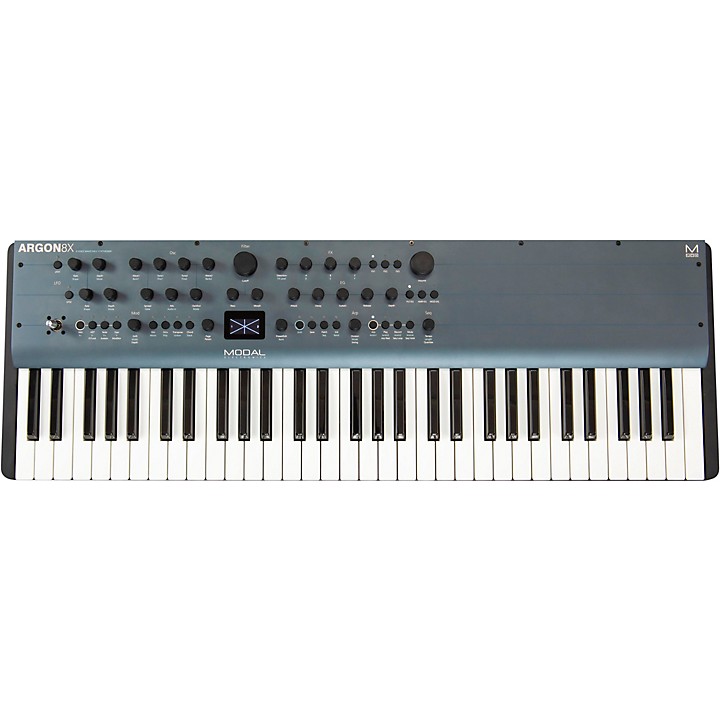 A true 8-voice polyphonic, mono-timbral synth with 61-key Fatar keybed and sequencing.
The Modal Electronics Argon8X is an 8-voice polyphonic wavetable synthesizer. The Argon8X has all the same features of the Argon8, but features a larger 61-key Fatar keybed (C to C). Like the Argon8, the Argon8x has numerous encoders and a super-bright, white-on-black OLED screen.

The Modal Argon 8X has four digital oscillators per voice split into two controllable wavetables. You have 32 different options to redraw each wavetable with its innovative offline wave modifier. The modulable oscillator modifier on each patch also has eight modifier types.

The Argon8X offers four flexible multi-mode filters and three dedicated, flexible envelope generators. These include AMP, MOD and FILTER. Each can be accessed independently or be controlled simultaneously.

Argon8X boasts a powerful Mod Matrix with eight assignable slots and four additional fixed routes, 11 mod sources and 52 destinations. The four-axis joystick can be assigned to a huge range of modulation destinations and can be locked in place when desired.

There are two Audio rate LFO's with tempo sync (one poly, one global). Polyphonic LFO can sync to frequency divisions. Argon8X has 12 onboard FX: a waveshaping distortion followed by three independent and user-configurable stereo FX engines that can create sophisticated delays, lush reverbs, flanging, phasing, rich choruses and much more.

Along with a full complement of I/O, the Argon8X features a USB port to connect your synth to the MODALapp user interface on a computer tablet or phone. This can be used for creating and managing and presets, as well as updating the firmware on your Argon8.

The Argon8X's road-ready chassis is manufactured with high-quality components. It has a powder-coated black steel case and anodized aluminum top panel.

Included MODALapp
Unlock the full potential of your Modal Electronics instrument with MODALapp, a multi-platform application that's the central command of your Modal synthesiser ecosystem. Available as a free download from the Modal Electronics website and all mainstream app stores, MODALapp conquers the dividing line between hardware control and screen-based patch editing, preset management and must-have product-specific resources. Unique, full-featured and above all, inspiring—joining the creative revolution and discovering hardware synth editing at its finest has never been easier.

Specifications
Fatar TP9/S full-size 61-key keybed
1.54" large OLED display
Built-in programmable arpeggiator—32 steps with rest capability up to 2,048 steps before repeating
120 wavetables split into 24 banks of 5 morphable waveform sets
Additional PWM bank and 3 noise/modulation banks accessible on Oscillator 2
32 static wavetable modifiers, including, de-rez, wave folders, wave shapers, phase shapers and rectify that can be applied to the 120 wavetables to give a mind-boggling array of permutations and new waveshapes
32 high-resolution wavetable oscillators, 4 per voice
8 types of oscillator modifier including: Phase Mod (FM), Ring Mod, Amp Mod, Hard Sync and Windowed Sync
Voice Drift and Width controls that help to create massive stereo soundscapes
Multiple keyboard modes, Mono, Poly, Unison 2, unison 4, unison 8, Stack 2 and Stack 4
Glide/Portamento with both legato and staccato modes
4 Filter types: all filters types are 2 pole state-variable filters, the 'Standard' filters are based on the resonant filter found in other Modal products (SKULPTsynth, CRAFTsynth2.0). The 'Classic' types have a more rounded character and a softer resonance response
8 assignable modulation slots, 4 additional fixed modulation routings for common assignments
11 modulation sources, 52 modulation destinations
4-axis joystick that can be assigned to a huge range of modulation destinations and virtually 'locked' when desired
3 dedicated envelope generators for AMP, MOD and FILTER that can be accessed independently or all three simultaneously including negative (reverse) versions
2 Audio rate LFO's with tempo sync (one poly, one global). Polyphonic LFO can sync to frequency divisions
Waveshaping distortion
3 independent and user configurable stereo FX engines for Chorus, Phaser, Flanger (Pos), Flanger (Neg), Tremolo, LoFi, Rotary, Stereo Delay, Ping-Pong Delay, X-Over Delay and Reverb that can be arranged in any order
Real-time sequencer with 512 notes with input quantise and four recordable / editable parameter animations (Delay FX, LFO's, sequencer and arpeggiator can be either clocked internally or externally)
500 patch memories, all fully editable and ships with 300 factory programs
200 user patch spaces. Patch upload and download through the free MODALapp
100 sequencer presets that can be linked to any patch for quickly loading arrangements
100 FX presets
8 Quick Recall slots accessible from the panel for quickly loading your favorite patches
Analog clock sync in and out (configured to the KORG / Teenage Engineering specification)
Connectivity
MIDI DIN in and out, class compliant MIDI provided over USB connection to host computer or tablet
Full-size 1/4" jacks for stereo audio outs, headphones and external control such as sustain and expression
3.5 mm stereo input with ability to route incoming audio through the FX
General
Power: DC-9.0V - 1.5A center-positive
Dimensions (WxDxH): 35" x 11-3/4" – 4" (885 mm x 300 mm x 100 mm)
Software
MODALapp software editor available for macOS, Windows, iOS and Android
MODALapp can also be run within your Digital Audio Workstation (DAW), with VST3 and AU versions available
Features
True 8-voice polyphonic synth in road-ready steel/aluminum chassis
Fatar TP9/S full-size 61-key keybed with velocity and aftertouch
1.54" OLED display—provides instant visual feedback to the user at all times of playing/editing
120 wavetables split into 24 banks of 5 morphable waveform sets, covering virtual analog classics through to cutting-edge EDM