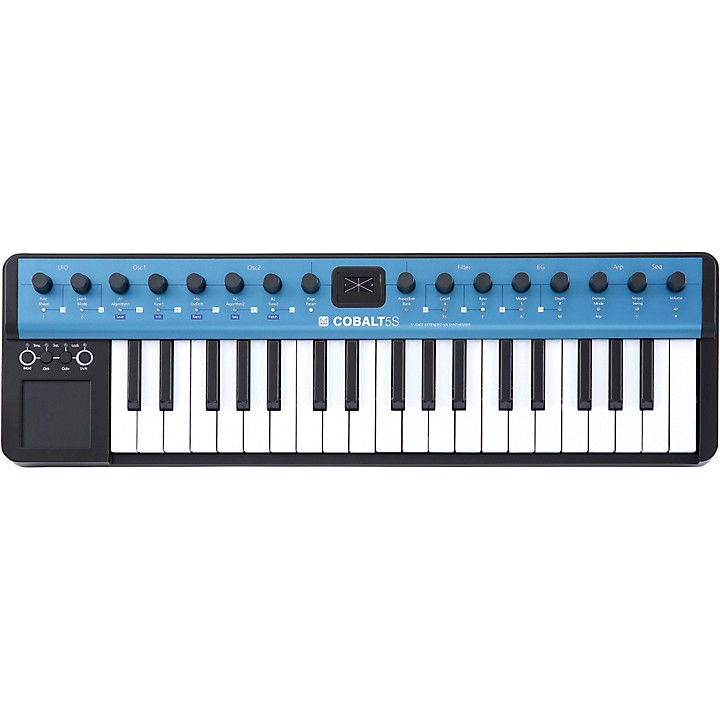 Modal Electronics' 5-voice extended virtual analog synthesizer is here.
Modal Electronics' USB-powered COBALT5S is made to move and ready to spark your creativity wherever, and whenever, inspiration strikes. It's founded on next-generation COBALT synth architecture and housed in an ultraportable go-anywhere footprint. Whether it's a singularly authentic replication of classic analog sounds, or the most contemporary texture, COBALT5S' extended virtual analog sound engine delivers on all counts.

COBALT5S takes inspiration from the iconic sound of its analog forebears, transcending any and all limitations to take a leading-edge synth architecture truly mobile. From sultry basslines to expansive, mutating beds—and everywhere in between—COBALT5S is not just modeling run-of-the-mill analog sounds, this is beyond analog, anywhere.
Create without limitation
Featuring five true polyphonic voices, two independent algorithm groups and up to eight oscillators per voice, musicians, sound designers and producers are armed with a palette of sound that's primed for any application imaginable. Fuse this with 40 complex algorithms, including Sync, Ring Modulation, Waveform Morphing plus many more, and it's easy to see how COBALT5S empowers creators with liberated sound-sculpting capability without limitation.
Ear candy
Featuring the self-oscillating 4-Pole Morphable Ladder Filter from the COBALT8, COBALT5S guarantees to texture your sound with all the bite and warmth your performance demands. Four separate filter modes fuse with mainstay controls for cutoff and resonance, alongside a morph parameter to musically manipulate the frequency response of the filter for a truly immersive experience. From the sublime to the experimental and everywhere in between, crafting the perfect timbre is limited only by your imagination.
Sound shaping, simplified
Everything you demand to craft the perfect sound in meticulous detail is right at your fingertips with COBALT5S. Three envelopes with selectable types take command of the filter, amp or modulation destinations, empowering you with unrestricted options when it comes to fine-tuning your sound. One polyphonic LFO and one global LFO provide extended power to control a plethora of modulation sources, selected via a sophisticated 8-slot modulation matrix. Whether it's an otherworldly evolving soundscape, rhythmic pads or a searing lead, realizing your creative vision has never been this easy.
Made to move
Taking the legendary build quality synonymous with Modal Electronics' synthesizer roster and outfitting this with a 37-note compact keybed with aftertouch, COBALT5S is primed for your creative exploits wherever and wherever creativity strikes. Plus, with a USB powered specification, powering the COBALT5S from your Mac, PC or portable power brick couldn't be any simpler.
Control, evolved
Take complete command and craft your signature sound with ease, courtesy of 16 switched encoders. For complete expressive capability, COBALT5S' X/Y/Z touchpad provides ultimate 5-axis control over pitch bend, mod wheel and/or any user-selected modulation assignment. Two independent stereo effect engines, including delay and chorus, inject depth and character into your patches, allowing you to create polished synth textures. Rounding out this tactile, performance-centric control assortment is a radiant monochrome OLED display that relays all key information you demand in razor-sharp resolution.
Connection options
Integrating COBALT5S into your existing setup couldn't be simpler. Connect to PA systems, stage boxes, mixing desks and more with dual 1/4" line out jacks. Practice in private thanks to a 1/4" stereo headphone output. Add some genuine piano-style sustain to your performance with a 1/4" sustain pedal input. Connect to all your MIDI peripherals thanks to full-size MIDI ins and outs, as well as MIDI over USB capability. Finally, keep everything on point with COBALT5S' clock sync in and out. Whatever your next performance demands, COBALT5S assimilates with ease.
Free MODALapp for immersive sound programming sessions
The free MODALapp brings the comfort of screen-based editing on your computer or mobile device. Available as a standalone app for macOS, Windows, iOS, iPadOS or Android systems and in VST3 and AU plug-in formats, it's the perfect companion for synth enthusiasts looking to deep dive into all sound-editing and performance parameters. Creating your own signature sound, backing up your library and managing your patches and sequences couldn't be simpler.
Specifications
Inputs and Outputs
1/4" TS line outputs
1/4" TRS headphone output
MIDI DIN in and out
1/8" TS analog clock sync in and out
Class-compliant MIDI over USB connection
1/4" TS sustain pedal input
Power
Power: 9 VDC–1.5A center-positive or USB-bus powered
General
Dimensions (LxWxH): 22.24" x 6.38" x 2.24"
Weight: 5.20 lb.
Features
Filter
4-Pole Morphable Ladder Filter with Resonance and four switchable configurations
Resonance and Balanced Filter Modes
Modulation
Three dedicated envelope generators for AMP, MOD and FILTER that can be accessed independently or all three simultaneously, including negative (reverse) versions for MOD and FILTER ENVs
Two audio-rate LFOs with tempo sync (one poly, one global) with seven different shapes
Eight assignable modulation slots and four additional fixed modulation routings for common assignments with 11 modulation sources and 41 modulation destinations
Sequencer and Arpeggiator
Polyphonic real-time sequencer with 512 notes and four recordable/editable parameter animations (Delay FX, LFOs, sequencer and arpeggiator can be either clocked internally or externally)
Polyphonic Step Sequencer with 64 steps, 5 notes per step, 4 lanes of parameter lock-style animation, Step Input mode, multiple playback modes, including gate modes and rest function
Built-In sophisticated programmable arpeggiator of 32 steps with rest capability and up to 2,048 steps before repeating
FX
Two incredibly powerful independent and user-configurable stereo FX engines for Chorus and Stereo Delay
User Memory
300 patch memories, all fully editable; ships with 200 factory programs
100 sequencer presets that can be linked to any patch for quickly loading arrangements
Four Quick Recall slots accessible from the panel for quickly loading your favorite patches
Controls and Performance
Premium 37 compact-key keyboard with velocity and channel aftertouch
16 switched encoders support real-time CC message transmissions to other MIDI devices or DAWs
Five-axis X/Y/Z pressure-sensitive keypad for pitch bend, mod wheel and/or modulation assignments
Multiple keyboard modes, Mono, Poly, Stack 2, Unison 2, Unison 4
Glide/portamento with both legato and staccato modes
Enclosure and Display
Durable polycarbonate enclosure
1 large monochrome OLED display for instant visual feedback at all times of playing/editing
Editor Software
Free MODALapp software editor available for macOS, Windows, iOS and Android
MODALapp can also be run within your Digital Audio Workstation (DAW), with VST3 and AU versions available