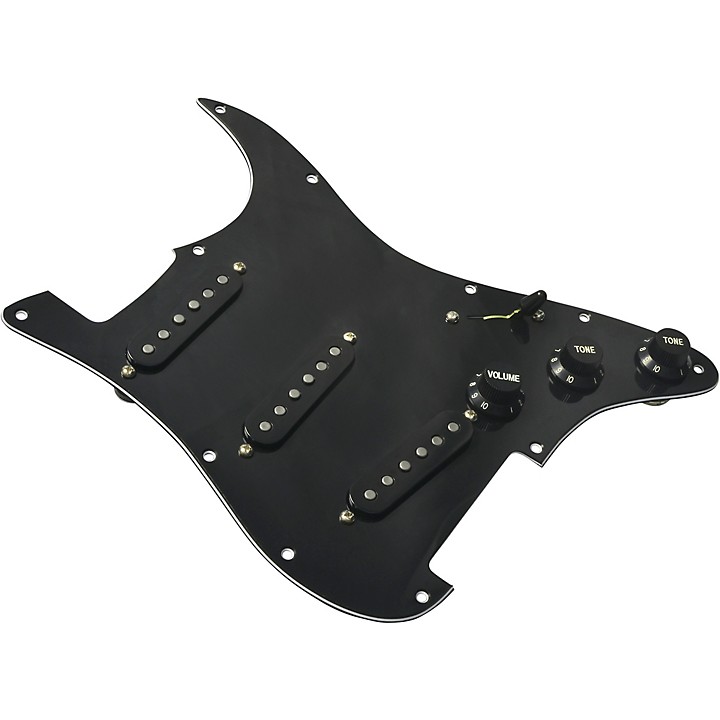 It's all about the tone.
Mojotone "Quiet Coil" strat pickups are some of the finest hum-cancelling pickups ever made, giving you all of the response and dynamics of a true single coil without the hum. You never have to compensate your tone for hum-cancelling pickups again.

Mojotone '67 "Quiet Coil" with the Hot Quiet Coil pickguards are masterfully prewired to perfection with no soldering required. Nothing but the best quality parts are used like our custom taper and super low torque CTS pots, Switchcraft jack, Mojotone Vitamin T oil filled capacitor, and CRL 5-way switch. A treble bleed cap is installed to preserve treble when rolling the volume back.

The '67 "Quiet Coil" with the Hot "Quiet Coil", gives you that infamous late '60s psychedelic strat tone in the neck and middle positions with a hotter bridge pickup for those who need slightly more girth and sustain out of the bridge position. Carefully balanced in output from the neck, middle, to bridge positions, and completely hum-cancelling in ALL positions.

Product details
Black 3-Ply, 11-Hole standard Strat pickguard with black knobs, switch tip, and pickup covers.
(Set of 3) '67 Quiet Coil neck and middle pickups with Hot Quiet Coil bridge pickup.
Prewired with no soldering required. Just drop in and play.
Handmade in the USA

Neck: 5.6k
Middle: 5.6k
Bridge: 5.8k

Product FAQ's
What is the difference between the '58 and '67 Quiet Coils?
Just like the original 1958 and 1967 Strat pickups, the materials, number of turns, winding patterns, etc all changed throughout the different years of manufacturing. The '58s tend to sound brighter with more upper midrange presence, which gives them a glassier tone, compared to the '67s which are slightly more scooped on the mids with a rounder top end, and more quack in positions 2 and 4 of the 5-way switch.

Does the Hot Quiet Coil in the bridge position sound like a humbucker?
No, the Hot Quiet Coil is designed to sound like an overwound single coil Strat pickup with more bass, mids, and output compared to a vintage spec bridge pickup. This gives you more girth and sustain without sacrificing single coil dynamics or tone.
Features
Consistent scatterwound coils for that handwound tone, sensitivity, and clarity
Vintage formulated Alnico magnet cores with lower Gauss levels like an aged vintage strat pickup
Vintage cloth covered leads for easy push-back soldering
Matched resonant peak frequency, inductance, and resistance of a vintage single coil
Vintage staggered polepieces for a traditional strat pickup look
No routing modifications are required to fit shallow vintage routs like the taller stacked hum-cancelling designs
No PC boards, batteries, or stacked coils are used like other hum-cancelling designs
Less than 10 parts are used to build the Quiet Coils. Like a vintage strat pickup, they are SIMPLE