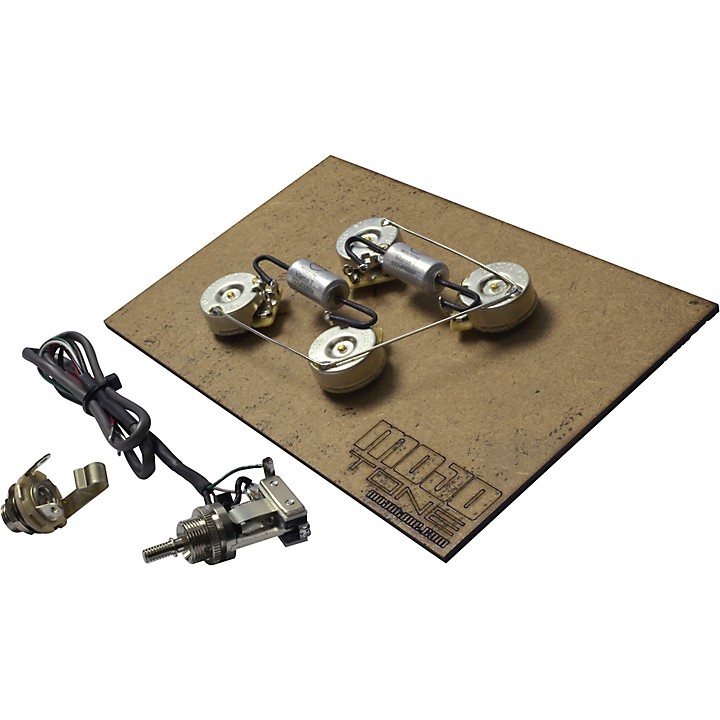 It's all about the tone.
At one point or another, it is essential for any guitarist to upgrade or replace the electronics in their guitar. Each component is just as important as the next, which is why Mojotone has created a pre-wired assembly with the highest quality components on the market. Bring your guitar to life with the smooth custom taper CTS potentiometers and creamy sounding paper and oil Vitamin T capacitors for a vast improvement over your stock electronics.

This is a standard Gibson Les Paul style kit that utilizes '50s style wiring for maximum tone. Designed specifically with long shaft potentiometers, it will fit most Les Paul style copies and originals with thicker carved tops. Use 24-knurl push on knobs only and may require enlarging holes to fit Asian made guitars with metric pots.

Features
Includes:
CTS 500k custom taper long shaft potentiometers
Switchcraft short straight toggle switch
Switchcraft mono input jack
Vitamin T Oil Filled .022uf capacitor
Shielded cloth covered 22 gauge black wire
Wiring diagram