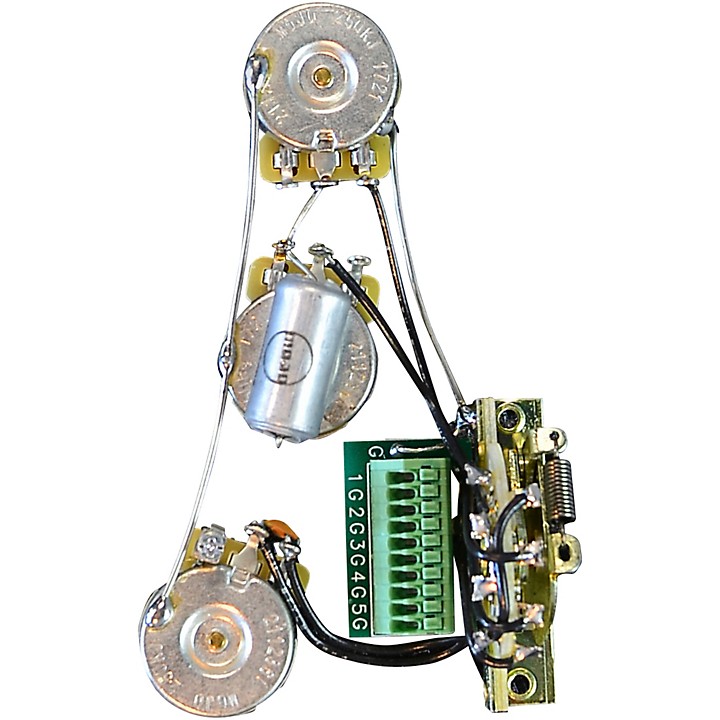 A smart solution to make swapping pickups easier and better sounding.
Do you like swapping pickups, or maybe you don't want to solder because you're afraid of messing things up? These solderless assemblies provide the easiest solution and most reliable connections with a simple push and release of a button. All while offering a superior quality electronic upgrade for your guitar.

No bulky plugs or add-ons are needed for the solderless harness to work. Just strip back your existing wires from your pickups and guitar, insert them into our solderless connector, and you're done.

Note:
Guitars made overseas may require you to enlarge the holes for the larger US spec pots to fit. You will also need to change the metric knobs to inch sized 24-knurl push-on knobs and the switch tip.
Specifications
Included
(4) CTS 500k vintage taper short shaft potentiometers
(1) Switchcraft USA toggle switch (Switch tip sold separately)
(1) Switchcraft USA mono input jack
(2) Mojotone Vitamin T Oil Filled .022uf capacitor
(1) Detailed wiring diagram and instructions
Features
Push-in solderless wire connection for quick installation and easy pickup swaps
Vintage quality USA branded components (Switchcraft, Mojotone, and CTS)
Smooth custom taper, CTS industrial potentiometers with solid brass bushings
Handcrafted and hermetically sealed Mojotone Vitamin T oil-filled tone caps
Pre-wired industrial quality Switchcraft toggle switch included
Hand-wired point-to-point by Mojotone in the USA