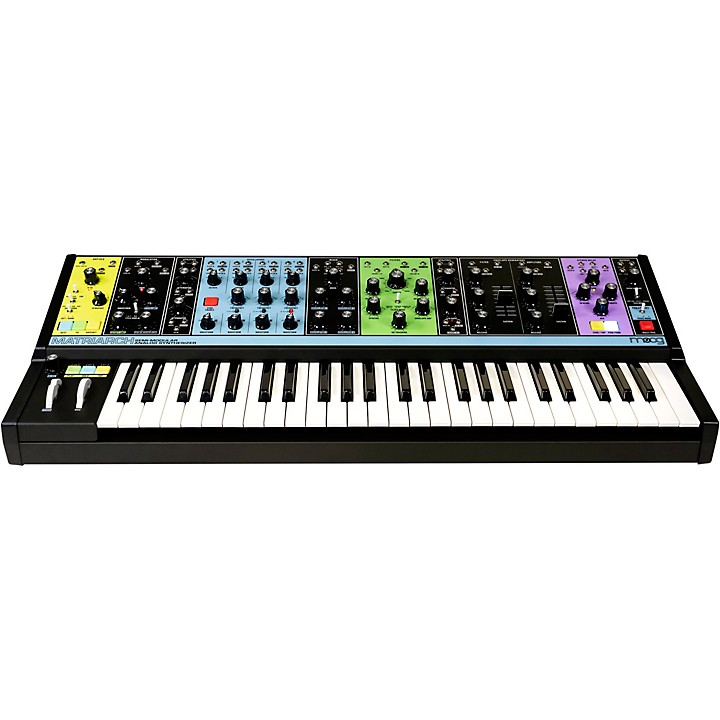 4-note paraphonic analog synthesizer with four oscillators, two filters and stereo delay.
The Moog Matriarch is a patchable 4-note paraphonic analog synthesizer with built-in sequencer, arpeggiator, stereo ladder filter and stereo analog delay. It expands Moog's semi-modular series of instruments, including Mother-32, DFAM and Grandmother. Play it right out of the box, or tap into a wide range of inspiring textures, new sounds and an endless supply of happy accidents through Matriarch's 90 modular patch points. Similar to the all-analog design of the Grandmother, Matriarch sets itself apart with four oscillators, stereo ladder filters, stereo delay and more. Matriarch also features an expressive 49-note Fatar keyboard with patchable velocity and aftertouch, the perfect way to explore a new world of sound and inspiration.
All-analog design
Matriarch is an analog synthesizer with an emphasis on imagination. The pinnacle of Moog's semi-modular family of synthesizers, Matriarch's patchable architecture and vintage Moog circuits reward open exploration with endless sonic possibilities and unparalleled analog sound. Easily create rich harmonic shapes with up to four notes of paraphony that can be sequenced, saved and shifted with Matriarch's intuitive 256 step sequencer, or stack the analog VCOs to play on a massive four oscillator mono synth.

All about the modules
With a deep assortment of synthesis modules based on Bob Moog's original circuit designs, Matriarch's 100% analog signal path spans a dynamic sonic vocabulary—from overdriven monophonic bass to gently evolving paraphonic plucks that cycle through waveshapes into a wash of infinite delay trails. Coupling the power of vintage stereo ladder filters, dual envelope generators, stereo analog delays and stereo VCAs, Matriarch delivers a multi-dimensional sound that empowers the sonic exploration of space and time.

Go deeper into sound exploration
Though Matriarch's semi-modular design requires absolutely no patching, 90 modular patch points are easily accessible throughout the panel via the included 3.5 mm patch cables. This powerful electronic instrument is a highly versatile addition to any stage or studio that can effortlessly transform from a performance keyboard to a fully modular analog synthesizer at a moment's notice. In addition to its standalone function, Matriarch is also an ideal processor of external sound sources and a powerful keyboard front-end for expanding a DFAM, Mother-32, Grandmother or Eurorack modular system.
Features
Mono, duo and 4-note paraphonic playability
Stereo analog delay with up to 700 ms of stereo or ping/pong-style repeats
256-step sequencer with up to four notes per step and 12 stored patterns
Arpeggiator with selectable modes (Order, Forward/Backward, Random)
Semi-modular analog synthesizer—no patching required
90 modular patch points for endless exploration
Expressive 49-note Fatar keyboard with patchable velocity and aftertouch
Four analog oscillators with selectable waveshape and hard sync per-oscillator
Full-range analog LFO with six selectable waveshapes
Dual analog filters with parallel (HP/LP), stereo (LP/LP) and series (HP/LP) modes available
Dual analog ADSR envelopes
Dual analog VCAs
Three bipolar voltage controlled attenuators with ring mod capability
2x4 parallel wired unbuffered mults
Additional simple analog LFO useful for adding modulation to delay, filters and VCAs
1/4" external audio input for processing guitars, drum machines and more through Matriarch's analog circuits
Stereo 1/4" and 3.5 mm Eurorack level audio outputs