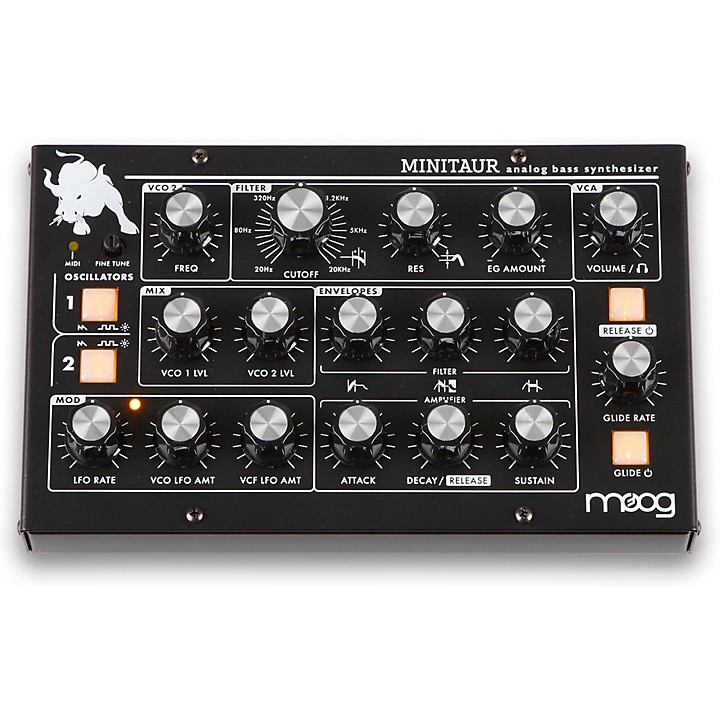 A beast for bass lovers.
With Moog's Minotaur, you don't have to traverse a labyrinth to create analog bass sounds of mythical proportions. Part of the Taurus family of Moog instruments, this compact analog bass synthesizer provides you with all the growl, snarl and low end its siblings are known for in an uncomplicated one knob per function format. Whether you're using it as part of your live rig or as extra weapon in your studio arsenal, the Minotaur, unlike it's legendary namesake, has a small footprint, measuring a mere 8.5 x 5.25 in.

This rugged synthesizer features two oscillators with Sawtooth and Square wave-shapes for each VCO so you can recreate the sounds of the original Taurus, create new sounds with square waves or do a combination of both. There is also a Moog Ladder Filter with adjustable resonance for old-school bass with impact, 2 Minimoog-style ASDSR Envelope Generators for VCF and VCA, MIDI-syncable LFO with control for Rate, VCO LFO and VCF LFO amount. It also comes with DIN MIDI and MIDI over USB for even more control options, as well as external audio input so you can process your own external audio through it's mixer and filters for even crazier bass combinations.
Specifications
Sound engine: analog
Presets: 128 presets
Polyphony: monophonic (can be poly-chained)
External controller response: keyboard, pitch bend, mod wheel, after pressure and velocity
Sound sources: 2 waveshape oscillators with square and saw waveshapes
VCO 2 freq: +/-12 semitones
Hard sync: on/off
Oscillator calibration range: 22hz-6.8khz. Note range at 8' = 18 - 116
Glide: select LCR, LCT, EXP - legato on/off
Filter: 20hz-20khz Moog ladder filter
Modulation sources: LFO (triange, square, saw, ramp, sample & hold), filter envelope
Modulation destinations: oscillator pitch, oscillator 2 pitch only, filter cutoff
LFO panel features: rate control, VCO LFO amount and VCF LFO amount
Envelopes: 2x ADSR envelopes with legato on, legato off and EG reset
External audio input: ¼ in. TS
Audio output: ¼ TS, ⅛ in. TRS headphone with volume control
MIDI I/O: din in, and MIDI I/O over USB
Assignable CV/gate inputs: filter CV (fixed dest.), pitch CV (default), volume CV (default), KB gate (default)
CV to MIDI conversion: yes
Included power supply: 100-250vac, 50-60hz, +12vdc
Weight: 2.5lbs (1.2kg)
Dimensions: 3.1 x 8.75 x 5.1 in.
Features
One knob per function interface for tweaking and creating new sounds
Two oscillators with Sawtooth (Original Taurus) and Square wave-shapes for each VCO
2 Mixer VCAs for VCO levels control of Oscillators 1 and 2
Two Minimoog style ADSR Envelope Generators for modulating VCF and VCA
MIDI-syncable LFO with controls for Rate, VCO LFO Amount, and VCF LFO Amount
DIN MIDI and MIDI over USB offer complete control of sound engine
Analog Control inputs for Pitch, Filter, Volume and Gate
External audio input for processing external audio through the Mixer and Filter section
Select and save directly from front panel, via MIDI controller or with the free Minitaur Editor / Librarian software.
Editor/Librarian software, seamless DAW integration now with full Windows support
Tri, Sqr, Saw, Ramp, S&H and Filter EG modulation sources
Hard sync accesses a completely new sonic palette with your Minitaur
Modulation of OSC 2 only pairs with Hard Sync for syncopated metallic sweeps and surges
Assignable CV inputs control any feature on your Minitaur via control voltage
CV to MIDI conversion brings control voltage into your DAW for analog control over digital circuits