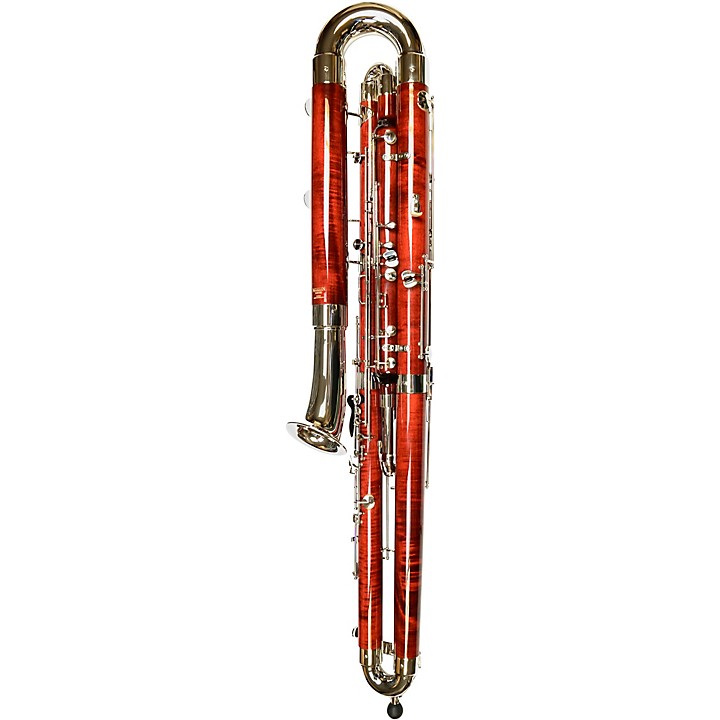 Clear and round sound, superb keywork.
Each Moosmann bassoon is manufactured out of mountain maple. The wood that Bernd selects is grown in Yugoslavia's Bosnia region. The maple grows very slowly in this high altitude region, giving the wood a very compact and dense structure. Because of this, bassoons made out of this wood have excellent resonance and projection. It is rough cut and stored for aging in a temperature-controlled room for approximately 5 years.

It is then roughed into the four basic parts of the bassoon and stored for an additional 2 years. When it is time for manufacturing process to begin, the wood is soaked in a oil based solution until every pore is thoroughly saturated. This oil bath protects the bassoon from deterioration.

The Model 98AP/100AP is finished with a standard type of lacquer finish. First the color is applied, then a thin water based sealer coat is applied to close the pores and harden the surface and then 5 coats of lacquer are applied giving the bassoon the protection and the rich, deep gloss shine.

The Moosmann bassoons are fully lined in the tenor joint and both sides of the boot joint with a rubber-like material. What makes this unique is the process by which the bassoons are lined. Instead of gluing a rubber piece in place, the rubber material is heated and poured into the joints, allowed to cool and then the forming mandrel is removed. This provides the benefit of a "bonding" of the rubber material with the wood that means it will never come loose and provides for better response and projection.

All of the critical tone holes are lined in nickel silver for stable pitch and focused tone. They protrude into the bore, thus preventing water from entering the hole. These linings and the lining of the A Flat hole with a rubber-like material aid in the prevention of deterioration of the wood and provides a better seating surface for the pads and corks.
Features
Bosnian Mountain Maple Body
Lining of wing joint
23 German Silver key system with Nickel plating
18 Rollers – F, Ab, C#, D#, C, Eb, Bb, E (2), F#, Low D, C (2), B, Bb, C#, Octave, 2nd Octave
Special Tapered Metal U-tube joints
Hand rest for Right Hand & Adjustable Left Hand Support
Tuning Slide
Double Octave Key
Two "Excellent Series" bocals – K1 & K2
Alternate Eb Key
Key design to fit small and large hands comfortably
Fingering system very similar to bassoon for easy transition
BG Large Silk – Bamboo Care Cloth
Hard Travel Case, Aluminum Covered with reinforced corners & 4 Latches