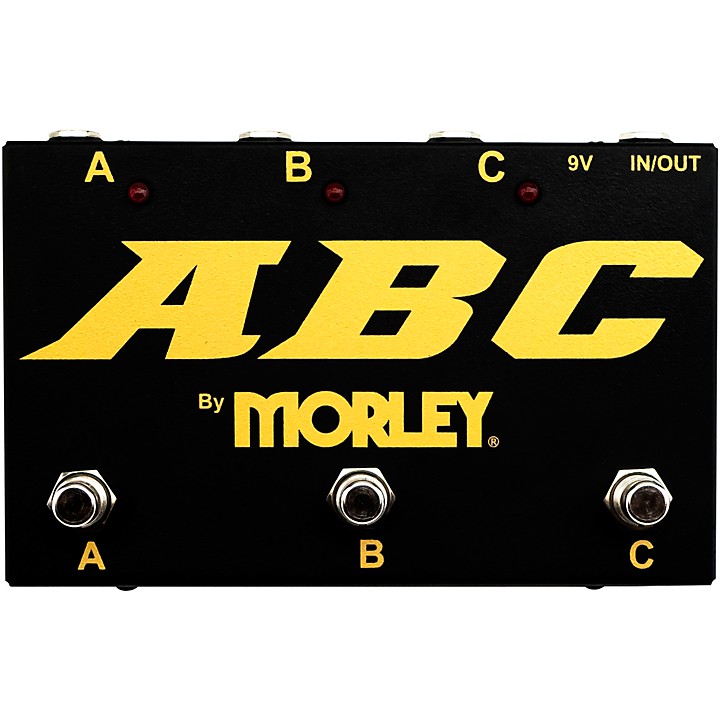 Gives you one more channel to work with.
The Morley Gold Series ABC switcher adds an extra channel to Morley's iconic ABY pedal. This extra channel adds to its versatility, making it the perfect tool for multi-instrumentalists and those who like to use multiple amps at the same time. You can use as many as three amps at the same time or select between them. This is great for live sound as well since you have an additional output to send to the board. For splitting your signal, it is recommend using the Morley ABY MIX or ABC Pro (sold separately) as those are better suited for splitting.

With the Gold Series ABC switcher you can route one input to three outputs or reverse it and route three inputs to one output. This makes switching between instruments or amplifiers easy. It's also completely passive, so it doesn't need a power source to function. Only the LEDs require power, which conserves battery life.



Features
Flexible routing: route one input to three outputs or reverse it and route three inputs to one output
Bypass switches for each channel
Handy LEDs let you know which channels are active
True bypass
Passive design, can be used without a power source (only the LEDs require power)
Powered by a standard 9V supply or 9V battery
Robust Design built with cold rolled steel
Dimensions (LxWxH): 6.63″ x 4.38″ x 2″
Current Draw: 2 mA
1-year warranty (keep your purchase receipt)
Not intended for use on powered speaker lines