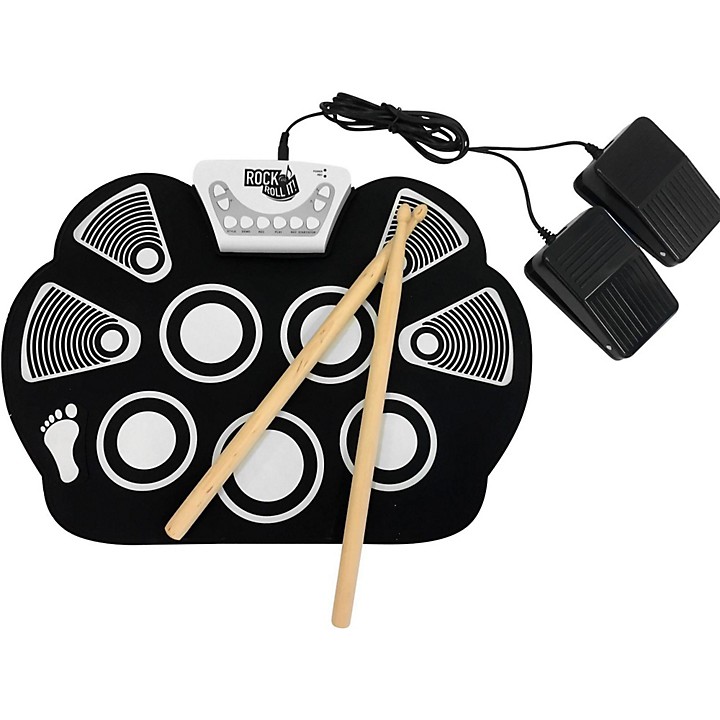 Award-winning, flexible, completely portable drum with two drum sticks and two pedals.
Rock and Roll It - Drum is a flexible, portable and durable roll-up drum set. Perfect for the young rock star looking to get his start, or a seasoned vet wanting to keep his skills sharp on the go.

The Rock and Roll It - Drum is so pliable, when you're done playing, you can roll it back up into its box for storage.
Since it can be powered by four AAA batteries or USB (cord included), you can play anytime, anywhere.

Features includes multiple drum sounds, professional demos, instrumental accompaniment tracks, record and playback, audio input and output (listen through any headphone or external speaker), two drum sticks and pedals for the bass drum and hi-hat for real playing feel. It even connects to MP3.

The Rock and Roll It - Drum is perfect for everyone from beginner to master, children to adults—rock out then roll it up.

Recommended for everyone ages 6+.

Specifications
Drum size (open): 15 x 11 x 1 in.
Rolls up into a box sized: 6.5 x 12.75 x 2.75 in.
Materials: Silicone, plastic
Batteries: Two AAA (not included)
Features
Multiple Drum Tones
Professional Demo Songs
Numerous instrumental tracks
Record and playback
Audio In/Out with auxiliary capabilities(headphones or external speaker required for use)
Connects to MP3 players!
Powered by USB (cord included!) or four AAA batteries (sold separately)
Completely portable - take it with you and play anywhere
Power-saving mode activates when not in use
Realistic sounds
Package Includes:
Drum
48 in. USB power cord (wall plug not included)
Two drum sticks
Two foot pedals (one for bass drum and one for hi-hat)
24 in., 3.5 mm male-to-male audio adapter cable
User Manual
Notes for usage:
Due to the soft silicone that the drum is made of, there are times when compound sounds are produced due to cross-feedback or vibrations registering on adjacent pads. This is normal for such devices and is not indicate a faulty or malfunctioning product.
Headphones or an external speaker are required to hear the drum.