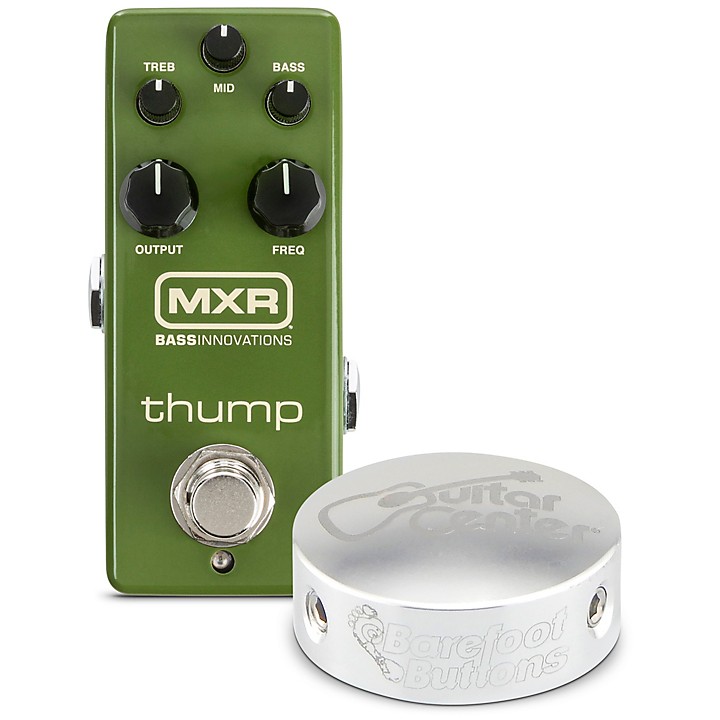 Increased signal-boosting effects and functionality with this pedal/footswitch cap combo.
This bundle includes the MXR Thump Bass Preamp pedal with a bonus Barefoot Buttons V1 Guitar Center standard footswitch cap for a double feature of sound and functionality.
MXR M281 Thump Bass Preamp Pedal

The Thump Bass Preamp pedal is a tone-sweetening, signal-boosting and altogether groove-enhancing machine. Featuring an Echoplex Preamp circuit, the Thump Bass conditions your signal with a carefully balanced EQ profile, and the tone controls let you take it from there. The Treble and Bass knobs cut or boost frequencies at 8 kHz and 40 Hz respectively, while the Mid knob cuts or boosts the midrange as set by the Frequency knob, from 250 Hz to 1 kHz. Whether you need to punch up a solo, boost your signal in a live mix, or sculpt more edge into the sound of a passive bass, the Thump Bass Preamp packs incredible versatility into an MXR mini housing.
Barefoot Buttons V1 Guitar Center Standard Footswitch Cap

The V1 Guitar Center standard footswitch cap fits on most major switches and triggers, making your effects pedal easier and more comfortable to use while increasing engagement accuracy. This easy-to-install button is a solid, go-to resource for musicians who use pedals. The V1 standard is designed to perform in a variety of situations, providing increased surface area to engage your switches.
Features
Includes:
MXR M281 Thump Bass Preamp Pedal
Barefoot Buttons V1 Guitar Center Standard Footswitch Cap