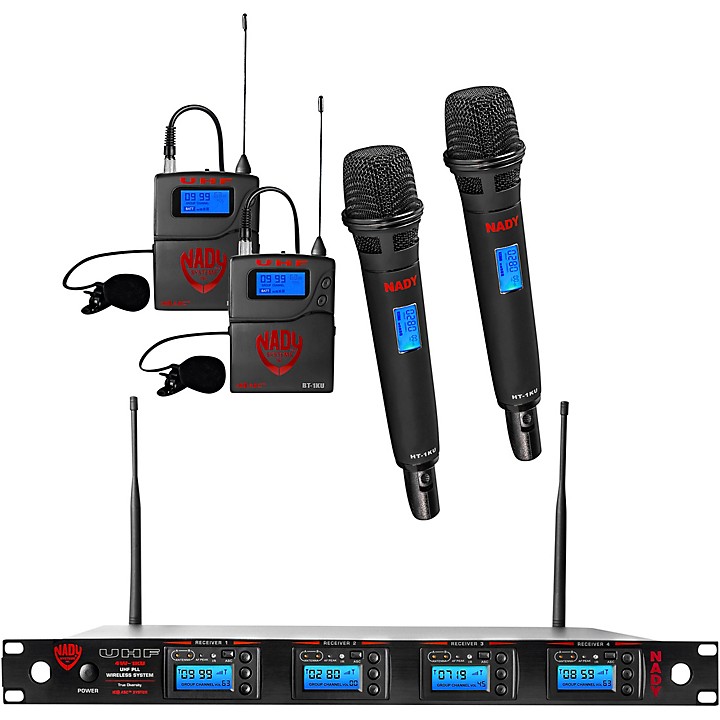 A true diversity 1000-channel professional UHF wireless system with 2 handheld and 2 lapel microphones and body-pack transmitters
Perfect for events or performances, Nady's flagship wireless system the W-1KU, combines many stand out features that set this system apart in the wireless industry. Features include; automatically scan from 1,000 UHF channels to find interference-free frequencies in seconds. When you do find the right frequency, transmitter synchronization happens in a flash. With a True Diversity, dual-antenna design the Quad 1000 maximizes range and eliminates dropouts.

An all-Metal Housing is included for all receivers and transmitters made to withstand the rigors of live performances and backlit LCD displays are included on the W-1KU receiver to indicate selected audio output, volume level, group/channel, RF signal strength meter, and A/B diversity status.

Features
Four independent wireless receivers in one enclosure for simultaneous operation of four
transmitters
Unsurpassed performance with 120dB dynamic range
True Diversity circuitry for worry-free operation and dropout protection. Up to 500' range
Rack-mountable receiver with 4 balanced XLR microphone level and 1 unbalanced ¼" mixed line level audio outputs
Backlit LCD with user-friendly configuration menus indicating frequency,
volume, and RF signal strength