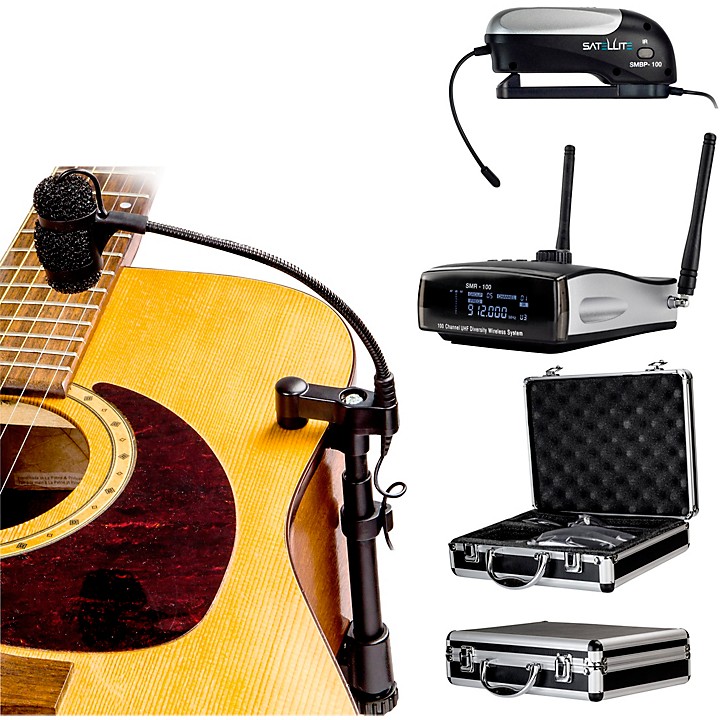 Amplify the actual sound of your acoustic guitar and instruments.
Like people, every acoustic guitar is different, sounds different. This is mostly because of a guitars wood type, age or maybe someone has found their "special" sounding guitar. Unfortunately, many times the output from an acoustic guitar pickup does not reproduce what the guitar "actually" sounds like. Nady Systems has found a solution with the Satellite AGM-100. Finally, the SOUND of your guitar is what will be heard and even better, it's wireless. There will also be no concern of intrusive drilling or potential damage when installing a pickup on your precious instrument when using the AGM-100 and your performances will be that much better knowing there are no wires to trip over.

The Nady CenterStage Satellite is a revolutionary compact wireless system designed specifically for instruments (guitar, acoustic guitar, bass, horns, violin, mandolin, or any other instrument with a pickup). With 100 user selectable UHF frequencies, the Satellite -100 offers clear-channel operation with up to 300' range (without obstructions). The mini pedal size receiver connects directly to your amplifier, interface, pedals, or mixer. For electric guitar, bass, or any instrument with an input jack, the Satellite is available with the SMGT-A instrument transmitter featuring a 30° angled ¼ inch plug (for use with recessed or surface mounted jacks) or the SMGT-R transmitter with a 90° angled ¼ inch plug (for use with side mounted jacks).

For wireless use with horns choose the SMHT transmitter, and for acoustic guitar, mandolin, violin, or an acoustic-based instrument choose the SMBP with the optional GT-10 or GT-20 microphone. With the included reinforced aluminum case, all Satellite -100 system components and kept safely in one place.
Features
Free yourself from cables and experience the ultimate freedom while performing
A reliable and compact system with professional features and exceptional audio quality
Rugged, stompbox-size wireless receiver can be placed anywhere you choose
True Diversity (dual antenna system) guarantees the best possible range
Mini transmitter directly connects to the AGM-10 Microphone
For use with Steel String or Nylon String Acoustic guitars or basses.