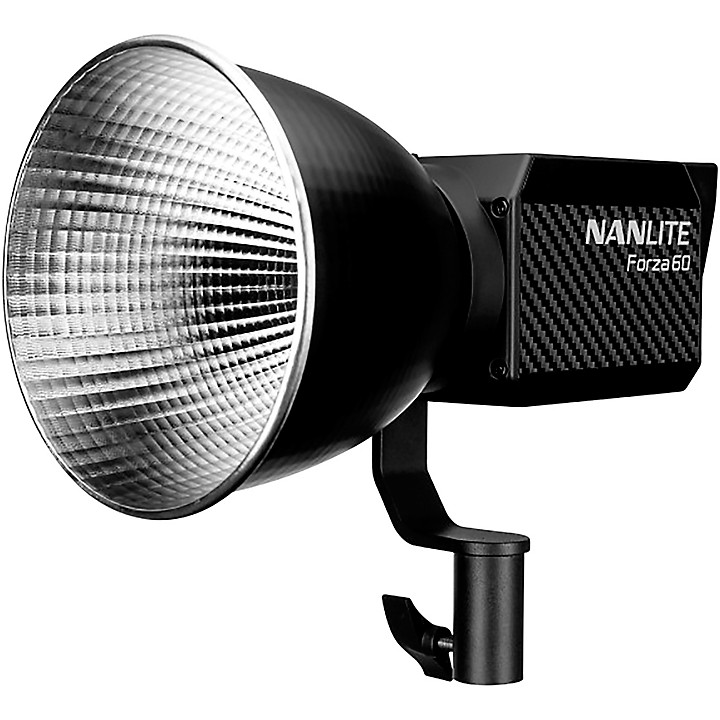 Compact light fixture with high output for photography and video.
The Forza 60 LED from Nanlite is a monolight style light fixture with remarkable light output relative to its small size. Weighing only 1.83 lb., the Forza 60 employs a COB LED module to output 18820 Lux of 5600K daylight-balanced light at 1 meter while still maintaining a high CRI/TLCI of 98/95 to ensure accurate color rendition. Plus with dimming from 100% down to 0% you can quickly adapt the Forza 60 to any scene without adding ND gels or diffusion. The Forza 60 is directly compatible with a purpose-built line of Forza 60 light modifiers, while the included Bowens S-Mount adapter expands compatibility to a massive selection of light modifiers, including but not limited to Nanlite's line of full-sized softboxes and umbrellas. With pre-programmed special effects in a simple-to-master menu system, the Forza makes it easy to imitate lighting scenarios that can otherwise be tricky to recreate. At the touch of a button, you can simulate the lighting effects of lightning, a TV screen, a flash, and a malfunctioning light bulb. Take the Nanlite Forza 60's power and versatility to a new level with the included Forza 60 Battery Grip. By no longer relying on light stands for support, the Forza 60 can now be used anywhere and everywhere, perfect for run and gun filmmaking, creative effects and event photography.

The included Battery Grip enables approx. one hour of cord-free runtime at 100% brightness when equipped with 2x Sony L style NP-F750 batteries so you can operate in any location regardless of power availability. Other power options include an AC Adaper (included) or a 14.8w V-Mount style battery, via a specially designed battery grip (sold separately). Supplied with a standard 5/8" receiver mount, the Forza 60 can be mounted directly on any standard light stand and the 330-degree rotating yolk makes it easy to adjust almost any angle or hang the light from a ceiling for studio use. Also thanks to the Forza 60's active silent fan, it's at home in even the most sound-sensitive situations.
Specifications
Cooling: Active silent fan
Size: 7.6" x 4.1" x 3.2"
Weight: 1.8 lb.
Color Temp: 5600K
CRI: 98
TLCI: 95
Dimming: 0-100%
Lumen Output 5600K: 6732 Lumens
Lux @ 1m w/55 Degree Reflector 5600K: 18820
Power Source: 15V DC
Battery Compatibility: Sony V-Mount 14.8v Battery (Not Included, through D-tap)/ NP-F battery (Not Included, through battery handle)
Battery Run Time @ 100% (Approx): 1.83 hours (14.8V Sony V-Mount Style 150WH) / 1.17 hour (2x Sony NP-F 750 Style Battery)
Max Power Draw: 60w
Mount: 5/8" Receiver with rotating yoke