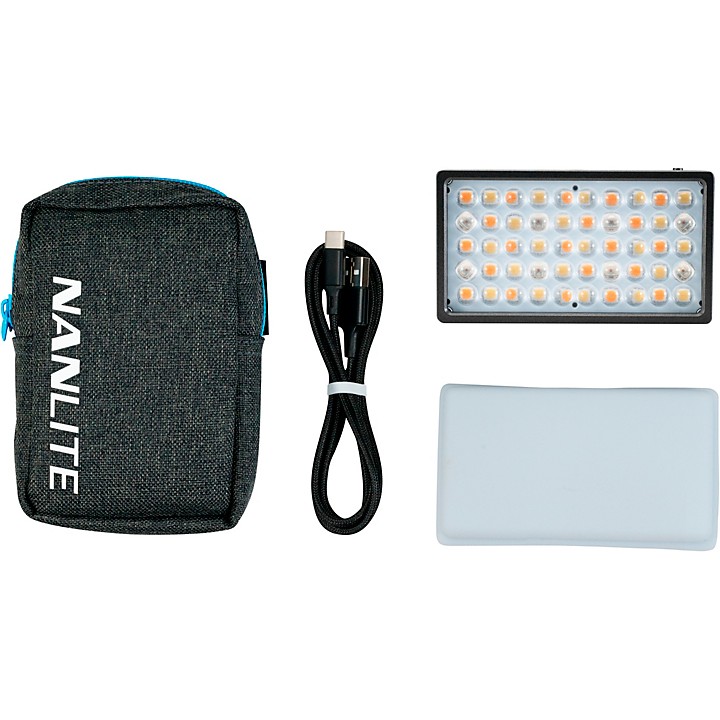 Bright, versatile lighting fixture with pre-programmed effects.
The Nanlite LitoLite 5C RGBWW Mini LED Panel is an amazingly bright, pocket-sized lighting fixture featuring an internal Li-Ion battery with USB-C charging, adjustable color temperature from 7500-2700K with green to magenta shift, 360° of hue control with 100 levels of color saturation adjustment and 15 pre-programmed adjustable special lighting effects. Powered by an internal Li-ion battery, the LitoLite 5C can run for 1.5 hours at full brightness with any USB-C source as a charging option, including power banks for added run time. Small enough to fit in any gear bag, the LitoLite 5C features a 1/4"-20 male thread that is compatible with various stands accessories as well as powerful built-in magnets for mounting nearly anywhere.

With fifteen pre-programmed but adjustable special effects in a simple-to-master menu system, the LitoLite 5C makes it easy to imitate lighting scenarios that can otherwise be tricky to recreate. At the touch of a button, you can simulate an emergency services vehicle (cop car), flame (candlelight), lightning storm, an SOS signal, an explosion, welding, camera flashes and more.
Specifications
Weight: 0.3 lb.
Length: 4.2" x 2.4" x 0.9"
Color Temp: 2700K-7500K with green/magenta adjustment
CRI: 95
TLCI: 97
Dimming: 0-100%
Photometrics: 6582 lux @ 5600K 0.98' / 0.3 m
2351 lux @ 5600K 1.64' / 0.5 m
581 lux @ 5600K 3.28' / 1 m
Battery: Built in Rechargeable 3.7V/2400mA Li-Ion, 8.88Wh
Battery Run Time: 1.5 hours at 100% Brightness
Charger: Via USB-C
Wireless control: Bluetooth
Mount: 1/4 20" Thread, Magnets