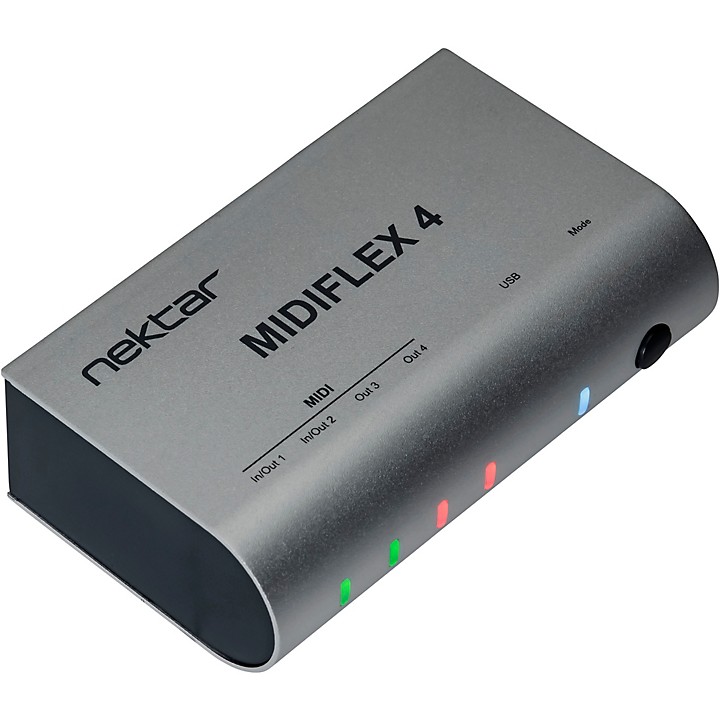 Four configurable MIDI I/O ports offer flexibility on a compact interface.
The MIDIFLEX 4 is a compact USB MIDI interface. With 4 configurable MIDI I/O ports, it offers users a ton of flexibility. Plus, it can even be used in stand-alone operation as a MIDI merge and split box.

MIDIFLEX 4 comes in road-worthy housing with a wrap-around aluminum cover. It can easily be adapted to changing MIDI connection needs in a studio or on the road. It may be used as a 1 in/3 out, 2 in/2 out or 4 out interface on Windows, MacOS and iOS. It's also super easy to set up. Because MIDIFLEX is USB class-compliant, it requires no custom drivers. Most DAWs will recognize the ports automatically. The MIDI ports become available in the music software's track routing options right away. What's more, MIDIFLEX4 automatically detects if a MIDI in-or-output is connected and displays the setting with its port MIDI indicators. Need even more ports? Multiple MIDIFLEX units may be used at the same time.

MIDIFLEX 4 also operates as a stand-alone, without needing a computer connected. In this mode, it works as a MIDI 2-1 merge or 1-3 split box. A dedicated button on the unit ensures easy switching of the modes with instant visual feedback on the 4 MIDI LED indicators.
Features
USB class-compliant MIDI Interface
4 configurable MIDI Ports: 1 in / 3 out, 2 in / 2 out, 4 out
Automatic MIDI in/output detection
Multiple MIDIFLEX 4 units can be used simultaneously to expand the number of MIDI ports
2-1 MIDI merge or 1-3 MIDI split box in stand-alone mode (requires optional USB power supply)
Aluminum housing with 4 port status LEDs, 1 power LED and mode button
Connections: 4 x MIDI DIN socket, 1 x USB B plug
Powered by USB or optional external standard USB power supply
Includes standard USB cable and Bitwig 8-Track software license card