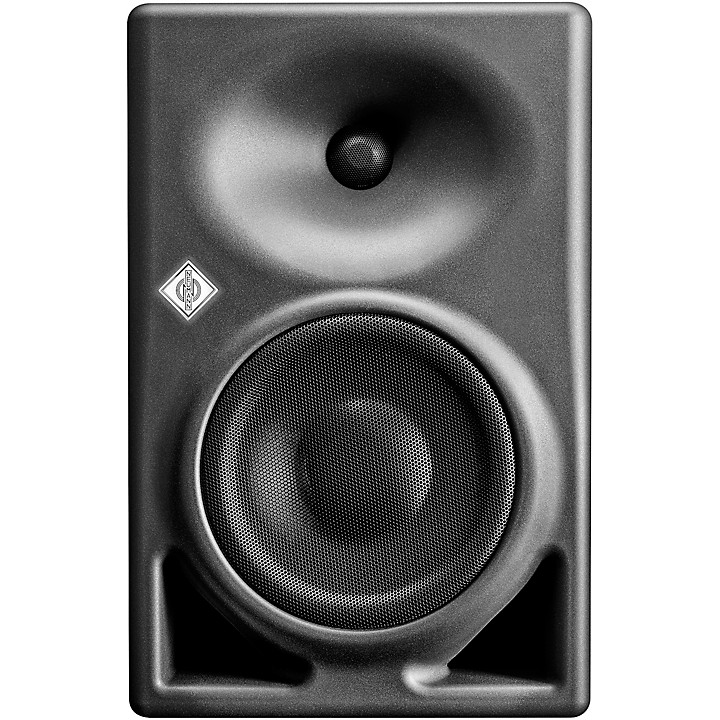 Listen better with the precision of Neumann KH 150 powered nearfield monitors
The Neumann KH 150 bi-amped studio monitor delivers stunning, precision sound quality for high-end recording and mixing projects. DSP-controlled electronics ensure linear frequency and phase response, providing a clear, transparent sound spectrum for accurate evaluation of lows, mids and highs in a mix. You can also work longer without the listening fatigue that can occur with systems that deliver unbalanced or midrange-heavy audio reproduction. Everything about the KH 150 is designed to help you produce mixes that translate to myriad playback systems. If it sounds great on the KH 150 nearfields in your personal studio, you can rest assured it will also sound wonderful on earbuds, laptops, Bluetooth speakers and high-fidelity systems. Hear every last shimmer of a decaying reverb tail, pinpoint sibilance on even the most subtle vocal phrases and isolate every detail of multi-layered guitar textures. The front-ported bass-reflex enclosure provides the KH 150's 6.5" woofer with the punch and precision to determine whether a bass track is deep, warm and resonant, or whether mix-killing mud and wobble is lurking in your low end. Once you calibrate the KH 150 to your mixing position—either by using the onboard manual acoustical controls or the optional Neumann MA 1 Automatic Monitor Alignment system—the possibility of bad mixes will be banished to the realm of bad dreams.
Specifications
General
Size: Nearfield
System type: Active, bi-amped
Configuration: 2-way
Drivers
Low-frequency driver: 6.5"
High-frequency driver: 1"
Sound
Frequency response: 39 Hz to 21 kHz (±3 dB)
Max peak SPL: 118dB
Amplifier class: Class D
Output power: 245W (total)
Onboard Features
Input connectors: XLR, S/PDIF
Acoustic space control: Mathematically Modeled Dispersion (MMD) waveguide
Other
Width: 8.85"
Height: 13.58"
Depth: 10.74"
Weight: 17.63 lbs.
Enclosure type: Bass reflex (front ported)
Features
DSP engine for improved performance
Mathematically Modeled Dispersion (MMD) waveguide
Switches for manual room correction
May be combined with other KH line speakers in immersive/surround setups