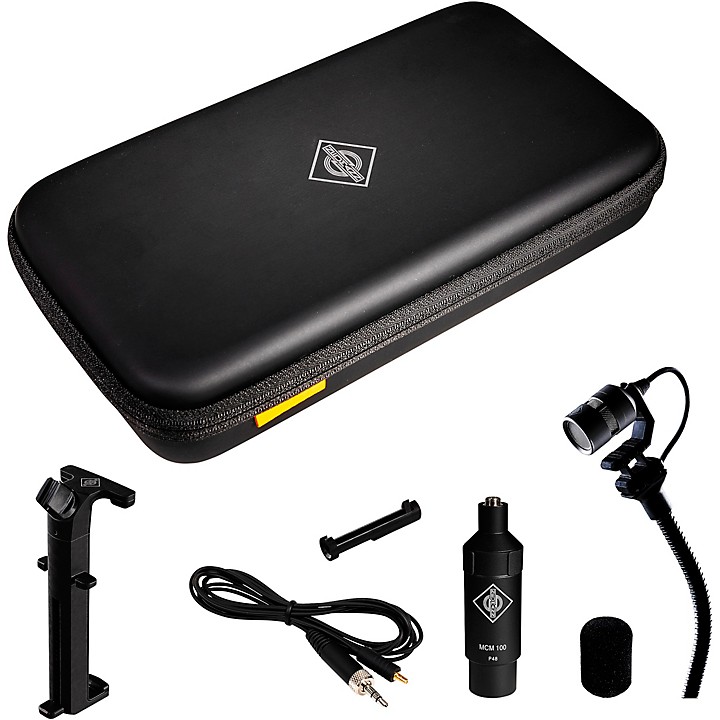 True Neumann sound for close-miking acoustic instruments in live applications.
The Miniature Clip Mic MCM System raises the bar for electret capsules. And as a true Neumann, it picks up the characteristic sounds from all acoustic instruments in live applications. It redefines the standard in natural sound, practicality, reliable mounting and longevity. The system includes nine instrument-specific mounting clips for a wide variety of acoustic instruments. The modular construction allows for easy replacements and guarantees a superior low cost of ownership.
The capsule: eight parts of perfection
It has a new level of tonal balance, more body, especially in the bass and mid-range—and transparency in the treble. The newly developed KK 14 cardioid capsule overcomes former limitations of the electret principles and catches the signature sound of a wide range of acoustic sources. To achieve this, Neumann developed a layer-based design. Each of the capsules' eight key components are designed for optimal performance, manufactured independently and assembled by hand later on. The strict quality control also guarantees an unheard level of tonal consistency. Each capsule sounds exactly the same and delivers the neutral Neumann-style sound, saving time during setup and EQ tuning especially when running multiple microphones simultaneously.

With ultra-low self-noise of 23dBA and an extremely high maximum sound level of 153dBSPL, the KK 14 delivers perfect results from both very quiet and very loud instruments.

The titanium housing is road tough and protects the more sensitive parts for years to come.
Connects to all wireless systems
The MCM System includes interchangeable cable options with 3.5 mm jack, Lemo, 4-pin mini-XLR and MicroDot connectors—no adapter needed. The microphone can also work with a wired connection using the MCM 100 high-end output stage and the 3.5 mm jack cable.
Mounting: gentle for surfaces—reliable for engineers
A fundamental part of the MCM System is an exhaustive palette of mounting options that allow for simple and reliable microphone positioning on any instrument. Their mechanics are gentle to even the most sensitive surfaces and make mounting a matter of seconds, requiring only one hand for most instruments. The gooseneck holder rotates along one or two axes and locks in 45° increments to allow for precise adjustment.
Instrument sets
All components of the system are available separately. For many common applications, there are also complete sets in a soft case with all the necessary components.
Specifications
Technical Data
Acoustical operating principle: Pressure gradient transducer
Polar pattern: Cardioid
Frequency response: 20Hz–20kHz
Rated impedance: 50 ohms
Rated load impedance: 1,000 ohms
Signal-to-noise ratio (4), CCIR (5): 63dB
Signal-to-noise ratio (4): 71dB
Equivalent noise level, CCIR (5): 31dB
Equivalent noise level (5): 23dBA
Maximum SPL (6) for THD < 0.5%: 153dBSPL
Power supply: 48V ± 4V (P48, IEC 61938)
Current consumption: 3.5mA
Required connectors: XLR F
Permissible Atmospheric Conditions
Operating temperature range: 0°C–+40°C
Operating humidity range: 0%–90% relative humidity
Storage temperature range: -20°C–+70°C
Storage humidity range: 0%–95% relative humidity
Features
Elevates electret principle to Neumann sound standards
Durability increases ROI up to tenfold
A single capsule for loud and soft instruments
Works with key transmitter body packs