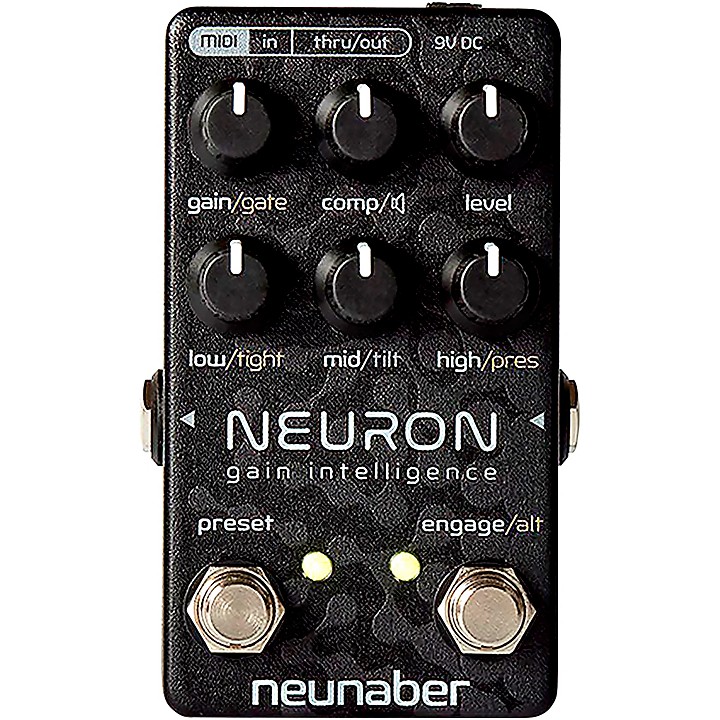 Epic guitar tone without an amp.
Neuron Gain Intelligence is a dynamic multistage guitar preamp with compressor, noise gate, speaker simulator, presets and MIDI in a compact pedal format. The complexity of an amp modeler can feel overwhelming when all you want is awesome tone and feel that is easy to control. You want your guitar's sound to be as versatile and unique as you are. And, of course, you want a solution that is convenient, easily portable and doesn't need to be turned up to 11 to sound great, whether you run direct or amplified.

Dynamic multistage gain architecture yields unparalleled control over the desired amount of distortion—producing harmonic structures that range from subtle to dense and complex. Take advantage of its hyper-realistic feel, and experience the joy of playing full-bore through an amp without the size, weight, cost and potential hearing damage. Its unique design, based on years of research into amps and pedal circuits, is not a model, emulation or simulation of any particular amp. With the Neuron Gain Intelligence, unique, versatile sound is your secret weapon.
Specifications
Electrical
Nominal input level: –10dBV, instrument level
Input impedance: 1 mohm
Sample rate: 96kHz
Minimum latency: 0.315 ms
Bypass: Relay, true bypass
Power
Input: 9–12V DC, 100mA
Current: 70mA
Recommended adapter: 9V DC, 100mA or greater pedal power supply
Connector: Center-negative, 5.5 mm OD x 2.1 mm ID
Physical
Dimensions (LxWxH): 4.6" x 2.8" x 1.9" (116 mm x 68 mm x 47 mm)
Weight: 9.024 oz. (256 g)
Features
Switchable Speaker Simulator for running direct or to a powered monitor/full-range powered cab, saving you the trouble of an outboard speaker sim
Neuron Commander software (mac OS/Windows) makes setup even easier
Use a USB-MIDI adapter (not included) to connect Neuron Commander Software
True bypass switching ensures that Neuron is completely disconnected from your signal chain when not in use—it won't change your tone unless you want it to
Small, pedalboard-friendly footprint
Powered from a standard 9V pedal power supply (not included) and drawing less than 100mA—just plug it in to your existing pedalboard's power supply
Manufactured locally in Orange County, California