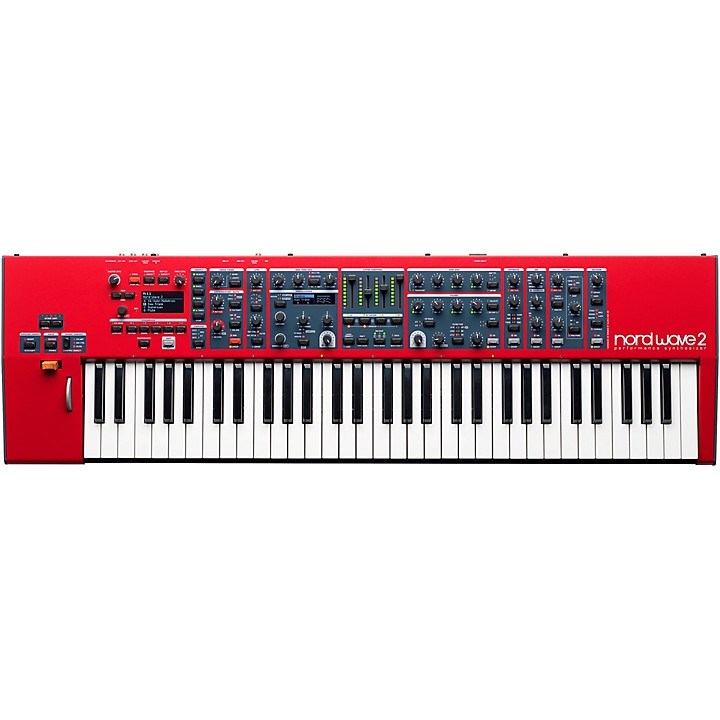 Summon the power of four synths in one with intuitive, on-the-fly tweaking and layering.
The Nord Wave 2 synthesizer offers you four independent synths in one, and features more polyphony and a larger keybed when compared to the original Nord Wave. The Wave 2 four-part performance synth combines Virtual Analog synthesis, Samples, FM and Wavetable. The intuitive, layer-focused interface features dedicated OLED displays for Program and Oscillator sections. This provides an excellent overview when shaping your sounds. With 48-voice polyphony, a 61-note velocity-sensitive keybed with aftertouch, innovative performance features and hands-on controls, the Nord Wave 2 offers outstanding possibilities with on-the-fly tweaking and advanced layering.
Layer Section
The Wave 2 features a Program Layer section with faders for easily controlling the volume or pan for all four layers at once. The Layer section also provides handy features for quick layer focus, pan control, solo and multi-editing. The new Group feature allows you to group 2, 3 or 4 layers and process them through the same Filter, Envelope, Arpeggiator, LFO and Effect settings—perfect when creating complex multi-layered sounds that can be edited as one coherent sound. Alternatively, three split points provide up to four zones with optional crossfades.
Oscillator Section
The Oscillator section for each of the 4 layers offers 4 modes: Analog, Wavetable, FM and Samples and is easily browsed with Nord's new direct category mode. The Oscillator Control features additional control over shape, sync or detune. The Oscillator section also includes a powerful multi-oscillator Unison effect with true Superwaves simultaneously generating hundreds of waveforms for extremely thick and fat sounds.
Oscillator Categories
Analog: An extensive range of waveforms from classic analog to extended, harmonically rich additions
Samples: A wide selection of high-quality samples from Nord Sample Library 3.0 including Strings, Brass, Guitars, Choirs, Chromatic Percussion as well as the exclusively licensed sounds of the legendary Mellotron and Chamberlin—all sounds are easily replaceable using the Nord Sound Manager
Wavetable: A large number of advanced wavetables covering a wide range of tonal characteristics
FM: Including 2, 3 and 4 operator configurations with harmonic and inharmonic variations
Create and transfer your own samples
Adding your own custom sample instruments has never been easier thanks to the new streamlined Nord Sample Editor 3 for Mac and Windows that lets you map, loop and transfer samples to your Nord Wave 2 in a breeze.
Filters, Amp & LFO
The Wave 2's Filter section has 6 Filter types, including a stunning emulation of the transistor ladder filter found in the legendary Mini. The Filter section is equipped with a full ADSR envelope.
The Wave 2 features a dedicated LFO with a choice of waveforms for each layer, Vibrato plus AD/AR Modulation Envelope with velocity setting and Invert mode. The LFO has several morphable parameters and the rate can be synchronized to the Master Clock.
The Amp section is equipped with a full ADSR envelope including a powerful new Transient Attack mode for adding more punch to your sounds.
Morphing and Impulse Morph
The Wave 2 features an extensive range of morphable parameters including LFO Amount, Oscillator Control, Filter and Effects that can be controlled from four different sources: Velocity, Aftertouch, Wheel and Control Pedal. All morph sources can be quickly assigned to control multiple parameters simultaneously and the powerful Impulse Morph feature lets you instantly change any parameter of your sound.
Advanced Polyphonic Arpeggiator and Gate
The Nord Wave 2 is a rhythmic powerhouse with both a classic arpeggiator and a Polyphonic mode. Each mode has directly editable patterns that will retrig all held keys either straight or patterned featuring different inversions for exciting harmonic variations.
The brand-new Gate mode chops your sound up in a rhythmic pattern with adjustable depth. The Pattern mode contains a wide selection of Rhythmic Patterns and allows easy editing for creating your own custom patterns.
Effects Section
A separate Effects section for each layer provides instantly tweakable high-quality stereo effects. FX include: Tremolo, Pan, Ring Modulator, Chorus, Ensemble and Vibe, as well as an EQ with Drive. All effects are controllable via Control Pedal (or other Morph sources) and can also be synchronized to the Master Clock for rhythmic effects.
Nord Wave 2's also features advanced stereo Delay effect with Ping Pong mode, Analog Mode and Tap Tempo. There are creative new Feedback options for adding Ensemble, Chorus, Vibe as well as HP/LP and BP filter in the Feedback loop. There is a separate Reverb section per layer with five different Reverb sizes (Booth, Room, Stage, Hall and new Cathedral), Bright and Dark modes and a new Chorale effect for lush modulation.
Features
Four independent synths in one: Virtual Analog synthesis, Samples, FM and Wavetable
Dedicated OLED displays for Program and Oscillator sections
Separate Effect section for each layer, including EQ with drive, Tremolo, Pan, Ring Modulator, Chorus, Ensemble and Vibe
Brand-new Gate mode chops your sound up in a rhythmic pattern with adjustable depth