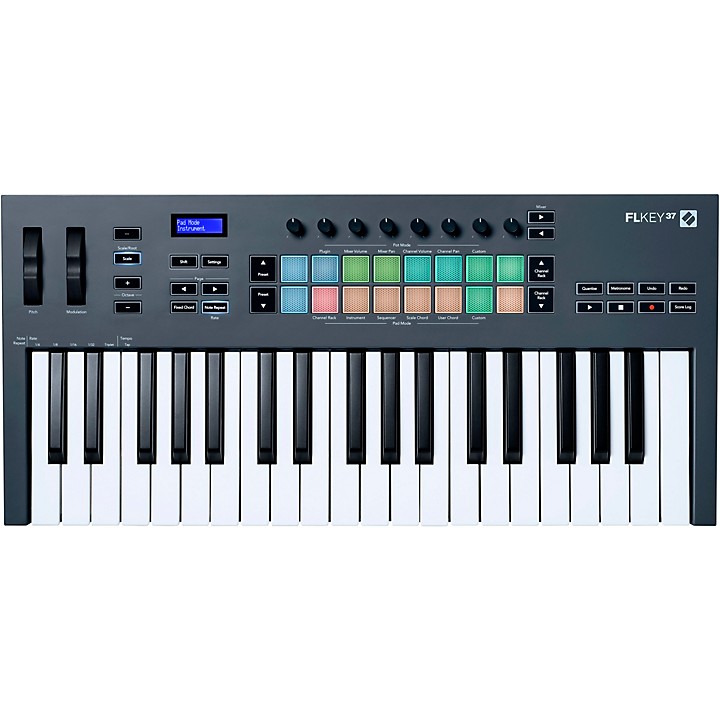 Connect with your music, with features and tools to unlock new creative boundaries.
The FLkey 37 from Novation is the ultimate full-size MIDI keyboard controller for complete hands-on music production in FL Studio. With controls for FL Studio's Sequencer, Channel Rack and Mixer, and creative Scale and Chord modes, FLkey 37 lets you play freely so you can make more of your music. Sequencer Mode maps the FLkey 37's pads to FL Studio's step sequencer for programming beats fast. Two Pad modes give your rhythms a real human feel and get you off the grid: play straight into the Channel Rack or FPC, and trigger slices in SliceX.

Bring FL Studio's Mixer and Channel Rack controls off the screen and into your hands. Tweak your volumes or pans and record automation on the fly with the eight knobs. Access your score log, and undo, redo, quantise and metronome in an instant with essential transport controls. Browse presets in your Image Line plug-ins to change up instruments and sounds fast, with no mouse needed.

Scale mode makes sure you always hit the right note, keeping the music flowing. Three Chord modes let you play a range of chords with one finger, unlocking big harmonies and new sounds instantly. Combine FLkey 37's musical tools to unlock new creative boundaries and find ideas you never knew you had. Plus, FLkey 37 comes with a six-month trial of FL Studio Producer.
Specifications
General
Velocity sensitive keys: 37
Character screen: 16 x 2
Pots: 8
Velocity sensitive pads: 16 RGB backlit
Buttons: Octave up/down, channel rack up/down, preset up/down, mixer left/right, play/pause, stop, record, quantise, metronome, undo/redo, score log, scale, note repeat, fixed chord, navigation, shift and settings
Note repeat rate: 1/4, 1/8, 1/16, 1/32 and all associated triplets
Chord modes: Fixed, scale and user
Custom modes: Pot and Pad Custom Mode for MIDI assignment
Scale mode: Minor, Major, Dorian, Mixolydian, Phrygian, Harmonic Minor, Minor Pentatonic and Major Pentatonic
Other
Power requirements: USB bus powered, power supply not included
Included: Novation FLkey 37, 1 x USB A to B type cable and a safety information sheet
Dimensions and Weight
Dimensions (LxDxH): 21.85" x 3.03" x 10.16"
Weight (without accessories): 4.81 lb.
Features
Pitch bend and modulation wheels
5-pin MIDI out socket
Sustain pedal 1/4" jack input
USB-B socket
Kensington security slot
Seamless FL Studio integration
Scale mode maps scales to the keyboard
WARNING: This product can expose you to chemicals including Lead, which is known to the State of California to cause cancer, and to cause birth defects or other reproductive harm. For more information go to www.P65Warnings.ca.gov.