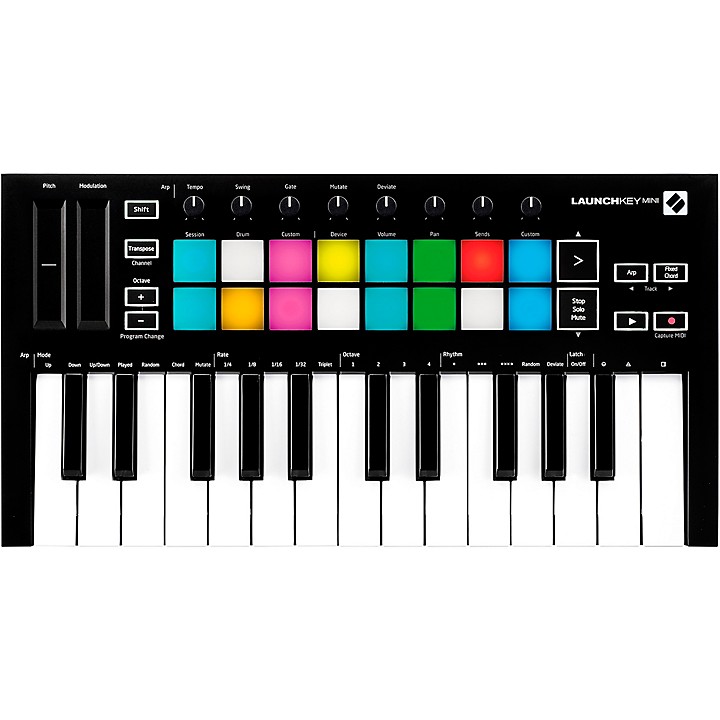 Ultraportable controller keyboard.
Launchkey Mini is Novation's most compact and portable MIDI keyboard controller. It has 25 miniature keys and fits into most any travel bag. It gives you everything you need to start creating in Ableton Live. Make tracks anywhere with Launchkey Mini's deep, intuitive Ableton control, arpeggiator, fixed chord mode, MIDI out, and tons of sounds in the box.
Create new melodies, rhythms and sounds with Launchkey Mini's easy yet powerful arpeggiator. Take ideas further with a customizable fixed chord shape that follows you up the keyboard in Fixed Chord mode. Add dynamic, expressive rhythms with 16 super-sensitive pads for drumming and clip launch.
Transport, device and mixer controls mean fewer mouse clicks. Device macros and mixer controls mean more hands-on control of your music. Sounds, instruments and effects from AAS, Softube, Spitfire Audio, XLN Audio and Klevgrand mean you have everything you need to get started. Throw all this content into the included copy of Ableton Live Lite, or use Launchkey Mini's integrations with Logic, Reason or any HUI compatible DAW.
Included Software:
Ableton Live Lite music making software
AAS Session Bundle
Softube Time and Tone Bundle
Spitfire Audio LABS - Expressive Strings
XLN Audio Addictive Keys
Klevgrand R0verb and DAW Cassette
Comprehensive DAW Integration
Scripts for Ableton, Logic and Reason (Device Control for Ableton, Logic and Reason)
All other DAWs through HUI i.e. Pro Tools, Reaper, Studio One
Take control of Volume, Pan, Sends, Record, Play, Preset and Assign Custom Mapping
Ableton Integration
Volume, Pan, Sends A and Sends B through knobs
Record and Play
Assign Custom Mapping to knobs and pads
Track navigation
Device Control
Capture MIDI
Clip Launch
Clip Stop
Scene Launch
Scene Navigation
Track Solo/Mute
ArpeggiatorCreative Arpeggiator With Mutate Mode and Deviate Rhythm
Mode: Up, Down, Up/Down, Played, Random, Chord, Mutate
Rate: 1/4, 1/8, 1/16, 1/32 and all associated triplets
Octave: 1, 2, 3, 4
Rhythm: o, oxo, oxxo, Random, Deviate
Latch: on/off
Tempo, Swing and Gate through pots when pressing 'Arp'
When Mode is set to Mutate, access all Mutate possibilities through the pot while pressing 'Arp'
When Rhythm is set to Deviate, access all Deviation of the rhythm through the pot while pressing 'Arp'
3 x symbols at the left side of the keyboard reserved for future arp updates
Firmware v.1.1 Update
The firmware v1.1 update introduces the new Strum Mode feature to Launchkey Mini [MK3]
created as an inspirational new feature to help ignite that creative spark and add an extra dimension to melody making. Easy to use, users can hold down notes and trigger strum mode by using the mod strip on the Launchkey Mini [MK3]. For total sonic variation, Strum Mode can also be used alongside other arpeggiator modes on Launchkey devices.

As well as the addition of Strum Mode, Launchkey Mini [MK3] will receive some extra updates with v1.1. These new updates incorporate some important and functional features that have been requested by the Novation community.

Adjustable pad brightness
Pad brightness can be adjusted for better visibility and comfortable ease of use in all light settings.

Toggle pad velocity
Pad velocity can now be switched on or off depending on user preference—especially helpful for finger drummers who prefer to have a fixed velocity.

Toggle MIDI clock output
Clock output from the MIDI port can now be toggled on or off. This increases flexibility for users when connecting Launchkey Mini to other MIDI devices.

Double-tap shift function for arp and fixed chord modes
A new double-tap shift function latches the shift button to enable one-handed control of shift-modified buttons—perfect for tweaking with one hand while playing with the other, or when simultaneously playing guitar or using a connected synth.

Specifications
Keyboard
Number of keys: 25
Action: Synth action
Key size: Mini
Connectivity
USB: Yes, MIDI I/O, 3.5 mm MIDI out
Controls
Encoders: 8 knobs, 2 navigation buttons
Drum pads: 16
Pitch bend/Modulation: Touch strip
DAW transport: Yes
Onboard FeaturesOther
Bundled Software: Ableton Live Lite, AAS Session, much more
Width: 325 mm
Height: 43 mm
Depth: 175 mm