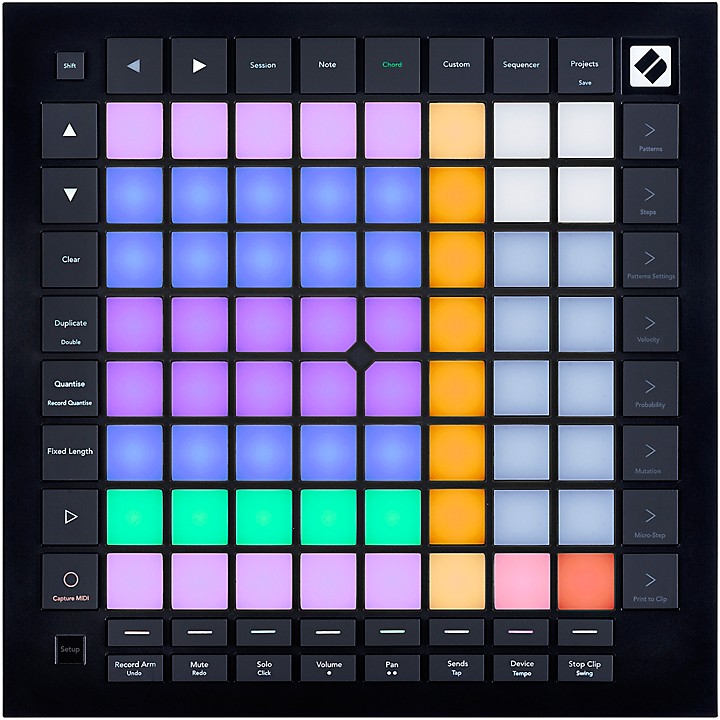 Your next music-making creativity hub.
Launchpad Pro is made to produce. As Novation's most powerful grid controller for making music in Ableton Live and with hardware, it gives you everything you need to create and perform your tracks. Launchpad Pro has Novation's deepest Ableton Live integration yet. Launch clips and scenes, access mixer, device and transport controls, and quantize, duplicate and double, all without touching your mouse. One-click access to Ableton Live's Capture MIDI function makes sure you never miss an idea.

Keep your tracks evolving with the four-track, eight-note polyphonic, 32-step standalone sequencer. Sequence virtual instruments and instantly print patterns to Clips in Ableton Live. Or hook up your favorite hardware to play patterns via MIDI—Launchpad Pro integrates seamlessly. Micro Steps take grooves off-grid. Probability, Mutate, Sync Rate and Play Order let you transform your patterns on the fly. Patterns can be chained together and assigned to Scenes to build complete songs.

Launchpad Pro is the most playable Launchpad yet. Its velocity- and pressure-sensitive pads are bigger and more responsive than ever—perfect for playing grooves and launching clips. Scale mode locks pads to a musical key, so you never hit a wrong note. Chord mode is an inspirational tool for building harmonies.

Custom Modes transform Launchpad Pro into a hands-on control surface for any MIDI-compatible software or hardware, so you can design the perfect controller for your live setup, and perform with all your gear, however you want. Simply drag and drop widgets in Novation Components to configure the layout, then store configurations as one of eight Custom Modes. Disconnect the computer (if you want to), then switch between Modes for expressive and creative control of anything MIDI.

Launchpad Pro is your music-making creativity hub, with or without a computer. Hook Launchpad Pro into an all-hardware rig using MIDI In, Out and Out 2/Thru ports on 3.5 mm connectors. Last, but definitely not least is the Easy Start Tool, which tailors the configuration process to your setup so you can start producing music as quickly as possible.
Specifications
Launchpad Pro MK3
64 Velocity- and pressure-sensitive pads
42 backlit tactile feedback buttons
106 RGB LEDs
USB-C Socket Kensington
MiniSaver slot
What's in the box
Launchpad Pro MK3
USB-A to USB-C cable
USB-C to USB-C cable
USB-A to power adapter
3 x TRS Mini-jack to DIN MIDI adapters
Safety information sheet
Included Software
Ableton Live Lite: Quickly organize and arrange your sounds and start making tracks with this staple electronic-music-making software
AAS Session Bundle: Three synths for music makers, providing staple sounds for your tracks
XLN Addictive Keys: Access one of four virtual keyboards when you register your first piece of Novation hardware
Klevgrand R0Verb and DAW Cassette: High-quality reverb and tape deck emulation plug-ins, to add some space or take your sound back to the golden age of cassette tapes
Softube Time and Tone bundle: Made up of four of Softube's world-class plug-ins (reverb, delay, an easy-to-use mastering tool and distortion)
Features
Deep Ableton Live integration: Launch clips and scenes, access mixer, device and transport controls, and quantize, duplicate and double, all without touching your mouse
64 super-sensitive RGB pads: Large RGB velocity- and pressure-sensitive pads give you a perfect reflection of your Ableton Live session, making it easier than ever to see your clips and play your instruments dynamically and expressively
Powerful four-track, 32-step sequencer: Create full tracks with Launchpad Pro's built-in sequencer, featuring eight-note polyphony, pattern chaining and scenes to create and trigger longer sequences, and probability and mutation controls to keep your tracks evolving
Chord Mode: Easily explore, build and play complex chords straight from the grid; quickly find new harmonies
Dynamic Note & Scale Modes: Effortlessly play perfectly in-key bass lines, melodies, chords and leads. Launchpad Pro even knows when you're drumming and shows your drum rack on the grid
MIDI In, Out & Out 2/Thru: Control anything MIDI in your studio directly from Launchpad Pro
Capture MIDI: Never lose ideas and happy accidents with on-device access to Ableton Live's Capture MIDI function
Eight Custom modes: Use Novation Components to customize mappings and control anything MIDI easily from Launchpad Pro
Grab and go: Sleek, lightweight and tough and USB-C bus-powered
Get started easily: Use the Easy Start Tool to get all the software you want, and step-by-step video guides to get you set up with Live and making music in minutes
WARNING: This product can expose you to chemicals including Lead, which is known to the State of California to cause cancer, and to cause birth defects or other reproductive harm. For more information go to www.P65Warnings.ca.gov.