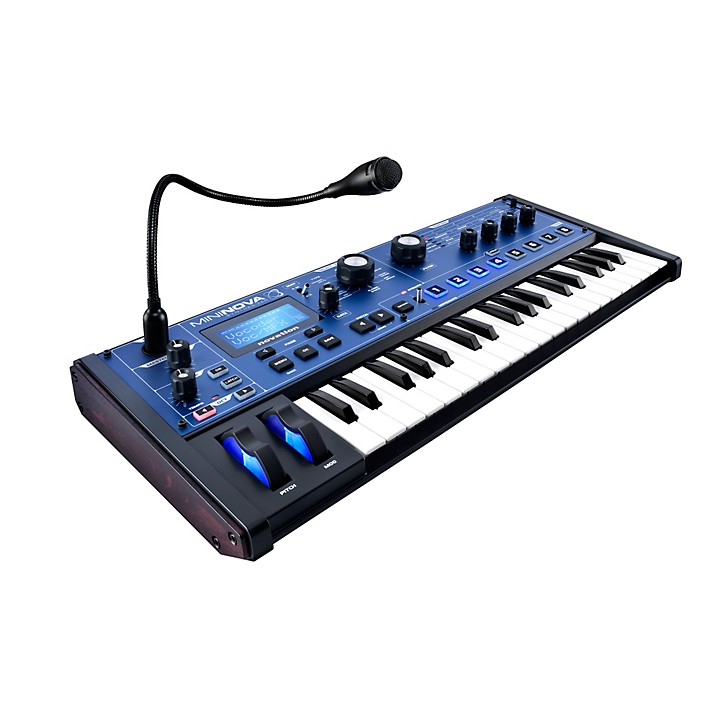 A powerful performance synth with the same sound engine as the UltraNova.
MiniNova is a powerful mini-keys synth with incredible performance controls which enable you to tweak and warp the onboard sounds, and your own voice. It has the same synth-engine as it's big brother - the UltraNova - and comes with 256 awesome sounds so you can get started straight away. If you want to dig deeper, it's got a fully editable Nova-class synth engine (derived from the legendary Supernova series in the 1990s).

Is MiniNova for you?
MiniNova's compact size, massive sound and performance/editing controls make it perfect for producers, gigging musicians and anyone creating music with computers - it can also be a 37 key controller keyboard with MIDI I/O. The voice-tune and vocoder enable you to recreate classic vocal effects, as well as brand new voice-bending possibilities!

Choose your sound
MiniNova has 256 onboard sounds and space to save another 128 of your own sounds. You can quickly search for sounds by selecting the type of music you're making, or the type of sound you're after whether it's bass, lead - hip hop or techno. MiniNova comes with a free software Patch Librarian so you can store as many sounds as you want on your computer. If 256 is not enough, there are numerous soundpacks for MiniNova assembled by renowned artists and sound designers. These can be downloaded free from: novationmusic.com/soundpacks

Tweak, warp and arpeggiate your sound
MiniNova can do things other synths can't. It has knobs which allow you to tweak and edit the sounds, but it can also 'animate' sound with 8 back-lit buttons. These trigger 'mods' in the synth engine that can warp sound in incredible ways as you play. There is also a large knob for filter cutoff so you can get instant control of the filter whatever else you are doing. MiniNova has an arpeggiator with 33 patterns. You can use the 8 buttons to jam with these patterns, creating totally new sequences in realtime.

Classic & brand-new vocal effects
MiniNova takes vocal effects one step further. As well as a vocoder, it has voice-tune - or the 'Cher' effect. This means you can talk into the mic and play the tune you want your voice to follow on the keyboard. You can also run your voice through MiniNova's effects engine, adding reverb, distortion, chorus/phase, gator compression or EQ. This doesn't need to be limited to your voice; there is an input which you can plug a guitar or any other instrument and give it the same treatment; effects or vocoder.

The synth engine & effects
MiniNova has an enormously powerful synth engine, unheard of in such a compact synth. There are 14 conventional waveforms to choose from (square, sine, sawtooth, pulse, triangle and combinations), 36 wavetables and 20 digital waveforms. Each of the 3 oscillators (per voice) have density/detune for fattening up sounds, virtual sync and 'hardness' - which acts as an additional lowpass filter. There are 14 filter types (and you can run 2 simultaneously), 6 envelope generators, 3 LFOs and 20 modulation slots where you can link modules of the synth engine together to shape sound. MiniNova can add up to 5 effects to each voice including distortion, reverb, chorus/phase, delay, compressor, EQ and Novation's unique gator effect.

Editing software included
Editing sounds in such a powerful synth can be overwhelming, so we've created a software application gives you visual access to the synth engine. The MiniNova Editor works as a plug-in within your DAW or music software. You can fully edit MiniNova using the hardware, the software just makes it more simple to see what you are doing.

Specifications
Sound Engine Type(s): Modeling
Number of Keys: 37
Type of Keys: Mini
Other Controllers: Pitchbend, Mod Wheel
Polyphony: 18 Notes
Number of Presets: 256
Expansion: No Expansion
Number of Effects: 7
Effects Types: Distortion, reverb, compression, EQ, chorus/phase, delay, Gator
Arpeggiator: Yes
Sampling: No
Audio Playback: No Audio Playback
USB: USB
Number of Audio Inputs: 2
Audio Input Types: 1 x XLR, 1 x TRS
Number of Audio Outputs: 3
Audio Output Types: 2 x TS, 1 x Headphone
Number of Digital Inputs: No digital inputs
Digital Input Types: No digital inputs
Number of Digital Outputs: No digital outputs
Digital Output Types: No digital outputs
MIDI I/O: In/Out (Din)
Pedal Inputs: 1 x Sustain
Height: 2.95"
Width: 23.2"
Depth: 9.06"
Weight: 6lb.
Features
Hugely powerful mini-synth with UltraNova's sound engine
Brand new voice-tune and classic vocoder effects
Tweak and warp your sounds in realtime
256 awesome onboards sounds - instantly searchable
Layer up to 5 effects per voice
Comes with editing software and a software patch librarian
Run guitars and other instruments though the vocoder and effects
37 key controller keyboard with MIDI I/O
WARNING: This product can expose you to chemicals including Lead, which is known to the State of California to cause cancer, and Lead, which is known to cause birth defects or other reproductive harm. For more information go to www.P65Warnings.ca.gov.