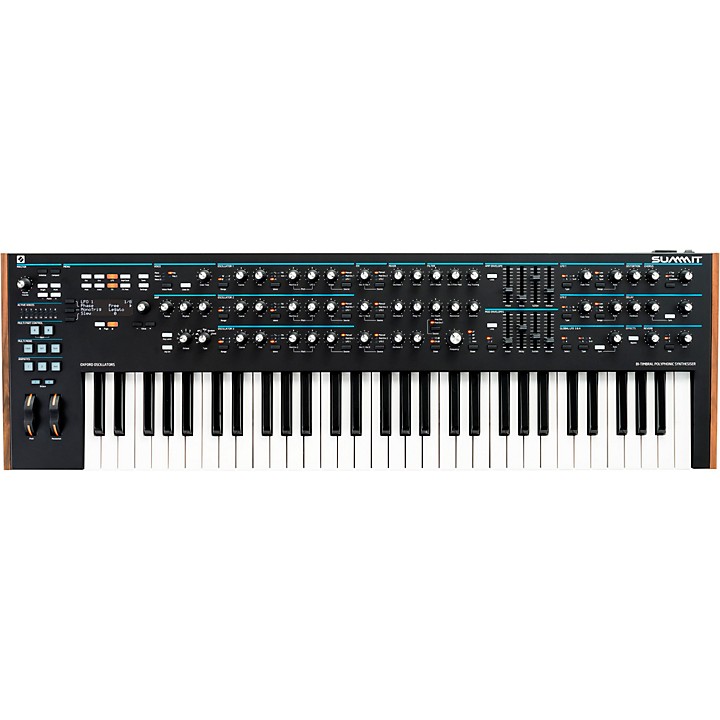 Peak taken to its logical extreme.
Built on the innovative foundations of Novation's critically acclaimed Peak, Summit is a three-oscillator-per-voice, 16-voice keyboard synth aimed at the professional or semi-professional musician seeking an inspiring, empowering instrument for use both live and in the studio. In fact, Summit effectively puts the power of two Peaks at your fingertips, enabling two completely independent patches to be split or layered across the keyboard, or switched between on the fly.

It also expands on Peak's layout, with many "hidden" controls and functions made accessible on the front panel—FM routing, LFOs 3 and 4, all arpeggiator parameters and more—plus the addition of pitch and mod wheels. Summit also features numerous new filter options, and an audio input for processing external sources with its reverb, chorus and delay effects.

At the heart of Summit are three digital New Oxford Oscillators per voice, hosted on the FPGA (Field Programmable Gate Array) chip. As well as generating authentic analog-style waveforms at incredibly high resolution, this also facilitates FM and wavetable synthesis for the design of rich, complex and highly textural raw tones. Each voice feeds into a true stereo signal path comprising dual analog filters, three stages of analog distortion and analogue VCAs; while a wealth of modulation assignment options and three colorful effects bring movement, life and polish to your patches.

Free to use with Novation Summit and Peak synths, the Wavetable Editor unleashes the power of the wavetable oscillators, allowing you to design your own waveforms and expand your creative potential. The Editor, which is part of the Novation Components browser-based platform, features drawing tools and a Live Edit mode, so you can draw your own oscillator shapes and preview them in real time. The audio import feature lets you load in your own audio to be used as the oscillator waveform. Built into the Wavetable Editor is a curated selection of space-themed audio from the NASA sound library. Also included is exclusive wavetable content from production giants Noisia, who have created a preset pack to stir your creativity. The Wavetable Editor is free to use—just connect your Peak or Summit to your computer via USB and head to the Novation Components page in a compatible browser like Google Chrome.

Firmware Update 2.0
In Novation's biggest update for Peak, firmware update v2.0 brings in essential improvements and a multitude of features across stereo controls, modulation, unpredictability, and effects, that give you powerful tools to shape your sound.

Stereo
New spread modes, panning per voice, and panning in the mod matrix give additional control and allows for sound design in the stereo field. Now you can create bigger, wider and more intricately textured soundscapes.

Modulation and unpredictability
Create deeper and more experimental sounds with new mod destinations, noise as a mod source, and additional LFO 3 and 4 parameters. Animate Envelopes and Arpeggiator Chance open more creative performance possibilities.

Effects
New effects, including Chorus Modes, Flanger and Phlanger add new tonalities. Additional effects modulation destinations open up more experimental sound design. A new Lo-Fi delay mode enables a more vintage style sound.

Bug Fixes
The firmware update v2.0 includes a number of bug fixes. The full details can be found in the release notes.

Specifications
Synth Engine
16-note polyphony (dependent on voices used per note)
2-part-timbral
Layered, Split, Dual Bi-Timbral Modes
5 Voice Modes - Mono, MonoLG, Mono2, Poly, Poly2
Per Voice
3 oscillators
1 noise generator with HP filter control
1 ring modulator
2 LFOs
1 amp envelope and 2 mod envelopes (ADHSR + looping)
1 filter
Waveforms Include
Sine, tri, sawtooth, square/pulse, plus 43 wavetables of 5 waveforms per row
Filter
1 state variable OTA filter per voice
12/24dB slope
Low-pass / band-pass / high-pass / dual filter (separation of each 12dB filters)
dual filter: LP > HP, LP > BP, HP > BP, LP + HP, LP + BP, HP + BP, LP + LP, BP + BP, and HP + HP
Pre-filter overdrive
Post-filter distortion
Modulation
16 modulation slots per patch
2 sources per destination per slot
Mod Sources
Direct (depth)
Modulation wheel
Aftertouch (polyphonic and channel AT)
Expression pedal 1
Expression pedal 2
Keyboard velocity
LFO1 positive
LFO1 bi-polar
LFO2 positive
LFO2 bi-polar
Amp envelope
Mod envelope 1
Mod envelope 2
Animate 1
Animate 2
CV mod input bi-polar
Bend Up
Bend Down
Mod Destinations
Oscillator 1-3 frequency, v-sync level, shape amount and level
Noise source level
Ring modulator output level
Overall synth output level
Filter drive, distortion, cut-off frequency and resonance
LFO 1 and 2 frequency
Amp env / mod env 1 / mod env 2 attack, decay and release
FM Osc 1 -> osc 2, osc 2 -> osc 3, osc 3 -> osc 1 and noise -> osc 1
Osc 3 -> filter cutoff frequency
Noise -> filter cutoff frequency
Effects
FX are per part
Analogue distortion
3 chorus types
Delay with 16 types of delay sync, LP and HP damping, slew and stereo
FX Mod Matrix Source
Direct (depth)
Mod wheel
Aftertouch
Expression pedal 1
Expression/breath pedal 2
Velocity
Keyboard
LFO 1 +/-
LFO 2 +/-
LFO 3 +/-
LFO 4 +/-
Amp envelope
Mod envelope 1 & 2
Animate 1 & 2
CV +/-
Bendwheel +/-
Bend up
Bend down
FX Mod Matrix Destinations
Distortion level
Chorus level
Chorus rate
Chorus depth
Chorus feedback
Delay level
Delay time
Delay feedback
Reverb level
Reverb time
Reverb low pass
Reverb high pass
Misc.
FM controls on front panel
Global LFO 3 & 4
Arpeggiator with key latch, 33 patterns
Patch storage, up to 512 on hardware (ships with 256 factory patches)
All knobs (excl. volume), sliders and most buttons transmit and receive MIDI cc commands for external control and mapping
Microtuning with Scala table import and table tuning creation
Manual mode
Multi pot mode: Relative, Pot pick-up, Snap
Product Hardware Specifications
50 control knobs
Eight 45 mm sliders
One volume knob
One data encoder knob
Rubberised knob caps with spun metal discs
55 function buttons
Two Animate buttons plus hold button
OLED display
Kensington Lock
Power switch
IEC power supply connector
USB socket for system (MIDI comms only, no bus power)
MIDI In/Out/Thru
Two 1/4" jack sockets for continuous or switched pedals
One 3.5 mm jack socket for CV in
Two 1/4" jack sockets for left and right outputs
Two 1/4" jack sockets for left and right auxiliary outputs
Two 1/4" jack sockets for left and right inputs
1/4" jack socket for headphone output
Metal chassis with American walnut wooden end cheeks
Metal magnetic inset end pieces
Features
Peak architecture taken to the next level, with 16 voices, expanded front panel controls, new filter options, a five-octave keyboard and more
Multitimbral engine for splitting, stacking and switching between two simultaneous patches
Digital FPGA-generated New Oxford Oscillators for analog-style, wavetable and FM synthesis
Dual analog filters, analog VCAs and three stages of analog distortion per voice
Process each part or an external audio signal with reverb, chorus and delay effects, and create riffs and melodic lines with a variety of arp modes, adjustable gate time and preset patterns
Compatible with the free Novation Wavetable Editor