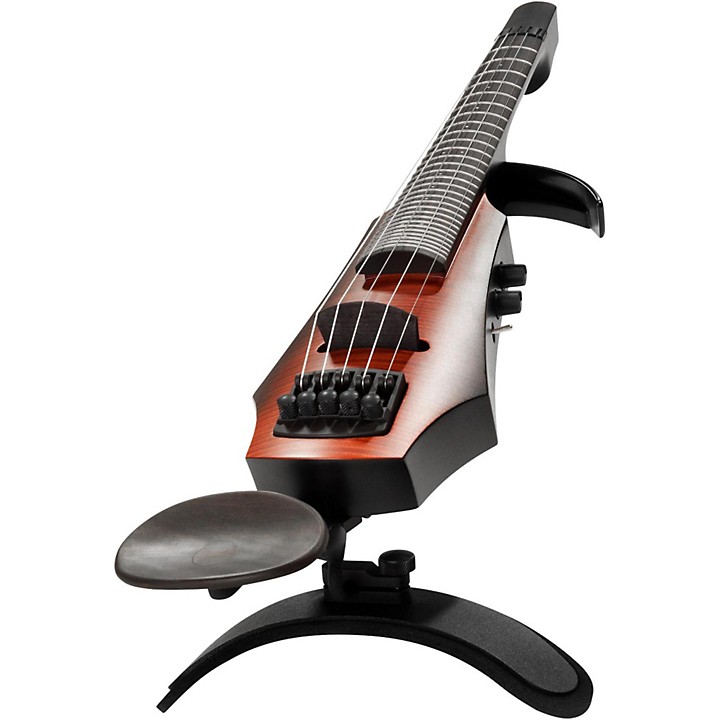 Electric fretted five-string violin with active output.
This is the fretted five-string version of the NXTa violin collection. It embodies great physical elegance, tremendous ease of play, and amazing tone. Crafted to exacting standards in the Czech Republic, this series sets a high standard for performance and versatility in any setting.

The features of the NXTa were developed in close association with professional performers and NS engineers for ergonomic, tonal and aesthetic considerations, and result is one of the most playable and versatile instruments of its kind on the market.

A rock maple bridge is easily adjusted to the desired action height, and a contoured ebony chin rest comes standard. The Custom Shoulder Rest is highly adjustable, and its base can be readily formed to fit the chest and shoulder perfectly. The patented tuning system built into the bottom of the body allows quick, easy and precise adjustment, exceptional pitch stability, and easy string changes.

At the heart of the NXTa is the Polar Pickup System, whose piezo components convert string vibration directly to signal output. This provides a balanced, tonally rich output, offering a wide range of expressive opportunities. Arco and Pizzicato have significantly different vibration characteristics, and the Polar Pickup faithfully captures both.

Dual Mode Output
The new dual mode signal output electronics of the NXTa takes the convenience, versatility and performance capability of the NXT to another level.

Active Mode
Using the supplied charger, plug the NXTa into any AC outlet for 60 seconds to power the capacitor-powered active circuit for up to 16 hours of performance time. The instrument can then be plugged straight into any low or high impedance device, no direct box necessary. Since there is no signal loss over the full frequency spectrum of the instrument, the fundamentals of every note remain clear and strong, even with extra-long cables.

Passive Mode
The NXTa can be played in this mode when using a direct box or an amplifier with high impedance input. (This mode provides performance capabilities identical to the original NXT.)

Eco-Friendly Operation - NXTa instruments are battery-free, eliminating the hassle and cost of batteries while helping protect our environment.

Features
Length: 540 mm (21.25")
Width: 110 mm (4 5/16")
Thickness: 65 mm (2 9/16")
Weight: 610g
Scale length: 330 mm (13")
Body/neck: solid, straight grain maple, with flame maple face on body.
Body reference bout: black-dyed maple bout on treble side provides standard violin reference
Fingerboard: hand-graduated, asymmetric relief. fretted
Bridge: black-dyed maple, height adjustable via screws on back of body.
Strings: NS electric strings standard, compatible with standard violin strings.
Precision tuning hardware: 40:1 fine tuners are mounted on the body behind the bridge for precise, stable tuning. Automatic string clamping allows for quick, easy string changes.
Pickup: the polar directional piezo pickup system responds selectively to either lateral string vibration (for dynamic bowing) or vertical string vibration (for remarkably even and sustained plucked/pizzicato sound, like a mandolin). A switch allows the player to choose the desired response.
Electronics & controls: rotary volume control, with push-pull selection between active and passive output mode; tone control (treble roll off); arco/pizzicato toggle switch.