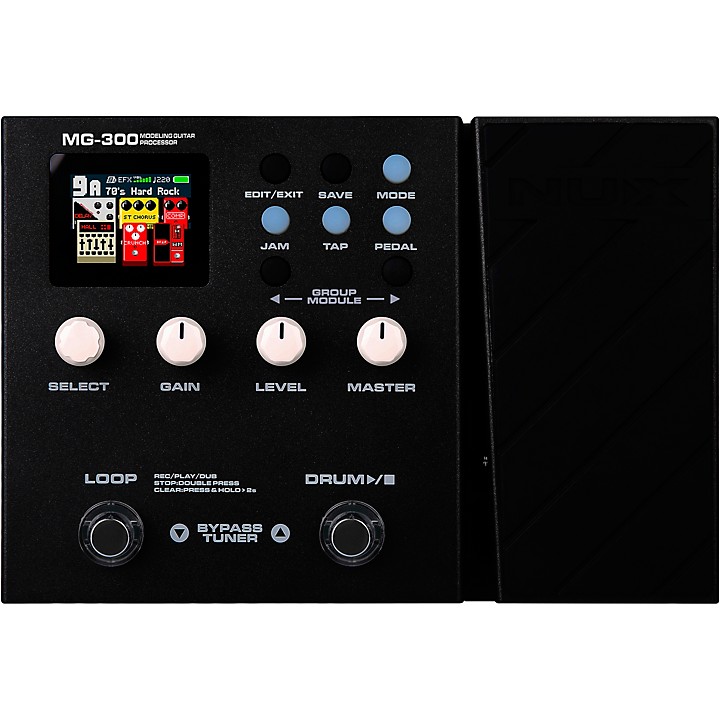 A compact and powerful realistic monitor with optimum sound response and playability.
With the MG-300 Multi-Effects and Amp Modeler effects pedal, NUX developed a compact and versatile multi-efx pedal at an affordable price. The pre-effect block beautifully recreates the awesome signature sound of real analog overdrive/distortion pedals. MG-300 offers 512 sample resolution of impulse response. You can load 3rd party IR files using NUX QuickTone edit software. The built-in 25 cabinet IRs combine 4 classic microphones with 3 positions to allow beginners a quick and easy way to jump into the multi effects experience.
Specifications
Sampling frequency: 48 kHz
A/D Converter: 32-bit
Frequency response: 20 Hz-20000 Hz ± 1 db
THD + N: <0.03%
Dynamic: 110 dB
Input: -20 dB
Output: -10 dB
Power: DC 9V
Dimensions (LxWxH): 9.05" x 6.29" x 2.28"
Weight: 1.662 lb.
Features
TSAC-HD Pre-Effects and Amp Modeling deliver realistic feel and playability
Core-Image Post-Effects offer your studio sound quality
Quick Tone Edit Software for quickly choosing and tweaking patches
Load 3rd party IRs to expand sound ability
USB audio stream for recording interface with routing setup
56 drum beats and 60 seconds Phrase Loop Synchronization with Rhythm
Global 3 bands EQ for quick adjustments in live application