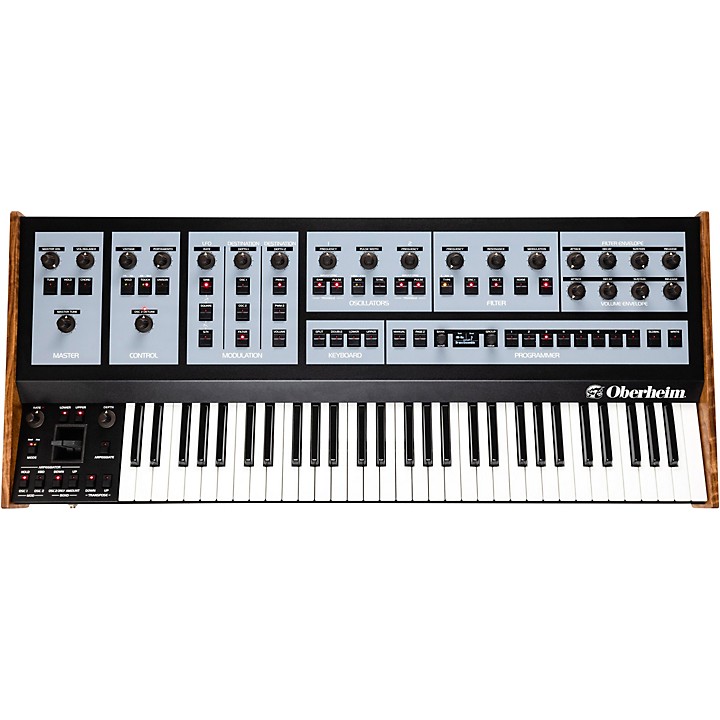 For the first time in more than 40 years, a legendary analog synth sound returns.
The OB-X8 synthesizer sounds like a classic Oberheim because it is one. Its 100% analog audio path cuts through a mix like no other synth. The audio signal path of the OB-X8 is all analog, filled with warmth and punch. It's the same trademark Oberheim sound that made iconic tracks like "1999" by Prince, "Jump" by Van Halen and "Tom Sawyer" by Rush so unforgettable. And now it's yours to enhance your own music.
The classic OB-series factory sounds that you know from countless recordings are all here. But that's just the start: Oberheim's network of world-class sound designers has created jaw-dropping new sounds just for the OB-X8. And because the OB-X8 has a clear and easy-to-grasp set of controls, creating your own sounds is as easy as turning a few knobs and saving what you like.
The OB-X8 combines the three different voice architectures of the OB-X, OB-Xa and OB-8 into a single instrument. The individual filter types and other unique characteristics of each model have been faithfully reproduced, giving you the most authentic OB experience possible. You can even mix elements of different models to create sounds never possible with the originals. There's never been an OB-series synth as powerful and versatile.
A Classic—Evolved
The OB-X8 is more than just a new OB-series Oberheim. It's engineered to be the best modern OB ever created. Creating the classic OB sound required more than just replicating vintage oscillators, filters and envelopes. The Oberheim design team exhaustively analyzed and recreated the complex interactions between the various components of each OB-series synth to capture their nuances and character. The result is one of the most faithful, authoritative renewal of an analog classic possible—with all of the warmth, subtlety and presence of the originals.

OB insiders know that the myriad of "Page 2" functions unlocked the hidden power of the original OB-8. Oberheim included all of the classic Page 2 parameters and created new ones for 2022, giving you direct access to 40+ nuanced controls, such as additional SEM filter modes, per-voice panning, LFO keyboard tracking, Mod delay time and envelope inversion, independent pulse width control and much more.

The unique design of the expression levers was integral to bringing out performances that made the OB-series synths famous. For even greater expressiveness than the originals, the OB-X8 features a premium-quality Fatar keyboard with velocity and aftertouch sensitivity. Dig in with both hands for sizzling filter sweeps, intense vibrato and more.
OB X-8 Tour
Set master volume, tuning, volume balance for splits and doubles, as well as chord memory and note hold functions in the master section. In the control section, you can set the amount of oscillator 2 detuning and add as much "vintage" character as you like. Vintage mode affects the voice-to-voice variability of OB-X8 envelopes, oscillators and filters to replicate the behavior of vintage instruments with all their organic instabilities. Additionally, activate and route aftertouch and velocity sensitivity, set portamento (glide) amount and turn on unison voice stacking.

In the modulation section, you can route the LFO (low frequency oscillator) to a variety of destinations to create rhythmic filter sweeps, pulse width modulation, vibrato, tremolo and other effects. Choose from six waveforms: sine, square, sample and hold (random), up saw, down saw and triangle.

Select the waveforms that generate the raw sound of the OB-X8. Each of the two discrete SEM/OB-X-lineage oscillators produce sawtooth, pulse or triangle waves. Combine pulse and sawtooth waves for extra punch. Hard sync and Xmod (oscillator frequency modulation) add more edge and sonic possibilities.

The keyboard is where the bi-timbral capability (two different sounds at once) of the OB-X8 comes into play. Choose any two presets ("upper" and "lower") and assign them to two different regions of the keyboard. Alternatively, layer them together for more complex textures. Adjust panning and volume independently for each preset.

The filter is the soul of the OB-X8 sound. Choose between the three different analog filter configurations that gave the original OB-X, OB-Xa and OB8 their unique character. First, the classic SEM-lineage, two-pole, discrete low-pass OB-X filter is here, with its unmistakable ballsy sound. But it's even more powerful on the OB-X8 because Oberheim included not just the low-pass mode from OB-X, but all modes of the original SEM design—low-pass, high-pass, band-pass and notch, exponentially expanding the sonic possibilities. From the OB-Xa and OB-8 Oberheim also included the classic Curtis CEM3320 filter with both 2-pole and 4-pole modes, which gave those instruments their distinctive flavor.

The 4-stage (attack, decay, sustain, release) filter and volume envelopes give shape to the harmonics and loudness of OB-X8 sounds. Use these to make the OB-X8 whisper, growl or scream by controlling the softness or percussiveness of synthesized textures. Select between the OB-X/Xa or OB-8 envelope mode to capture the desired contour of each original instrument.

In performance, the crisp OLED display shows the current program name along with its bank and group. It also provides easy access to the powerful "Page 2" functions for extra filter mode configurations, pan spread, LFO rate scaling, portamento modes, programmable bend box parameters and more. Select and save presets and access Global settings such as aftertouch curves, alternate tuning scales, MIDI parameters and more.

If you want to bend notes and add vibrato or other real-time modulation, look no further. This is where you'll find the classic, performance-friendly Oberheim pitch and mod levers. The levers feature programmable bend range and mod amount as well as the ability to apply their effect to one or both oscillators. The bend box also provides a second LFO with six different waveforms (triangle, square, Up Saw, Down Saw, sample and hold, and Noise). This LFO is dedicated to performance using the mod lever. Also present is a full-featured arpeggiator which can be applied independently to splits and doubles.

Use the arpeggiator to create chord-based rhythmic patterns. Hold down several notes and the arpeggiator will cycle through them at the rate that you set and a pattern that you choose: up, down, up and down, or note order played. You can transpose the arpeggio up or down an octave and apply it to one or both parts in a split or double. All of the innovative arpeggiator functions of the OB-8 are built into the OB-X8. The OB-X8 provides standard MIDI in/out/thru connections as well as USB for communicating with other electronic instruments or digital audio workstations (DAWs).

Connect your pedals here and use them to sustain notes, create volume swells, perform filter sweeps and trigger the arpeggiator. The OB-X8 provides both mono and stereo line-level outputs. Connect audio cables to these jacks, plug into a mixer or amp, and start performing or recording. Use the Page 2 enhancements to save stereo pan settings (4L4R, Ping Pong, Splayed or Spread) per program.
Specifications
General
Pure-analog polyphony: 8 voices
Waveform shapes: Sine, saw, square, triangle and noise
Discrete VCOs per voice: 2
User-programmable preset locations: Over 600
Display: High-resolution OLED
End cheek material: Walnut
Power supply: Fanless, heatsink-free
Keybed
Keys: 61
Velocity-sensitive: Yes
Touch-sensitive: Yes
Aftertouch: Yes
Inputs and Outputs
Stereo and mono outputs
Volume, Sustain and Filter inputs
Arpeggiator clock input
MIDI In, Out, Thru
USB
Weight and Dimensions
Weight: 32.5 lb.
Dimensions (LxWxH): 40.5" x 16.67" x 5.87"
Features
8-voice, pure-analog polyphony with sine, saw, square, triangle and noise
Two discrete SEM/OB-X-lineage VCOs per voice deliver classic punchy Oberheim tone
Discrete SEM-lineage VCFs deliver authentic OB-X-style tone and presence
Genuine Curtis filters add bold OB-Xa/OB-8 character
Meticulously modeled envelope responses match each OB model: OB-X, OB-Xa and OB-8
The 61-key FATAR velocity- and touch-sensitive keyboard allows unparalleled expression and responsiveness
Bi-timbral capability allows two presets simultaneously for splits and doubles
400-plus factory programs, including the full set of factory sounds for the OB-X, OB-SX, OB-Xa and OB-8
High-resolution OLED display enables patch management and easy access to advanced features
Classic Oberheim Pitch and Mod levers allow expressive note bending, vibrato and access to arpeggiator functions
Additional SEM filter modes add high-pass, band-pass and notch functions to the classic OB-X filter
Vintage knob allows variable amounts of voice-to-voice variability to emulate the behavior of vintage instruments
Velocity sensitivity adds expressiveness to volume and filter
Channel Aftertouch adds real-time performance-based modulation
Enhanced unison allows variable voice stacking from one to eight voices
Variable triangle wave cross-modulation, as well as variable oscillator and noise levels
Programmable per-voice pan allows wider stereo presence