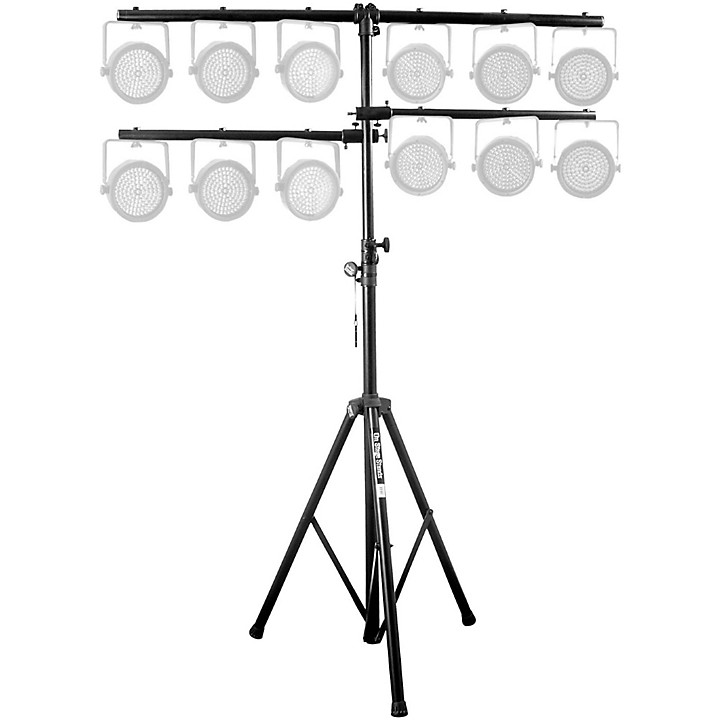 Lightweight lighting tree.
LS7720QIK is the first lighting stand to utilize the u-mount Mounting System. With its patented elliptical enveloping clamp, the u-mount system is the fastest, most secure way to erect and dismantle lightweight portable lighting arrays. The LS7720QIK takes our proven T-bar design and adds a pair of brace-less, virtually instant-mount side bars (LS7700ARMS also sold separately). These side bars can be moved freely up, down, and around the stand. Without obstructive bracing, more fixtures can be mounted in limitless configurations, and set up and tear down times are drastically reduced. The LS7720QIK features an aluminum base and trunk, plus a steel upper shaft for an excellent mix of strength and light weight.

LS7720QIK comes with two LS7700ARMS;
max LED par cans: 12
Specifications
Max Height: 10.5'
Weight Capacity: 110lb.
Base Spread: 48"
Features
Fastest, secure way to erect and dismantle lightweight portable lighting arrays
T-bar design plus 2 LS7700ARMS side bars
Fixtures can be mounted in limitless configurations
Reduced set up and tear down times
Aluminum base and trunk, steel upper shaft