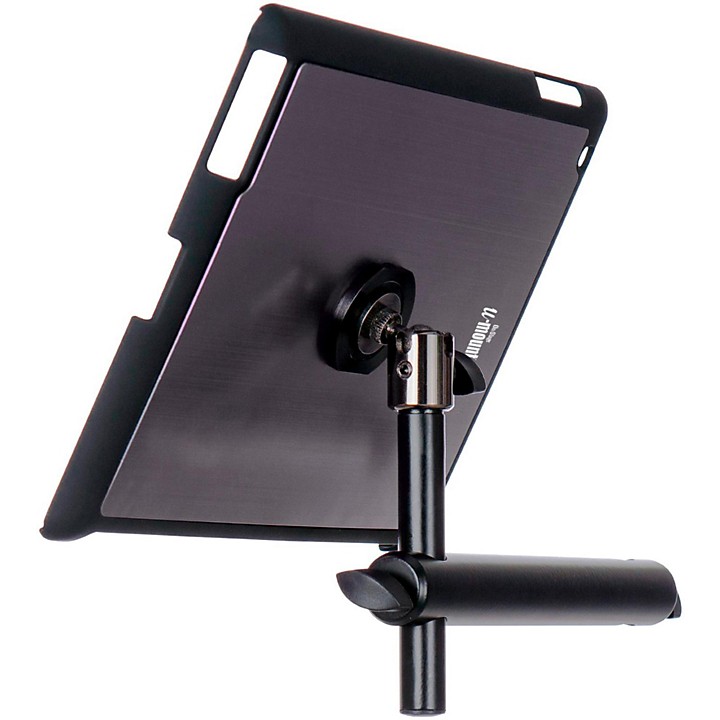 Quick-clip mounting system for iPad 3 & 4.
The Snap-On Mounting System from On-Stage takes the same great mount design found in the original TCM9150 and adds the ease and convenience of a Snap-On cover. The TCM9160 is constructed from a combination of aluminum and soft velveteen plastic. There are precise cutouts for all of the tablet's controls, cameras and ports. A 360-degree ball joint provides rotation and tilt adjustment, while the mounting post can be removed from the mounting bar for use as a comfortable handle during presentations, soundchecks, video chats and more. Mounting bar handles tube and pipes from 11 mm–19 mm in diameter. u-mount Snap-On covers are compatible with popular magnetic front covers.

Hands-Free or Hands-On
The post and Bar design means versatility. Need to walk the room to hear what the mix sounds like off stage, or you want to capture some action on video Simply slide the post out of the u-mount bar and be on your way. The post doubles as a handle, giving you a better grip that you could ever have holding the tablet itself. When you're done walking around, simply slide the post back into the bar and you're hands-free again. It's perfect for audio engineers, grade school teachers, AV presenters, and everyone in between.

The u-mount adds a degree of protection and enhanced grip to your iPad 3 or 4. The Snap-On back cover is a tough combination of aluminum and high-strength velvet-textured plastic. Precision cut-outs provide access to all the tablet's buttons and keep the microphone, cameras, speaker, headphone jack and data/charging port 100% functional.

Features
U-mount versatility with the ease and convenience of a Snap-On cover
Velveteen inner lining provides grip and cushioning
Threaded aluminum boss allows for a variety of optional mounting devices
Cutouts for all of the tablet's controls, cameras and ports
Steel ball joint provides 360 rotation, allowing 30 of tilt at any angle, plus three 90 slots for precise slip-free positioning
Mounting Post can be removed for use as a handle during presentations, soundchecks, etc.
Mounting Bar handles tube and pipes 11 mm–19 mm in diameter
Compatible with popular magnetic front covers
Fits iPad 3 & 4
System Includes:
(1) Snap-On cover
(1) UM-01 with post
(1) U-mount mounting bar