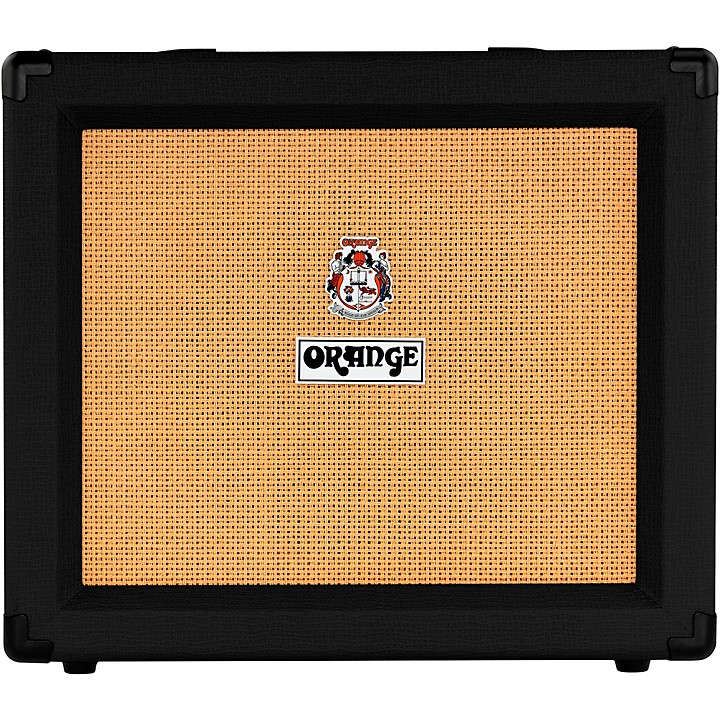 Rock your practice space with Orange tone, complete with a built-in tuner and reverb.
The Orange Crush 35RT, a fully loaded 35-watt combo amplifier that brings you raw, analog tones for days. Boasting a custom-designed Voice of the World 10" speaker and four-stage preamp, the Crush 35RT delivers highly responsive overdrive and saturated distortion that will take you back to the glory days of no-nonsense rock. With two footswitch channels, onboard reverb, and CabSim technology for emulating a 4x12" cabinet, this powerhouse combo has everything you need to craft your signature sound.


High-Gain Preamp Fuels Your Creative Fire
The Crush 35RT's four-stage preamp provides a wide range of tones that shine through whether you're practicing in your basement or gigging at the local bar. With independent clean and dirty channels, you can switch between pristine cleans and face-melting overdrive at the stomp of a footswitch. The dirty channel offers gain in spades, providing saturated distortion that will please even the most discerning rocker. An intuitive three-band EQ gives you total tonal control to dial in the perfect sound.


10" Speaker Delivers Full, Punchy Tones
Orange's custom Voice of the World 10" speaker pumps out 35 watts of full, punchy tone that's perfect for blues, rock, and metal. The closed-back cabinet enhances low-end thump while the 10" size provides focused mids and smooth highs. Whether you're practicing, recording, or performing live, the Crush 35RT delivers professional-level sound in a portable package.


Onboard Tools Take Your Playing to the Next Level
The Crush 35RT comes loaded with useful tools to make you a better player. An integrated chromatic tuner ensures you're always in tune, while lush reverb adds dimension and depth to your tone. For silent practice or direct recording, CabSim technology emulates the sound of a 4x12" cabinet through the headphone output. An aux input lets you jam along to your favorite tracks. A fully buffered effects loop integrates your pedalboard into the signal chain.


Portable Powerhouse, Unlimited Potential
Weighing in at just 25 pounds, the Crush 35RT is the perfect grab-and-go amp for jamming with friends or tackling small gigs. Despite its compact size, this little combo packs serious power and tone that rivals much larger models. With channel switching, reverb, and an intuitive control layout, the Crush 35RT gives you everything you need to unleash your inner rockstar. The Orange Crush 35RT redefines what a practice amp can be.


Features
Power 35W (solid state)
Two channels
Speaker: 1x10" Orange Voice of the World
Controls: 3-band EQ, volume, gain, reverb
Built-in digital reverb
Built-in chromatic tuner
Transparent FX loop
Headphone output with CabSim