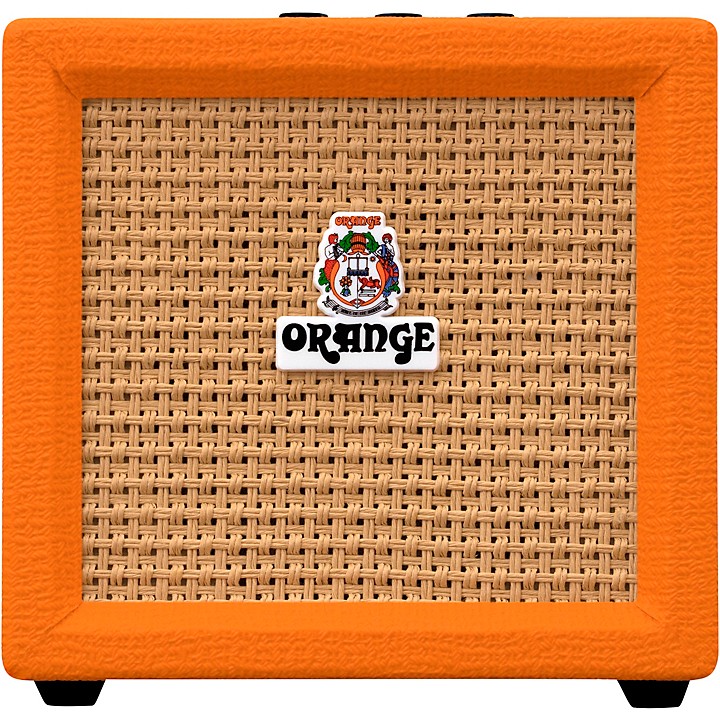 Take amazing Orange tone anywhere, and use it through your favorite cab.
The Orange Crush Mini is redesigned to give you Orange tone in a small, lightweight amplifier. Whether warming up backstage, on the road practice or in your bedroom, the Crush Mini is always there to provide Orange tone.

The redesigned control panel gives you full tonal control with gain, shape and volume. Backing off the gain and pushing the volume will give you a crunch tone, while pushing the gain up will give you searing high-gain tones. The shape control, like the Micro Dark, cuts or boosts the mids, giving fat mid through to scooped tones.

An added feature for the Crush Mini is the 8 Ohm speaker output. Using the preamp stage of the amp, you can plug into a speaker cabinet, opening up your amp's capabilities.

The built-in tuner returns making sure on the road you are always in tune, the headphone output also cuts the speaker for silent practice, and the aux. in means playing along to your favorite songs is a breeze.

Versatile, Simple Controls
The Crush Mini uses three controls volume, shape and gain, to give you a wide range of tones without the need to spend too much time dialing in. The gain can be backed off and the volume pushed up to gain crunch tones. Then the gain brought in more to add more high gain distortion, with the shape being used to fatten or scoop your sound.

Headphone Output
The headphone output, disengages the speaker output for silent practice.

Speaker Output
Plugging a cabinet into the speaker output turns the Micro Crush into an amplifier for your cabinet.

Aux. In
Play along to your music with the aux.-in input, to give you a portable practice rig.

Built-In Tuner
Simple, easy to read, built-in tuner, makes the Crush Mini a great all-in-one amplifier.

Specifications
Power: 3W
Single channel
Single input
Speaker: 1x4 Orange
Impedance: 8 ohm
Controls: volume, gain, shape
Built-in tuner
Aux. input
Headphone output
Optional battery operation
Dimensions: 5.9 x 5.7 x 3.26 in. (15 x 14.5 x 8.3 cm)
Weight: 1.99 lb. (904g)