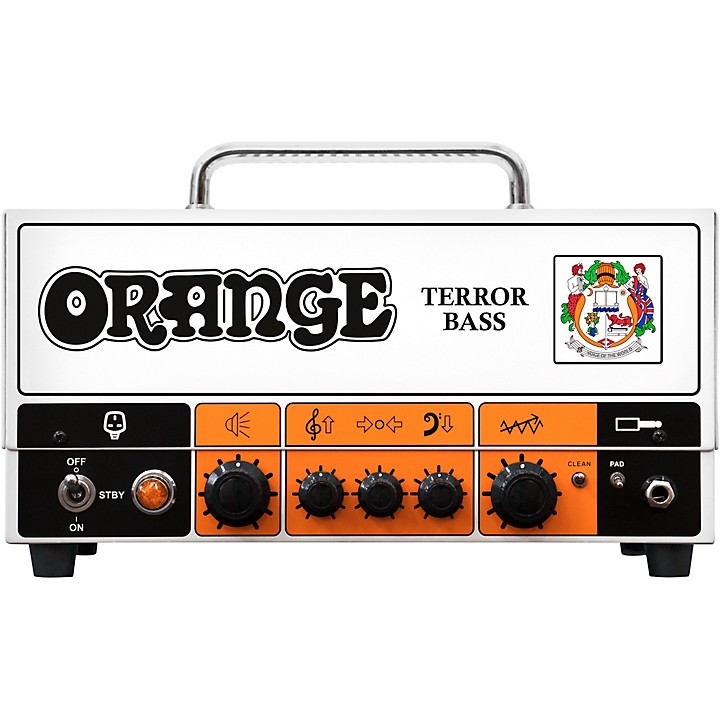 This revamped beast is ready to terrorize the masses with awesome bass tone.
The redesigned Orange Terror Bass has arrived, and it sounds better than ever. With an all-tube front end, the Terror Bass is a 500W hybrid bass amp with a tube preamp and solid-state power amp, making it closer to the sound of the flagship AD200 than ever before.

The front panel remains the same layout to the original Terror Bass but with an added clean switch, giving more headroom and smoother, clean sounds.

From clean pop sounds through to gritty rock tones, the Terror Bass can do it all. A pad switch on the front for active basses takes 6dB off the input sensitivity. The effects loop is valve on the send and solid state on the return.

The Terror Bass is a Class-D amp with 500 watts of power into 4 ohms and 250 watts into 8 ohms, the limiter switch on the back prevents the output stage from being pushed too hard into 4 ohms. The Terror bass is perfect for any situation, whether studio, practice or live gig.

Closely Based on the AD200 Front End
The front end of the Terror Bass is the same all-valve preamp design as the flagship Orange bass amp, the AD200. The AD200 is a classic, uncomplicated amplifier, designed to give you the best tone.

Class-D Amplifier
The Terror bass is a 500-watt hybrid amplifier with a valve preamp and a Class-D solid-state power section, giving analog valve tone in a small, compact lunchbox head.

Ground Lift
Use this to reduce or eliminate ground-related noise arising from ground loops in your audio cabling.

Pad for Active Bass
The pad switch on the front of the Terror bass takes 6dB off the input sensitivity, meaning the amp perfect for active or passive basses.

FX Loop
With a valve on the send and solid-state return, the FX loop on the Terror bass is perfect for all your pedalboards needs, giving you the perfect pedal platform.

Clean Switch
Perfect to be used when you need a smooth, clean tone. The clean switch gives more headroom to your bass tone, with the simple switch on the front of the head.
Specifications
Power: 500W (hybrid)
Tube: one 12AX7 (preamp)
Single channels
Single input with switchable sensitivity for active or passive pickups
12AT7 tube-driven FX loop
Balanced DI output
Dimensions: 12.1" x 7.5" x 6.3" (30.7 x 19 x 16 cm)
Weight: 10.25 lb. (4.65 kg)