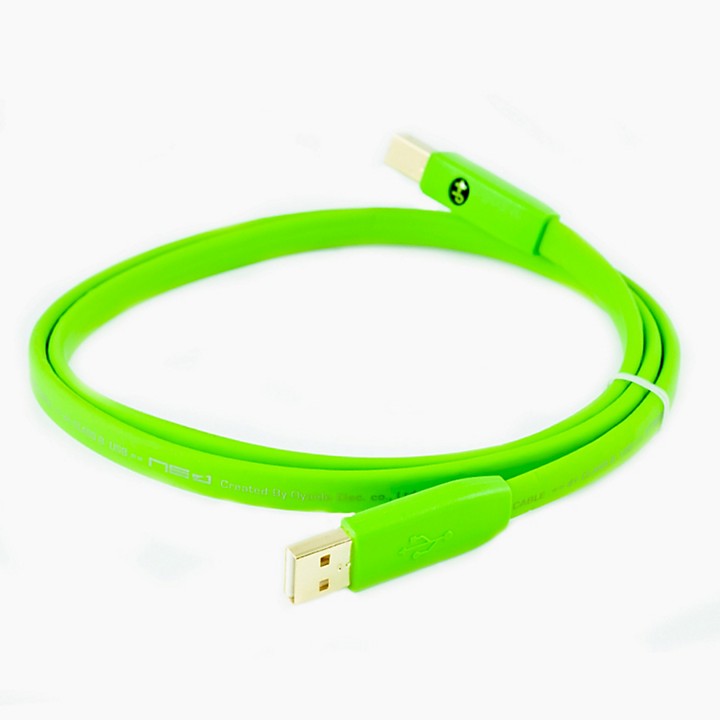 High-quality USB cables for next-generation digital sound systems.
Oyaide Electric is a Japanese based company that takes pride in manufacturing high-quality cables and components. The Oyaide d+ USB Cable series are high-quality USB cables geared for computer based music production and digital DJ systems. Now with the increasing number of DJs that are performing live with their laptops and digital DJ systems like SCRATCH and TRAKTOR, this is the perfect time to address stability in these systems.
One major factor is the link between computer and interface. Poor-quality cables can cause fatal trouble such as sound interruption or completely fail altogether. Oyaide cables provide the reliability you need when performing live or working in the studio. The d+ USB cable series was designed to provide DJs and artists with high-quality sound by delivering clean, safe, and fast data transfers. The unique flat cable design prevents the signal loss caused by cable bend, change of impedance and electrostatic capacitance, while the carefully adjusted impedance matching and improved connection contacts help provide a smooth and lossless data transmission.
Specifications
Conductor: Silver plated OFC (Oxygen Free Copper)
Structure: Flat (Inverted concentric structure)
Shield: Double shielding(tin plated wire + alminum tape)
Insulator: Polyolefin
Sheath: PVC (PolyVinyl Chloride)
Connectors: USB Type A-USB Type B
Terminals: 24K gold plated bronze alloy
Body: PBT + Glass Fiber 30%
Line up
0.7m
1.0m
2.0m
3.0m
5.0m
Features
24K gold plated bronze alloy terminals
Innovative flat cable design helps prevent signal loss
Increases stability in both mobile and studio USB audio systems
Made from select high-quality materials
USB 2.0 high speed compliant