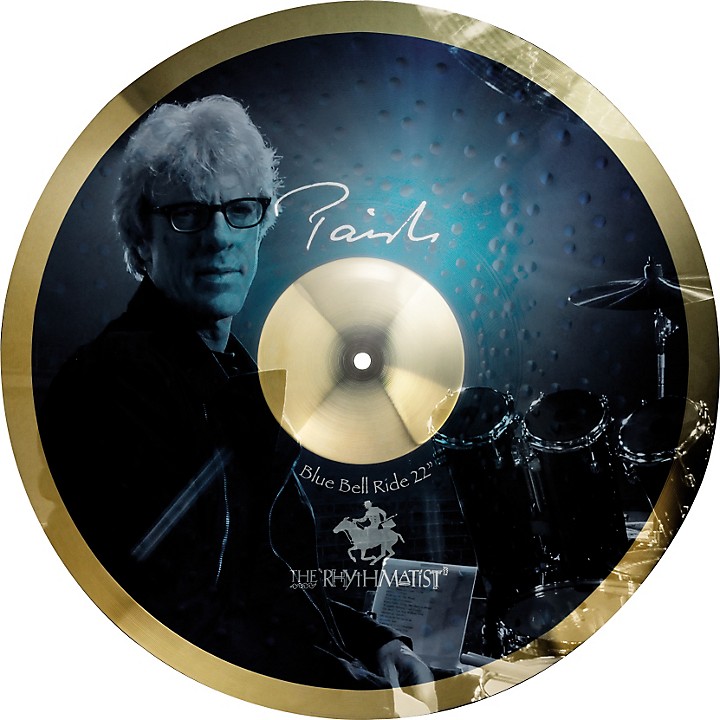 The Rhythmatist - Stewart Copeland's Inspiration " The Blue Bell Ride
This special Ride cymbal is the result of a collaboration between Paiste and Stewart Copeland, who inspired an entire generation of drummers with his unique playing style as the driving force behind The Police. The introduction of this ride cymbal coincides with the celebrated world-wide reunion tour of The Police.

The 22" Blue Bell Ride is based on the Signature 22" Dark Metal Ride, and was modified according to Stewart Copeland's exacting specifications. In the process, this development reintroduces Paiste's unique ColorSound coating, as the cymbal is coated partially blue on top and fully on the bottom.

The 22" Blue Bell Ride features a dry, slightly dark, raw and melodic sound. Its dominant characteristics include a clear, glassy ping and a distinctive strong, deep bell, in accordance with Stewart Copeland's Ride playing technique within the context of the music of The Police. As a tribute to Stewart's collaborative effort in the creation of this unique cymbal, the label "The Rhythmatist" and Stewart Copeland's "Rider" logo appear in conjunction with the model designation on the ride cymbal. Paiste's signature cymbals are entirely made by hand in Switzerland using traditional methods that have remained unchanged in over half a century. ColorSound is a proprietary coating for cymbals developed by Paiste in the 1980s, which optimizes the effect of a coating on cymbal sound and is extremely durable.