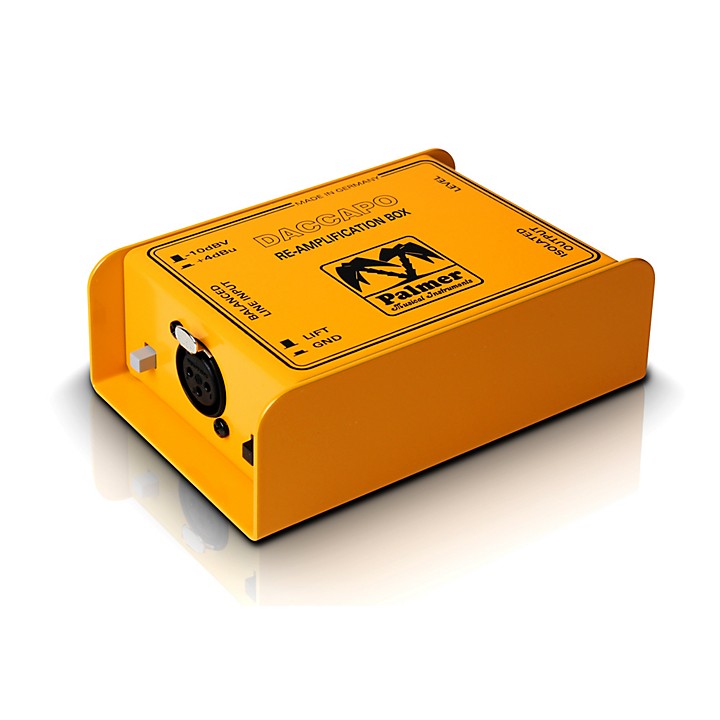 A necessary link in the chain to re-amp your guitar tracks.
The Palmer PDACCAPO is a solidly built re-amplification box. Reamping boxes are commonly found in studio environments, allowing engineers to playback a recorded guitar signal, or any instrument signals, and send it back to an amplifier where it can be re-recorded again using a microphone. This way the recording engineer can experiment with the sound of an instrument.

The PDACCAPO takes care of all impedance matching issues and also eliminates ground loop humming thanks to the use of a Transformer. The signal level to the amplifier can also be adjusted with a level pot.
Specifications
Type: passive
Channels: 1
Inputs: 1
input connectors: XLR
max. input level: +22 dB
input impedance: 600 Ohm(s)
Outputs: 1
output connectors: 6.3 mm Jack
max. output level: + 22 dB
output impedance: 100 k Ohm(s)
frequency response: 20 - 20000 Hz
transformer balanced: yes
Ratio: Variabel
controls: Gain
cabinet material: sheet steel
Cabinet / Housing surface: powder coated
Width: 125 mm
depth: 80 mm
Height: 45 mm
Weight: 0,29 kg
Features
Takes care of impedance matching issues when reamping instrument tracks
Eliminates ground loop humming