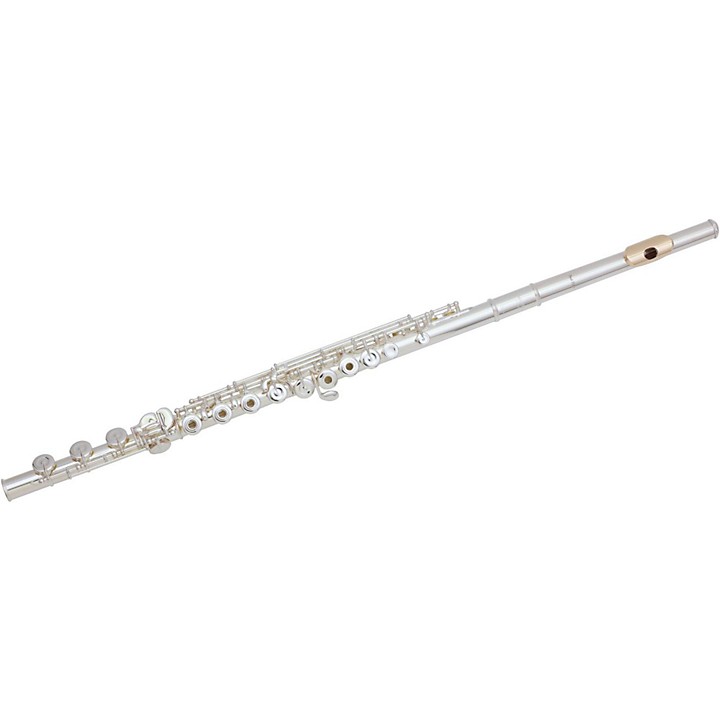 Sterling silver components and other professional features.
Brought to you by Pearl Flutes, the 665 Quantz Vigore Professional Series Open Hole Flute combines traditional craftsmanship and modern innovation. The silver Largo headjoint, silver-plated nickel silver body and B footjoint and hand-assembled keys provide this value-packed flute with a clear, light tone that reacts sensitively to the player's articulation. The 665 Quantz Vigore is an elegantly built instrument with a pleasing sonic character, perfect for advancing students and professionals alike.


Vigore Model Upgrades Enhance Playability

The magnificent Vigore model comes with notable upgrades to elevate the 665 Quantz Series flute. The 3-karat solid gold lip plate provides an even richer, sweeter sound from the Largo headjoint. Advanced flutists will appreciate the C# trill key, enabling more options for trills, tremolos and alternate fingerings. Finally, the D# roller makes it easier to transition to the D# key. Each upgrade enhances playability, making this an investment worthy of any dedicated flutist.


Stunning Silver Construction Produces a Light, Pure Tone

Part of the Quantz series, the 665 Quantz Vigore has a light, pure tone with ample projection thanks to its silver-plated nickel silver body and silver Largo headjoint. The Largo headjoint has a clear, flexible tone and extensive tonal palette. Flutists will enjoy its sweet, melodious character and free-blowing design, which serves both advanced and aspiring players. The 3-karat gold lip plate provides an even deeper, more complex tone.


Innovative Design and Mechanism

For over 50 years, Pearl Flutes has pursued innovation, exemplified in their unique one-piece core-bar construction. This extends from high C to the king post, providing a durable, reliable mechanism for comfortable playing and easier servicing. Additionally, Pearl Flutes' patented pinless construction eliminates issues like snagging clothes on protruding pins or damage from perspiration.


Features
Solid .925 Sterling Silver Largo Headjoint, silver plated body & B-footjoint
Vigore Option Package: Solid 3K Gold lip plate on Largo Headjoint, C-sharp trill, D-sharp trill keys
Pearl Pinless mechanism with Split-E and French Pointed Arm, Open hole keywork
French style Wood case and padded case cover, cleaning rod, and polishing cloth included
5 year Warranty
WARNING: Cancer and Reproductive Harm www.P65Warnings.ca.gov.