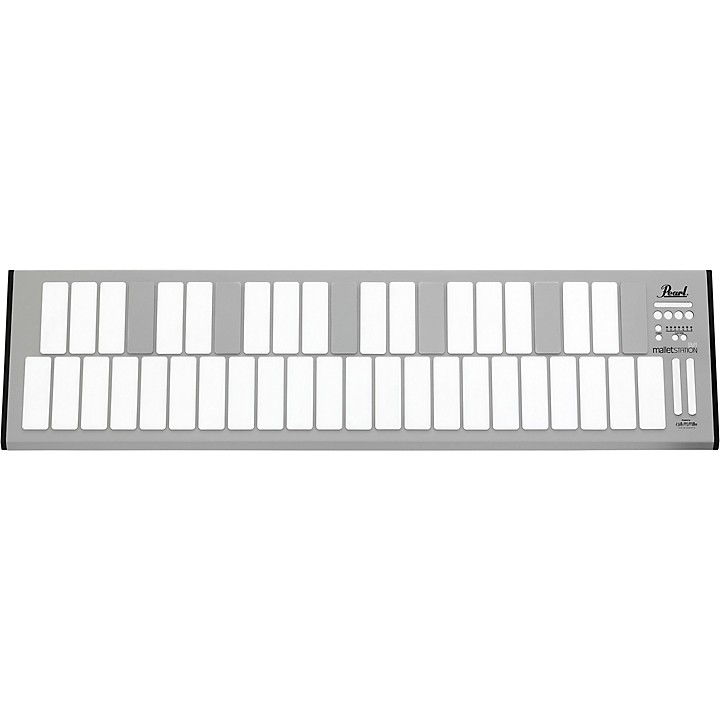 The ultimate mallet keyboard controller for teachers, players, students and professionals. Practice, perform, compose anywhere.
Pearl's malletSTATION 3.0 Octave Adjustable Range Electronic Mallet Controller is poised to revolutionize mallet percussion. Developed in partnership with Keith McMillen Instruments, the malletSTATION brings Smart Fabric Sensor technology to mallet keyboards for the first time. This groundbreaking controller detects the natural nuances of your playing, from mallet dampening to aftertouch, and translates them into expressive MIDI data. With an adjustable 3-octave range, you can perform music written for any mallet instrument. And with its sleek, rugged design and USB bus power, the malletSTATION goes anywhere your music takes you.


Smart Fabric Sensors Enable Nuanced Control
The malletSTATION's soft silicone keys are embedded with Keith McMillen's Smart Fabric Sensors, which detect the subtle details of your playing. You can create authentic mallet dampening and incorporate aftertouch into your performance. The sensors are highly responsive, allowing for precise dynamic control and a natural feel. Their sensitivity can be tailored to your playing style using the malletSTATION Editor software.


Adjustable Range Suits Any Piece
With the touch of a button, you can set the malletSTATION's lowest fundamental pitch to match the range of any mallet instrument. Whether you need to perform a marimba solo, xylophone exercise or vibraphone ensemble, the malletSTATION has you covered. Six removable key caps provide a visual reference for the instrument ranges. Transpose up or down an octave at any time using the dedicated transposition buttons.


A Controller for All Seasons
The malletSTATION's rugged yet lightweight aluminum and steel chassis stands up to the rigors of travel and outdoor use. Its silicone keys are all-weather, so you can rely on the malletSTATION for marching band and other outdoor performances. Mount it to a keyboard stand, concert stands or your instrument using the Module Mounts (sold separately). A slim profile and USB-powered operation mean you can perform anywhere without hassle.


Custom Control and Endless Possibilities
With no onboard sounds, the malletSTATION lets you use the software and sound sources you choose. Perform in MainStage, trigger clips in Ableton Live or play music apps on your iPad. Three programmable faders, four programmable buttons and three pedal inputs provide hands-on control over your setup. Map them to adjust volume, change presets, control looping and more. Use the malletSTATION Editor to customize the control panel to your needs. The possibilities are limited only by your imagination.


Features
USB-Powered MIDI Mallet Keyboard Controller
Universal Compatibility through phone/tablet/laptop
Tech-Forward Design featuring KMI Smart Fabric Sensors
Low Note, Adjustable, user defined 3.0 Octave Range
Natural feeling 1.75 x 5 in. soft silicone keys
Software Assignable Control Panel with 3 Faders, 4 Buttons, plus Low Note and Octave Shift
Mounting bracket shaft is 7/8" diameter and can be mounted on Pearl field frames, an X stand, flat on a table top, or tripod cymbal stands with a Pearl UX80
WARNING: Cancer and Reproductive Harm www.P65Warnings.ca.gov.