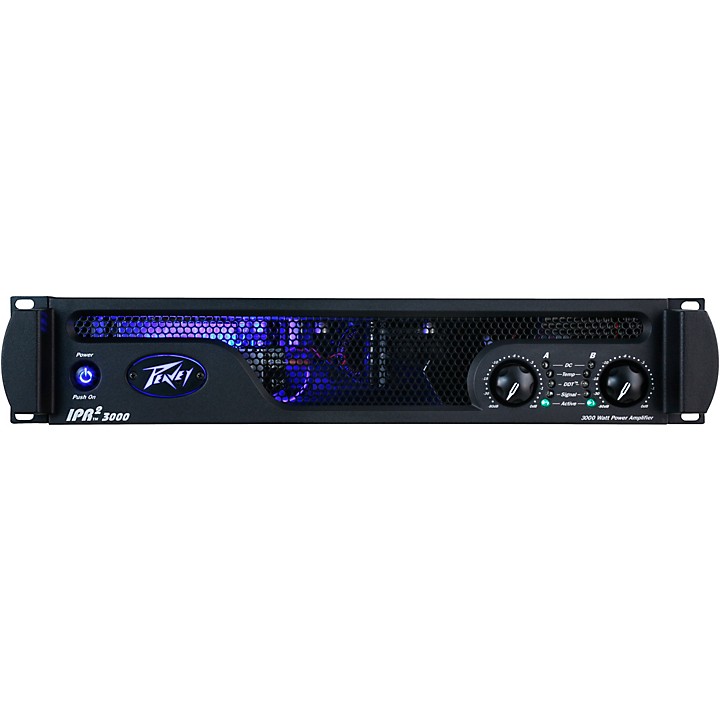 Ultra-lightweight power amplifier provides high audio resolution and extreme efficiency.
The IPR2 3000 power amplifier is designed for years of reliable, flawless operation under rigorous use. The groundbreaking IPR2 Series utilizes an advanced design that allows Peavey engineers to dramatically reduce weight while increasing output power, reliability and thermal efficiency. IPR2 Series amplifiers are designed with a resonant switch-mode power supply and a high-speed class D topology that yields the highest audio resolution and efficiency available.

This revolutionary amplifier offers the sonic superiority and unsurpassed reliability for which Peavey is famous, in an extremely efficient and lightweight design. Advanced technology and extensive protection circuitry allow operation with greater efficiency into difficult loads and power conditions. The DDT (Distortion Detection Technique) circuitry ensures trouble-free operation into loads as low as 2 ohms. DDT protects drivers and ensures that sonic integrity is maintained, even in extreme overload conditions. The IPR2's high-efficiency design allows the amplifier to operate at very low temperatures, and does not require massive heat sinks to cool.
Specifications
Rated Watts 2ch x 2 ohms: 1750 watts 20ms repetitive burst / 1450 watts 1% THD both ch. driven @ 1kHz
Rated Watts 2ch x 4 ohms: 950 watts 20ms repetitive burst / 900 watts 1% THD / 815 watts 0.2% THD, both ch. driven @ 1kHz
Rated Watts 2ch x 8 ohms: 525 watts 20ms repetitive burst / 500 watts 1% THD / 430 watts 0.15% THD, both ch. driven @ 1kHz
Minimum Load Impedance: 2 ohms
Maximum RMS Voltage Swing: 70V
Frequency Response: 20Hz - 22kHz; +/-.05dB @ 4 ohms
20Hz - 20kHz 2ch x 2 ohms: <0.15% @ 1,200 watts 20Hz to 3kHz, decreasing to 1,100 watts @ 20kHz, both ch. driven
20Hz - 20kHz 2ch x 4 ohms: <0.15% @ 650 watts 20 Hz to 20 kHz, both ch. driven
20Hz - 20kHz 2ch x 8 ohms: <0.15% @ 375 watts 20 Hz to 20 kHz, both ch. driven
Input CMRR: > - 76dB @ 1kHz
Voltage Gain: x 75 (+37dB)
Crossover: 100Hz switchable 2nd order high pass and 3rd low pass per channel
Crosstalk: > -68 dB @ 1 kHz @ 400 watts @ 8 ohms Hum and Noise: > -101.5 dB, "A" weighted referenced to rated power @ 4 ohms Slew Rate: > 12V/μs Damping Factor (8 ohms): > 215:1 @ 20 Hz - 1 kHz @ 8 ohms
Input Sensitivity: .775 volts +/- 3% for 1kHz 4 ohm rated power, .73 volts +/- 3% for 1kHz, 2 ohm rated power Input Impedance: 15kOhms, balanced and 7.5k ohms unbalanced
Current Draw @ 1/8 power in VA (watts): 960 (535) @ 2 ohms, 615 (315) @ 4 ohms, 400 (200) @ 8 ohms
Current Draw @ 1/3 power in VA (watts): 2065 (1360) @ 2 ohms, 1215 (735) @ 4 ohms, 740 (420) @ 8 ohms
Idle Consumption: 160VA, 75 watts
Cooling: Temperature dependent variable speed 80mm DC fan
Controls: Two front panel attenuators, crossover select switch for HPF, Normal and LPF Indicator LEDs: Five LED indicators per channel: Active, Signal, DDT, Temperature and DC
Protection: Thermal, DC, subsonic, incorrect loads, under and over voltage
Connectors: Dual combination 1/4" & XLR, dual male XLR input thru, two twist lock connectors
Construction: 0.062" aluminum
Dimensions: 3.5" x 19" x 10.5" behind front panel + 0.6" for handle
Weight: 5.62kg (12.4 lb.* )
Features
2-channel independent fourth-order Linkwitz-Riley crossovers
DDT protection
Revolutionary IPR class D topology
Combination XLR and 1/4" inputs
Speakon output connectors
Lightweight
Two-pole combination twist lock and 1/4" (6.3mm) phone plug outputs
Individual signal patch 1/4" (6.3mm) jacks on each channel
Standup, LED power present indication
Detented input controls
1750w at 2 ohms
950w at 4 ohms
525w at 8 ohms
Individual signal pass 1/4" jacks on each channel