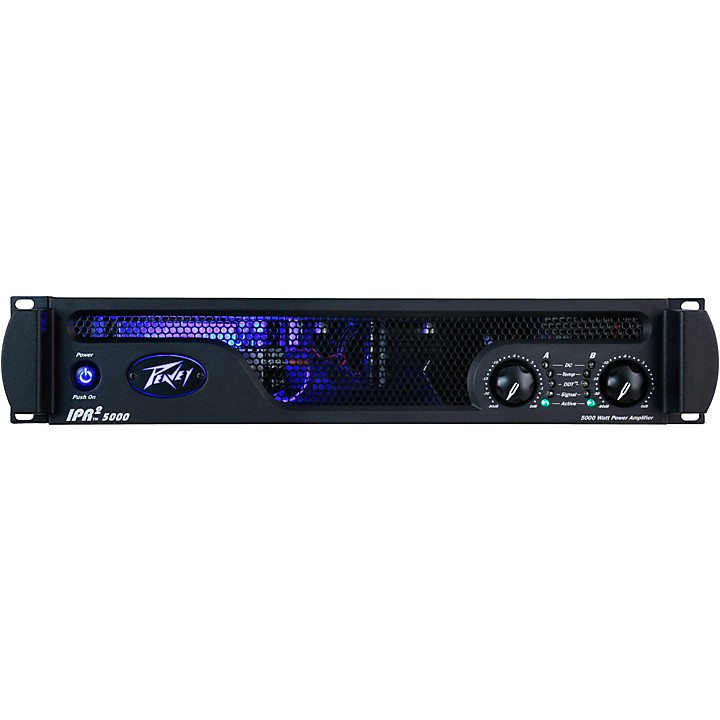 2-channel power amp delivers 1510W at 4 Ohms, 2250W at 2 Ohms per channel.
Part of Peavey's new IPR Series, the IPR2 5000 Power Amp utilizes an advanced design that allowed Peavey engineers to dramatically reduce weight (less than 7lb) while increasing output power, reliability, and thermal efficiency. The rackmount power amp has a resonant switch-mode power supply and a high-speed class D topology that yields the supremely high audio resolution and productivity.

The Peavey IPR2 5000 features two channels with independent 100Hz crossovers. It produces 1510W per channel at 4 Ohms, or 2250W per channel at 2 Ohms. Peavey's exclusive DDT speaker protection with multi-point clip sampling leads a protection-circuitry suite that also includes DC, Temp, Signal, and Active safeguards, all referenced on the front panel with LED indicators. It also features a variable-speed fan housed in a lightweight aluminum chassis.
Specifications
2900W RMS x 1 at 2 ohms
1780W RMS x 1 at 4 ohms
975W RMS x 1 at 8 ohms
2525W RMS x 2 at 2 ohms
1510W RMS x 2 at 4 ohms
890W RMS x 2 at 8 ohms
2 channel independent, fourth-order Linkwitz-Riley crossovers
Features
Class D topology
Two independent channels with 100Hz crossovers
Combi 1/4" & XLR inputs
Neutrik Speakon combo 1/4" outputs
DDT speaker protection with multi-point clip sampling
DC, Temp, Signal, and Active safeguards
LED indicators
Lightweight aluminum chassis
Variable-speed fan