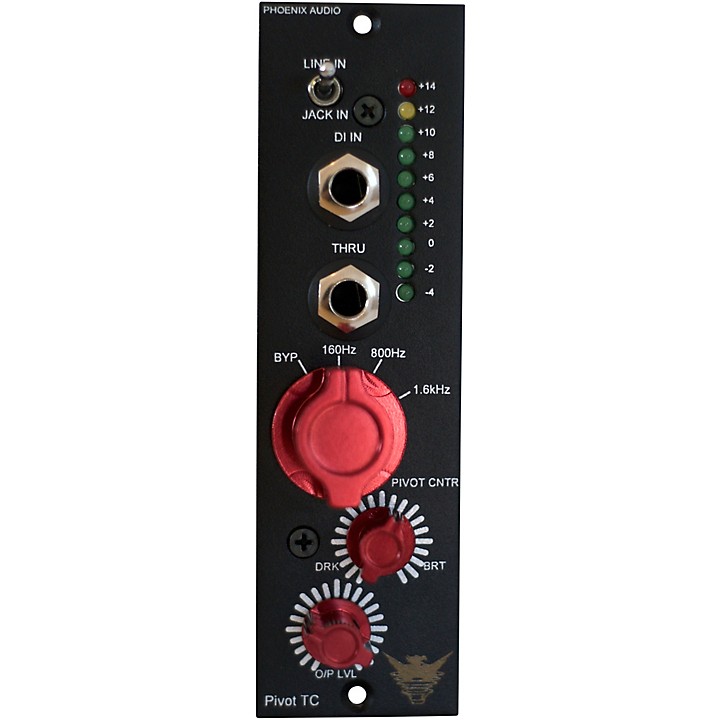 A simple yet powerful 500-Series EQ for excellent vibe and tone.
The Pivot Tone EQ is a 500-series EQ with Class-A circuits and a balanced line level signal processor. The EQ functions like a sonic see-saw; you choose the center frequency, and then simply tilt the entire frequency spectrum back and forth to taste. A rotary knob marked with Darkening (DRK) and Brightening (BRT) parameters, allows you to either boost the frequencies above a chosen center frequency while simultaneously attenuating everything below it (Brightening) or, adversely, boost the bass frequencies while attenuating treble (Darkening).
The Pivot Tone is an easy and intuitive EQ, but don't let its minimalism overshadow its sophisticated circuit design or its natural musicality. Using this EQ's fully discrete Class-A circuit, the Pivot Tone delivers world-class, hi-fi sounds that make any line input or DI'd signal sound lush, full and coherent. Whether aiming to beef up a DI'd bass, add sparkle to an acoustic guitar, or sweeten an entire 2-bus mix (try tilting around 800Hz), you'll find yourself reaching for the Pivot Tone again and again, wondering how you lived without such a simple yet sophisticated tool.
Features
Class A Discrete input line buffer amp
Class A Discrete 10meg ohm DI input
Class A Discrete output amp
Phoenix custom output transformer
Unique 3 position pivot point sloping EQ
Controllable LF, MF & HF pivot positions
Dark & bright tone control