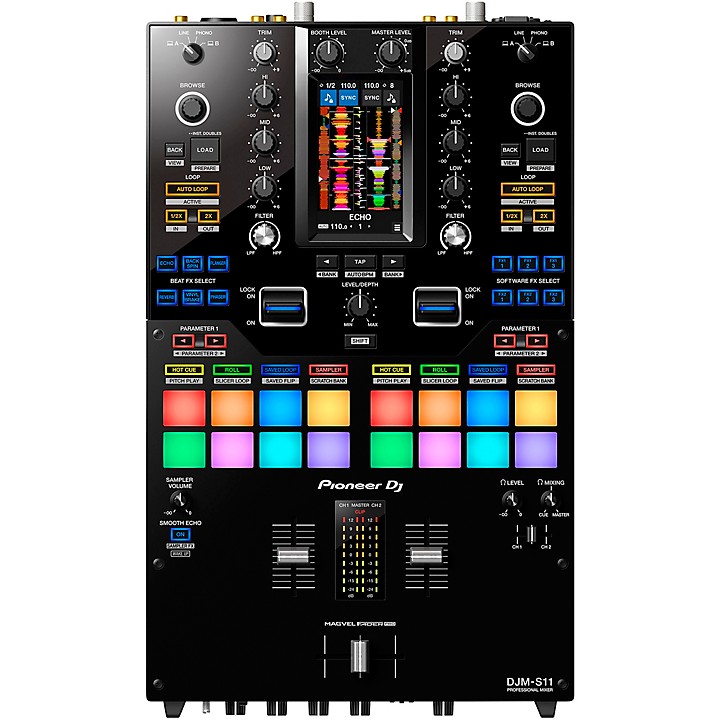 Professional 2-channel DJ mixer with next-level innovative features never seen before.
The DJM-S11 is a professional 2-channel, four-deck battle mixer from Pioneer DJ that's full of enhancements. From fresh features, like the 4.3" customizable touch display and Touch MIDI integrating with your software, to Deck 3/4 Control and larger Performance Pads, the DJM-S11 is here to help you scratch and mix to your heart's content.
Building on its predecessor, the DJM-S9, the DJM-S11 takes these features further. Perform with either Serato DJ Pro or rekordbox—both are compatible with this 2-channel controller. Better sound quality will capture every detail of your performance. And, with a built-in USB hub, you can connect directly to CDJs and the DDJ-XP2 (sold separately), for a setup that works for you. All you have to do is plug in and play.
4.3" Touch Display With High Frame Rate

Save the time it takes to switch your gaze from your mixer to your laptop and back again. The high-frame-rate color touch display on the DJM-S11 shows everything from waveforms to BPM information so you can stay in the zone and concentrate on what your hands are doing or look up to see how the crowd is reacting to your performance. It's perfect for browsing tracks and its customizable, so you can set it to your preferred layout style.
Ready to express yourself in new ways? Switch to the Touch FX screen and you can control two effects at the same time by tracing one finger across the surface while the other hand is scratching with the crossfader or finger drumming on the Performance Pads. And in the FX Setting screen, you can save four sets of effect types and parameters, then instantly call them up in different scenarios, e.g. when you're battling, mashing up tracks or playing a club set.
With Touch MIDI, there are four pages of presets that allow you control functions in your DJ software without touching your laptop. These touch controls can also be Custom MIDI Mapped to control the functionality of your choice within your DJ software, enabling you to trigger functions in your DJ software without touching your laptop. There are a range of presets available too – perfect for getting started quickly when you first use the unit.
Trigger the Customizable Echo With a Fader/Pad You Choose

Assign the Smooth Echo effect to your choice from a selection of controls, e.g. a fader or pad. Then, when you turn on Smooth Echo with its dedicated button, the echo will be triggered as soon as you move the relevant control. With changeable parameters for the effect, this new feature gives you the chance to create sounds while you're scratching or finger drumming that were previously difficult to achieve.
Deck 3/4 Control

Want to pack more sounds into your sets? Play up to four tracks simultaneously with Deck 3/4 Control, an industry-first feature that offers two extra decks, accessible via the touch display. These additional decks include a range of controls such as EQs, Hot Cues, pitch bend and more, making it easier than ever to create live mashups of multiple tracks.
When you use Serato DJ Pro, you'll have access to two powerful additional features. With Deck Move, you can reassign tracks from deck 1 to 4 and deck 2 to 3 without interrupting the sound. This enables you to free up the main decks so you're ready to start playing your next track or scratching a new sample. And when you switch on Dual Deck control, you can adjust the volume and effects parameters for two decks at the same time, or scratch two tracks simultaneously.
Enhanced Design, Larger Pads and Low Latency

Easily find your way around the clean design and feel the mixer respond to your performance. The load button is larger than the one on the DJM-S9 and ideal for quicker track selection. Latency is minimal and the eight Performance Pads are bigger too, making them easier to hit in energetic battles.
Powerful New Additions to Serato DJ Pro

With the new pad mode Scratch Bank, you can instantly load from scratch samples from 4 banks that you've assigned in Serato DJ Pro, by simply tapping a pad. You can also load from a specified start point too, making this feature also useful for loading full tracks during a routine. Activate Combo Pad mode in Serato DJ Pro to use up to four different pad modes simultaneously (two modes per channel, four pads per mode) and combine more features.
High-quality, Crystal-clear Sound

Under the surface of the DJM-S11 is a host of premium audio technology that ensures every detail of your performance is heard loud and clear. With studio-quality 64-bit mixing and dithering processing inside the DSP, plus a low-jitter clock circuit and 32-bit high-quality D/A converter in the master output section, the mixer inherits a high-density, raw sound from the industry-standard DJM-900NXS2.
Improved Magvel Fader Pro

If you liked the crossfader on the DJM-S9, you'll love the improved version on the DJM-S11. We've enhanced the feeling of the Magvel Fader Pro and boosted the rigidity of the knob mounting axis in the vertical direction by 30 percent. This means you can scratch with more confidence, while the tougher coating around the crossfader area reduces wear to the top panel – preserving your mixer's fresh look.
Add Texture to Your Tracks With 22 Built-in FX

Spice up your sets with all 15 Beat FX from the DJM-S9, plus seven new ones, including Channel Fader Pitch and Helix. You can instantly trigger the effects saved in four FX Bank, which are editable with the screen at hand in various situations. While you're using one of these effects, you can also trigger up to six more from your DJ software to create sounds your crowd has never heard before.
Direct USB Connections

There's no need to use an external USB hub with the DJM-S11. Simply plug your DJ controllers and other devices – including selected units from other brands – into the dual USB-A ports to play with them. You can hook up two CDJs to use HID mode and the mixer includes two USB-B ports so you can plug in two laptops simultaneously for smooth DJ changeovers.
Plug-and-Play and MIDI Mapping

The DJM-S11 unlocks both Serato DJ Pro and rekordbox when you connect it to a computer running either application – you don't need to activate a license key to start DJing. A voucher for the Serato Pitch 'n Time DJ Expansion Pack is included, which enables key shifting and key sync with perfect audio quality. And the mixer is MIDI mappable, so you can assign every button, fader and knob to control various features and functions in other types of DJ software.
Features
SoftwareFrequency Response
20Hz–20,000Hz (USB, LINE, MIC, AUX)
S/N Ratio
115 dB (USB), 105 dB (LINE), 90 dB (PHONO), 80 dB (MIC), 90 dB (AUX)
Total Harmonic Distortion
0.003% (USB), 0.005 % (LINE)
Input/Output Terminals
Inputs
LINE x 2 (RCA), PHONO x 2 (RCA), MIC x 1 (XLR & 1/4" TRS jack)
AUX x 1 (RCA)
Outputs
MASTER x 2 (XLR, RCA)
BOOTH x 1 (1/4" TRS jack)
HEADPHONES x 2 (1/4" stereo jack, 3.5 mm stereo mini jack)
USB
USB (Type A) x 2 USB (Type B) x 2
Power SupplyPower ConsumptionMaximum Dimensions (WxDxH)
267 x 452.2 x 107.9 mm / 10.51" x 17.8" x 4.25 "
WeightAccessories
Power cord
USB cable
Fader bumpers (A x 4, B x 2)
Serato DJ Pro Expansion Pack voucher (Pitch 'n Time DJ)
Certificate of Guarantee
Quick Start Guide